A Total Change of Perspective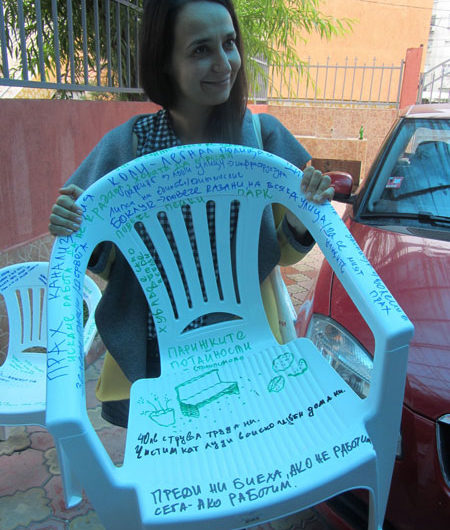 In 2017, ATD Fourth World invited people around the world to document real-life "Stories of Change" arising from situations of injustice and exclusion caused by extreme poverty. These stories, from activists, community leaders, and others, show that when people work together, real change can happen.
More about the "Stories of Change" blog.
By Genika Baycheva (Bulgaria)
Genika and her friends make connections through music and creative conversation with the residents of Stolipinovo, a neighborhood of Plovdiv city in Bulgaria.
I was part of the Foundation Plovdiv 2019 team formed with the aim of having Plovdiv city recognized as the European Capital of Culture in 2019. We wanted to focus on Stolipinovo, a part of the city which seemed to have been forgotten and abandoned by everybody. Being newly settled in Plovdiv, I decided to visit Stolipinovo to see it for myself and was pleasantly surprised that it was not that dangerous, contrary to what everybody had told me.
Interactions
With the Foundation, we met a very good musician, a German guy who was traveling with his piano around the world and we invited him to come to Stolipinovo. It was great to observe the interaction between him and the people in the neighborhood. How happy they were to have him there, to give them the opportunity to discover music. So, this is how we started thinking more and more about how we could involve arts and culture in the neighborhood. Although I stopped working for the Foundation Plovdiv 2019, I continued to visit Stolipinovo more and more.
During a workshop in Plovdiv, a Dutch artist developed a very interesting artistic approach named 'Chair sessions'. It was to take plastic garden chairs and to walk in the neighborhood with them. Our task was to sit next to inhabitants from the neighborhood and talk about what they liked in their area, what they didn't like, and what they would like to improve. Then we would write the main sentences, chosen with the people, on the chairs.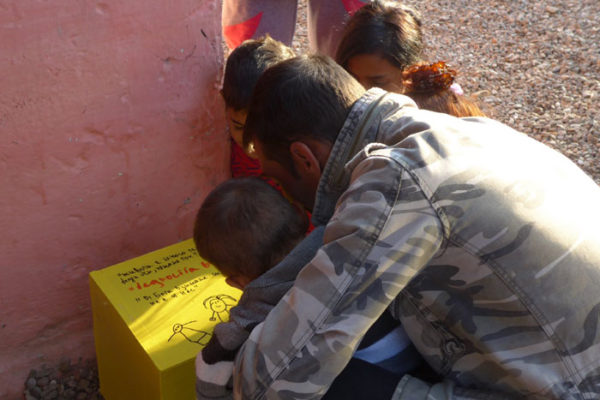 In smaller parts of the neighborhood, called informal settlements, people had no chairs at all. That was why, later, with a carpenter from the neighborhood, we built yellow wooden cubes to meet people so together they could write or draw their thoughts on them and share them from one place to another.
I really liked this approach because it was connecting me at a very personal level with people from the neighborhood. I loved to listen to their stories and it opened my mind to new horizons.
We were six of us going around meeting people in Stolipinovo. From phrases collected during these chair sessions, the idea came to write a song with lyrics and then a music video. We were walking through the neighborhood, looking for talented young people, for musicians, who would collaborate together for this song. And I think this was one of the very inspiring moments for me, this search for talents in the neighborhood. Again, it was opening new horizons, a journey of discovery about the creativity of the neighborhood.
All this was possible because we took the time to get to know the people of Stoliponovo
It is a common mistake of people coming from outside a neighborhood to believe that they can change the residents there. At the beginning, I was full of energy and optimism for doing something good for the people, with very ambitious ideas to change the neighborhood, to change the people. But then, being there and talking with the people over a two-year period, I could connect much better with their needs, their desires, and their thoughts.
I revised my own thinking: I no longer wanted to change the people. I wanted them to have a better life, to change the conditions they live in, but not to change them. The most important thing was to connect with the people, and there is no other way to do this than by taking sufficient time.
Secondly, what was very inspiring for me was that when we went with the yellow cubes, we were able to connect with the children. It was physically very interesting to observe this because once we arrived with the cubes, it was like a magnet for the children; they just came. They were hiding before this. We saw so many children and they were so happy to express themselves on the cubes.
This was big breakthrough moment. For example, I remember when I first met the daughter of Kamelia; she came to me smiling. And the last time I met her, we had our first conversation in Bulgarian together. I think it was because she became more relaxed with me. We often stay with her mother, Kamelia, at her place for hours on end. I remember the first time Kamelia said, "These are my friends", and how much time it took to come to this moment when confidence and trust is found.
Recently, Kamelia said: "You sit with us, we have coffee together and chat. We exchange what's on, what's not — everything. You aren't hiding anything, neither am I. You speak with all the children separately, about how are their studies are going, and what they do… That's what I learnt from you: friendship. I learnt that it doesn't matter if I am a Christian or a Muslim. This is not a reason not to be good friends. There are people who say: "Those are Christians, we are Muslims", and they keep a distance. I don't keep a distance. That's why everyone who is like me, they all come here.
By making connections through music and conversation with the people of Stolipinovo, supporting them and not trying to change them, and by taking the time needed, we came to discover and learn so much together. These connections also helped all of us to deconstruct prejudices — a huge and necessary work.