"It's Always Our Blood That Gets Spilled": On the Front Lines of the War on Poverty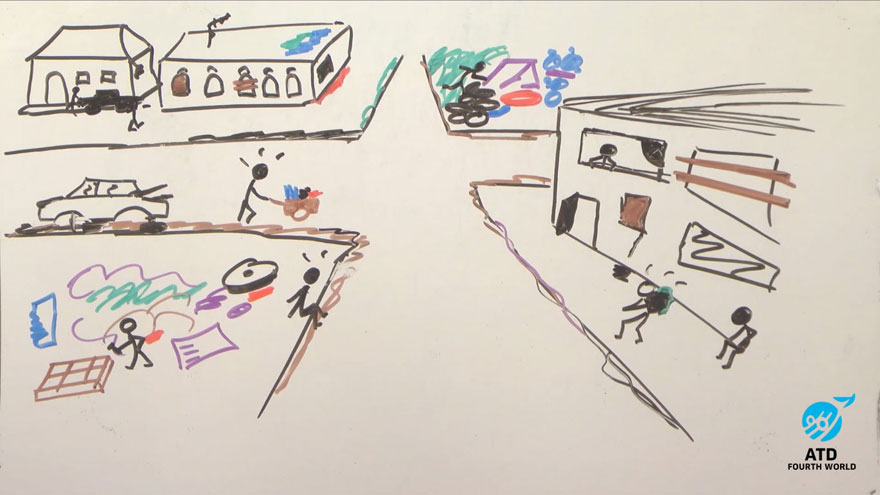 This is the fourth in a series of videos retracing the life of Mary Rabagliati, one of the first volunteers to join Joseph Wresinski in founding what would become ATD Fourth World.
In this video, Mary recounts her experiences on the front lines of the US War on Poverty in 1965 and '66:
"Extreme poverty doesn't change overnight. It was to look for big answers that I spent a year taking part in the War on Poverty. The goal was to learn how they understood poverty and tried to fight it. The civil rights movement was going strong. People in poverty were brought together to speak out or to demonstrate. […] The War on Poverty began with high hopes of ending poverty in five years. But Americans are impatient. If your project doesn't show results quickly, it will be shut down. If a funding stream changes, everyone switches jobs."
While in the United States, Mary was arrested in Alabama while investigating civil rights violations, joined strikers on a California picket line run by César Chávez and Dolores Huerta, gave her first speech in New Orleans, and met with policy makers in Washington, DC. She noted:
"Across the country, programs were being directed at a mass of poor people but without any real understanding of the different levels of poverty. Many people in poverty do arrive at a better state; while there are still some unreached. This happened in France. The families in the Noisy-le-Grand emergency housing camp are despised by those of a slightly higher level who say, "Now that the welfare state is helping you, it's your own fault if you're still poor. […]

"Another thing that struck us as we travelled was how completely segregated vast neighborhoods were: some communities were entirely Puerto Rican, while others were entirely black. In Chicago, we visited a huge Polish district and an Italian one. You don't see that in France because of policies to integrate housing: immigrants of similar backgrounds are scattered as much as possible, to prevent a Portuguese neighborhood here, and a Jewish neighborhood there. For people in America, segregation is terrible. No matter where we went, even when there were many poor areas, the very worst places were always the black neighborhoods: terribly run-down housing with nowhere safe for children to play. That's what we saw in St. Louis. Segregation is a travesty of justice.

"Despite this, we also saw that for many people being part of their own ethnic communities also brings a source of extraordinary vitality. It created a more optimistic and dynamic sense of community than exists in poor communities in France. One black woman in Marion, Alabama, told us, 'We blacks are in a constant state of worry. We might rejoice and feel hopeful one day, but by the next day it's quiet despair again. We're afraid to change anything, because we know that every time things go wrong, it's always our blood that gets spilled. But in the end, maybe our blood is the price we have to pay for things to change.' Her despair was palpable; but so was her belief that change must somehow be possible, someday."
This and the content of other videos in the series will be published in 2018 under the title, Quiet Revolution: The Story of Mary Rabagliati and People the World Forgot.