When Disaster Strikes, Neighbors Help Neighbors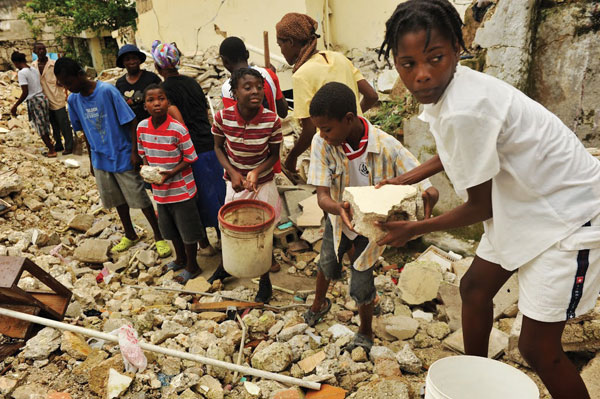 In 2017 ATD Fourth World invited people around the world to document real-life "Stories of Change" starting from situations of injustice and exclusion caused by extreme poverty. These stories, from activists, community leaders, and others, show that when people work together, real change can happen. For more about the "Stories of Change" blog, click here.
In the midst of one of the most extreme humanitarian crises of recent years, while humanitarian aid flows elsewhere, neighbors help neighbors in some of the most devastated communities.
By Diana Skelton and Jacqueline Plaisir
On January 12, 2010, the metropolitan area of Port-au-Prince, Haiti, was rocked for almost a minute by a catastrophic earthquake. More than 250,000 people lost their lives. Many houses, most public buildings, and most businesses were damaged beyond repair.
When the shaking stopped, the city sprang to life. Downtown, children who live in the streets, and who are often looked down on by others, did not hesitate to endanger their lives to rescue people trapped under the rubble. Elsewhere in the city residents in the most impoverished neighborhoods, used to being left to their own devices, did not wait for outside assistance. The women whose usual work was selling food cooked at the roadside continued cooking with what little they could recover from their homes — and lowered their prices considerably so that everyone could afford to eat. Communities shared what they had, even as they watched planes and helicopters bring in humanitarian aid that would never reach them.
Martissant, the neighborhood where ATD Fourth World has had a team since 1984, was already considered a "no-go zone" for international NGOs before the earthquake. The confusion that followed the disaster didn't change that, and Martissant was largely left to its own devices. A few days after the quake, after serving as the first responders in their own neighborhood, Laurent, Jean-François, and other young people from the heights of Martissant came to the ATD Fourth World House to ask, "What can we do?"
They began by visiting their neighbors and everyone in the community to see who needed help the most and how they could assist. One of these young people, David Jean, returned one day, upset. When he thought he had visited everyone in one part of the district, a mother, who was herself utterly exhausted, shared her worry about an old lady and a child still higher on the hill.
So David continued climbing to discover a house half destroyed. An elderly woman was outdoors. She had lost a leg. There was a child about three years old playing at her side. David explained that he was identifying families' needs. The woman was touched and surprised that he had found her, because she rarely saw anyone else, except for occasional visits by one neighbor further down the hill. When David returned the next day as promised, with food and a tarpaulin for shelter, the woman began crying, "My boy, you have not forgotten me, when there are so many people in need!" David returned several times and spoke to more neighbors, who were encouraged to begin visiting this isolated grandmother.
Eventually, ATD Fourth World volunteers were able to persuade a humanitarian aid NGO to come without military guards to distribute nutritional supplements for children in Martissant. The partner asked for a list of names and ages in advance for everyone in the area.
The young people who had come to the ATD office offering their help were the ones who spread out by the dozen to meet each family throughout the entire district and to identify needs. For days they visited each home in the area. Concerned that each family should receive a fair share, they talked to anyone who might create tension during the distribution.
The list they compiled, of some 5,000 children, would not have been possible if it had not been made by people who grew up in the community.
Indeed, it was the young people of Martissant who ensured that everything went smoothly when the distribution began. Every day they spent time chatting with the people waiting in line. When parents lacked identity documents for themselves and their children, volunteers who knew them all well supported a complex dialogue with the NGO to reconcile the spelling of the names on the list with the facts.
The distribution went smoothly, with no incidents of conflict, because everyone knew that the process had included every family and that there was no competition for help.
[More about ATD Fourth World's work in Haiti from 1981 to 2014 can be found in Volume 1 of Artisans of Peace Overcoming Poverty: A People-Centered Movement, available for free download at http://www.atd-fourthworld.org/publication-artisans-of-peace/.]