An Audience with the Real Poverty Experts at a French School in London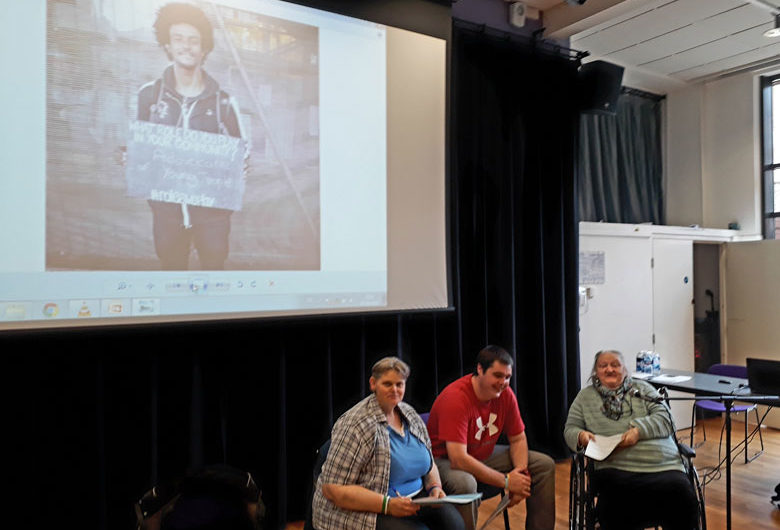 Above: Moraene, James, and Amanda (ATD Fourth World Activists).  The projected photo shows a person who took part in the Community Chalk Board campaign, an interactive element of the "Roles We Play" project. People responded with a photo showing themselves and their answer to the questions, "What does poverty mean to you and what role do you play in your community?"
For several years now, members of ATD Fourth World–UK have acted as "poverty experts" by bringing people with a lived experience of poverty to make presentations, for example at the Belfast city council, at a conference on welfare reform organized by Bradford Council and Liverpool University, or as part of the "Sociology of the Family" module at the University of Sheffield.
At the end of September 2017 the Lycée Français Charles de Gaulle organised a series of lectures on humanitarian aid today. ATD Fourth World, which has worked with the school for several years, was invited to give an hour-long presentation to more than a hundred teenagers. Five ATD Fourth World grass-roots activists led this lecture.
The presentation began with the ATD Fourth World visitors asking the students what poverty meant to them. This was followed by some brainstorming and a short debate. Afterwards each ATD Fourth World member explained with concrete examples what poverty meant for them and what it is like to be poor in the UK today. Both students and faculty called the experience "eye-opening".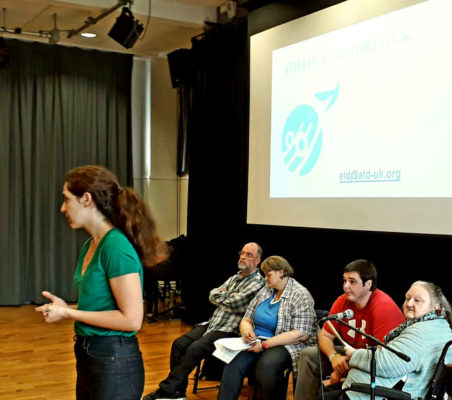 Some of the students remarked that they see poverty as:
"A misfortune, not having as much freedom as others."
"Being treated differently, having no voice, being forgotten."
"Not being able to have the right necessities to get through life."
"Being judged and criticized."
It was a rare occasion for people to meet and relate to each other, even though they belong to different worlds, albeit in a single city. One teacher, Isabella Martial, commented, "The dignity of the speakers made it clear that, no matter how much people may struggle at some point in life, they are human beings who must be seen and treated as such."
Asked what they felt they learned, students commented:
"Never judge a book by its cover; never judge a person by their appearance."
"I have to help my community."
"Even if you are poor, you are still a person."
"People living in poverty have an important role to play in their lives and the community."
"I learned that poverty is not just about money, it's also about dignity."
"There is discrimination against poor people."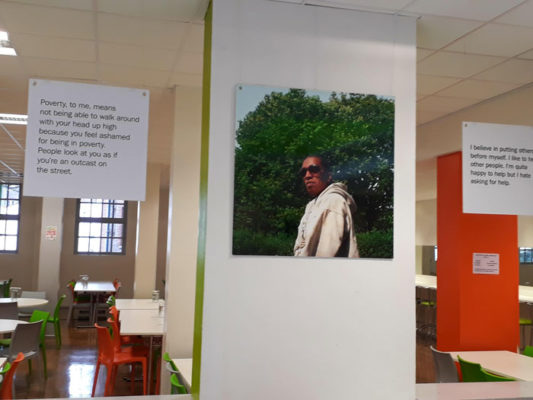 One of the poverty experts from ATD Fourth World was Amanda Button, an activist who contributed to ATD Fourth World's research for UNESCO in 2009-2012 about the violence of poverty. She said:
Meeting the kids and having these face-to-face conversations was a real chance to connect with the students. It was very important to me because the students from this school are often from very privileged backgrounds. Many will go on to be important people in positions of power. So I was personally interested in finding out if these students had any experience or opinion about poverty.

I chose to give a presentation on the importance of people in poverty having ownership of their own image. This relates to the work we did on a project called "The Roles We Play: Recognising the Contributions of People in Poverty". I also spoke about how I have developed and progressed since knowing ATD Fourth World. I was living in poverty; but now I have got stronger and can feel good about myself. We spoke about prejudice and how people in poverty feel discriminated against. By doing this event, we showed the students not to judge people and that people in poverty have the capacity to do important things.

Overall the contact with the students and teachers was great; everyone was engaged and really listened. A couple of students even came up at the end. Thanking us, they asked if they could volunteer with ATD Fourth World. The event was a success and shows that the poverty experts' project is good and has a real positive effect.
The exhibition "The Roles We Play: Recognising the Contributions of People in Poverty" was also on display in the school refectory during the months of October and November to mark the World Day for Overcoming Poverty.