Awesome ATD Allies in the Philippines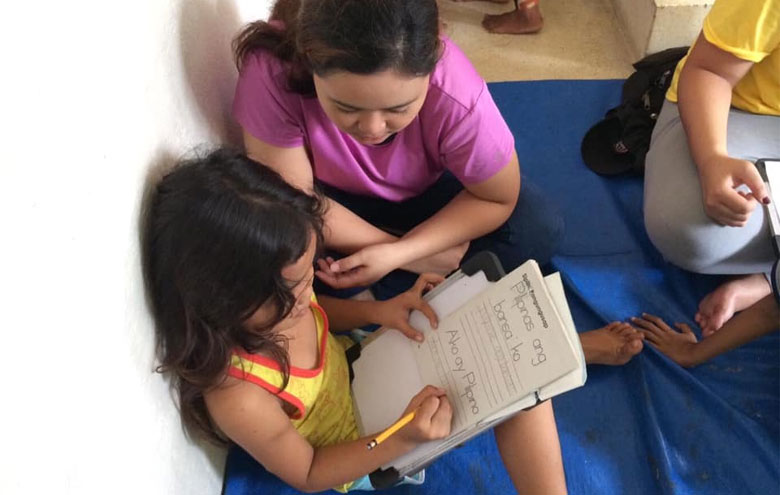 Above: ATD Philippines' Ang Galing street library in 2019.
Mark is a nine-year-old boy who lives with his family inside Manila North Cemetery, the biggest and oldest public cemetery in Metro Manila. More than 10,000 people in poverty live in this cemetery because there is no affordable housing in the Capitol.
Mark used to be very shy and have trouble at school. Then Ate Lilian, one of ATD's community activist facilitators, encouraged him to join the reading and writing tutorial program that takes place right in the North Cemetery.
Mark was introduced to Mae Ann, a long-time ATD friend who is now working full-time as Ang Galing Coordinator. Through Mae Ann, Mark was introduced to other volunteer tutors of the program who helped him in his learning process.
"He was shy. He used to stutter when he read", said Mark's mom. "Now he knows how to read."
In the video, you also meet Reymond, a long-time ATD ally. He works in a corporate firm and volunteers his free time with Mark and the other children. Building a child's self-confidence is key, Reymond explains in the video. "When the child realizes, 'I'm good at this, I have learned', then the actual reading and writing follows. At the same time, that helps them with school."
Icia is another ATD ally and a professional videographer. In addition to making this video, she helps with Ang Galing, supporting the small team of full time Volunteer Corps members in Manila.
Without Reymond, Mae Ann, Icia, and many other allies around the world, ATD's work would not be possible. These allies collaborate closely with activists and Volunteer Corps members in ATD's initiatives around the world. Some work on education projects with children or adults. Others give a hand with administrative tasks, editing, art projects, or communications.
If you would like more information on becoming an ATD ally, get in touch with ATD in your country through the Where We Are menu on our homepage, or . You don't need any special skills – no matter what you do or where you live, we can use your help!
*Ang Galing ("You're Awesome") is a literacy program. Designed for students six years old and above, the program targets children who are having trouble at school or who do not attend school at all. In addition to fostering children's confidence and teaching them to read, Ang Galing also supports parents' own efforts to educate their children and shares program outcomes with other NGO's and education agencies in the Philippines.
More about ATD in the Philippines
ATD Philippines' web site
More about ATD's education programs with children and adults around the world
Meet other ATD Allies
Join the full time ATD Volunteer Corps