Beatriz Monje | My Journey in Words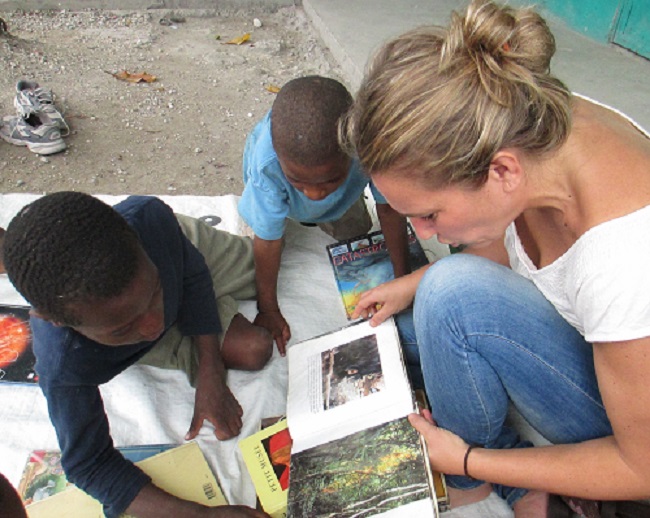 Beatriz Monje is Spanish and has been part of the ATD Fourth World international Volunteer Corps since 1997. She has developed projects in both Madrid and London. At the ATD international centre in Mery-sur-Oise, France, she was the team coordinator of a participatory research project, "Poverty is Violence". She currently lives in Mexico City and is part of ATD's Regional Delegation for Latin America and the Caribbean. In addition to her work in the field, she has published articles on extreme poverty and human rights in specialized media.
Today, she also shares her experiences and reflections in the Spanish-language blog, "Everyone Act for Dignity: Travel Notebook". Her article, Anna Gave Birth, has received more than 7,000 visits and attracted many new readers. In this interview she talks about her commitment to overcoming poverty and her motivation to deepen this through writing.
Beatriz, what is it that motivates you to write the blog "Everyone Act for Dignity: Travel Notebook"?
Almost twenty years ago, I chose the ATD Volunteer Corps as a way of life. At the time, I remember reading a quote from Joseph Wresinski, founder of ATD Fourth World, saying, "The poor are our teachers". At that time, I didn't really know to what extent this would be true for me, but I know now that it is. I have discovered what is most important to me and who I am through working and living with children, young people and adults who experience the injustice that is poverty. That feeling of having discovered things that the rest of the world ignores and pushes aside–on purpose or through clumsiness–is a point of departure for my writing. Then, of course, there is also the feeling of having a certain responsibility to tell people about these things and the need to do it in a space where others also share their thoughts.
That feeling of having discovered things that the rest of the world ignores…is a point of departure for my writing.
What would you say about this blog to someone who isn't familiar with it?
I think our blog is original in several ways. None of the collaborators think we should celebrate poverty, of course. However, all of us recognize that in the way people whose lives are very difficult persevere, in their manner of resistance, in their way of cultivating human dignity in the midst of adversity … there is something we can learn that will help make a new and better society for everyone. Some articles emphasize the negatives, describing injustice and violence that those living in poverty endure. Others try to show things that will serve as tools for changing the world in essential ways. In addition, our blog has a variety of partners. We come from different Spanish-speaking countries, but we also have had very different experiences in life. It is an honour for me to publish pieces side by side with people writing from their own experience of poverty. No one person is "the voice of the voiceless", but we are joining our voices to speak out together for the same cause.
Do you think that writing, in some way, feeds your commitment to your work?
Often, I feel like writing an article for the blog after reading something in the newspaper or on social networks, or after a conversation, or of course after some powerful experience linked to someone in poverty. However, I think my first motivation is not so much just to talk about something, but rather to deepen my understanding, to sort it out somehow within me, maybe put what I'm learning into words. And I think this can be useful to others too. Writing somehow fixes something in my memory and in our collective memory. Sometimes writing is also a way to pay tribute to other people, or to what we have gone through together. In that sense, I'm pretty sure that writing has helped me maintain my enthusiasm for my work, to feed it, not to lose heart, to find meaning even in the most difficult moments. I like knowing that what we write now can be shared so easily through social networks and reach places where it would not otherwise be read. But I still write a lot for myself, as an exercise in contemplation on what happens to me and around me. Actually, I like to think that what I share in the blog always originates with these things.
…[W]riting has helped me maintain my enthusiasm for my work, to feed it, not to lose heart, to find meaning even in the most difficult moments.
In addition, there is something about writing that really comes from our training within ATD Fourth World. From the very origins of our movement, Joseph Wresinski wrote and encouraged others to write: journals, conferences, articles, reports, and letters. He didn't only ask people with more skills to write, but everyone. On the one hand, I think it was a way for everyone, whoever they were, to deepen their way of being in the world, their commitment to their work. But he also spoke about writing the history of the poorest, not a story about the poor written with the distance of a sociological study, but history written from a shared life. Over the years, many Fourth World activists with experiences of poverty have written about their personal or family history and what we all work for together. So little by little this history of poverty has gradually been built, a story that has never before been told by people living in poverty themselves. Those of us who have not known poverty in our own lives join their efforts, not to speak on their behalf, but to contribute what people share with us.
After nearly twenty years, how would you tell your story with ATD Fourth World today?
Not long ago, I received a beautiful letter from Madrid, sent by Silvia. She told her story through the people she has met in ATD Fourth World. Twenty years of people, from the time she first ran into some ATD volunteers near a Street Library in her neighbourhood. For me, and really for each of us, the story of my interest in ATD can also be told through the people I've gotten to know over the years, including my beloved Silvia.
The truth is that we have chosen to devote our lives to very difficult work. Progress seems far too slow when we are face to face with the immense suffering extreme poverty inflicts on people. I'm sure that what keeps us going are all the personal ties between members of the Volunteer Corps, ATD Fourth World supporters, and activists in poverty. In this way, our teams of permanent volunteers are very different from many organizations working in emergency situations or people giving just a few years to working in poor areas. Our presence in communities is always long term. Even if I am not the particular person staying in one place for twenty or thirty years, there is an organizational long-term commitment to particular people and neighbourhoods. We can always return to these places and people. We don't just work for an organization. We are part of a movement of people, of particular individuals with bonds of friendship and interdependence.
The truth is that we have chosen to devote our lives to very difficult work.
In so little space, I can't mention all of the personal ties I have made and treasured with true joy and a sense of great privilege. But, unlike other publications to which I have contributed, the frequency of our "Travel Notebook" blog offers me a wonderful opportunity to tell the story– over time and with lots of twists and turns–of all these exceptional people that I care so much about and with whom I share my journey through this work.
Finally, Beatrice, what would you say to those who are visiting the ATD Fourth World website for the first time?
First, I encourage you to browse the 'Get Involved' section and find a way to participate that fits with your interests. You will soon see that it is not only offering your skills to a project, but also delving into a way of being in the world that offers an extraordinary opportunity to learn about the essence of our humanity. Of course, if you speak Spanish, I encourage you to read and subscribe to our blog, "Everybody Act for Dignity: Travel Notebook", to write in your thoughts, and to share our articles through your social networks. Sharing on social media is an important way to contribute, a very effective way to nurture the debate on poverty and to contribute to the dissemination of ideas. Above all, I thank you for having come with me to the end of this interview.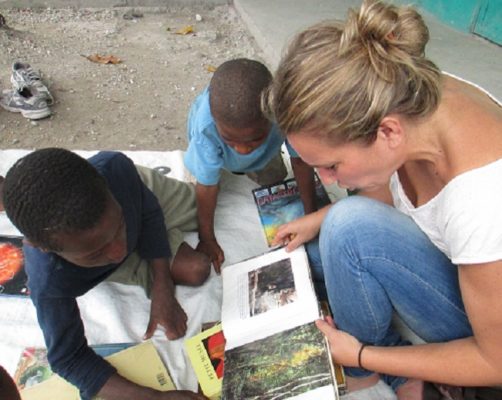 Follow ATD Fourth World Latin America and the Caribbean: twitter / facebook
Follow Beatriz Monje: @beatriz_monje_