Camille: an ally committed to facilitating a Street Library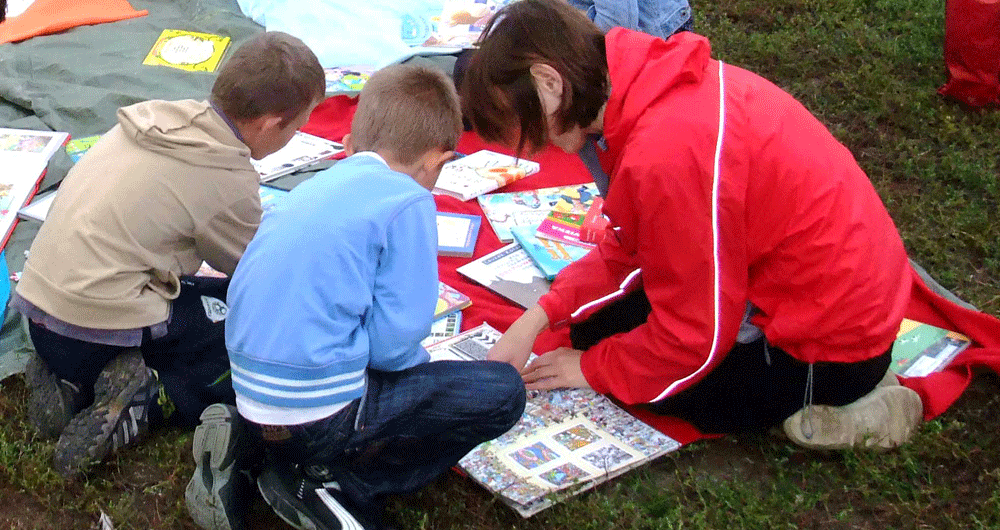 France — It's beneath the beltway, near the train tracks. There's a partially paved road, and more than a dozen trailers way down at the end.
It's nice out this afternoon. The yelling and laughter of children echoes as they invent games with an abandoned supermarket cart or an improvised swing. Others are building a cabin with planks. A little further on, young people are in a group, chatting.
It's Wednesday, the day school closes early. Camille, with other ATD Fourth World allies, heads toward the trailers, books under her arm.
"Books! Books!" The children run to her, shouting, "Hi, Camille!"
"Hi kids!" Every week, something magic happens around the books. It might be a funny story or a mystery that is read aloud or acted out. There are illustrations that spark new dreams. And as the months go by, friendships take root.
Making friends, page by page
A blanket on the ground and a crate of books: that's the Street Library. For several years now in this neighborhood, when one ally is no longer available, another one steps up to continue the project. Each of them has a different personality, but they share the common concern of getting to know the children over the course of the pages, as the weeks go by. Camille knows that many children there are failing in school. She makes a point of ensuring that the blanket has room for all of them: the youngest and the oldest, the ones who can read, and the ones who can't. "I am not here as a teacher," she says, "but to help them not be afraid of books. They deserve to discover that books represent more than scholastic difficulties, but that books are also something to be curious about, and they can be for pleasure."
Seeing the excitement around the albums, this approach seems to be working well! The Street Library is an open door to culture, and to the pleasure of hearing a story, and then retelling it, each child at their own pace. Camille makes sure to bring books for everyone: board books for the small ones; comic strip books for the older ones; fairy tales about princesses; books with photos of soccer stars; stories for cuddling; scary stories…
Camille tries to reach as many families as possible and to make sure that no child is left out during story time. The only Street Library rule is that the blanket they all sit on is a place of peace. The children come and go as they please, but no child may prevent another one from reading or listening. "Sometimes we play a game or we draw together. Doing a group activity helps me to understand the tensions that can exist between families. And sometimes I discover two children helping each other, even though I didn't think they were friends."
Getting to know low-income families in everyday life
Every ally is different, and the differences can be complementary. Camille runs this Street Library together with Eric, who plays ball with the teenagers, while she talks about cooking with the mothers. These interactions are also part of the Street Library: getting to know low-income families in their everyday life. It means hearing their anger that they only place their trailers are allowed is such a badly maintained site, and their concern about school and their children's future. It's also the chance to hear about the happiness of an unexpected visit or dreams of vacation.
In the Fourth World Street Library, overcoming poverty means getting involved by building a relationship of trust where people matter to each other. Camille says, "The children count on us to show up every week, and they give us so much in return."
ATD Fourth World's commitment is to defend access for all to culture, beauty, and imagination via the magic of books. It is also to receiving what each person has to give, and believing in the depth of humanity in each person, despite their daily concerns or the poverty that surrounds them. Thus, after a round of good-bye kisses, Camille says, "I adore these kids. They give me strength for my entire week."
Allies of ATD Fourth World are people of all walks of life acting in solidarity with people who live in extreme poverty. They reach out to their neighbors and colleagues to engage them in building a more inclusive society. Many of them volunteer their time to run Street Libraries.