"You Can Feel That the Atmosphere Has Changed."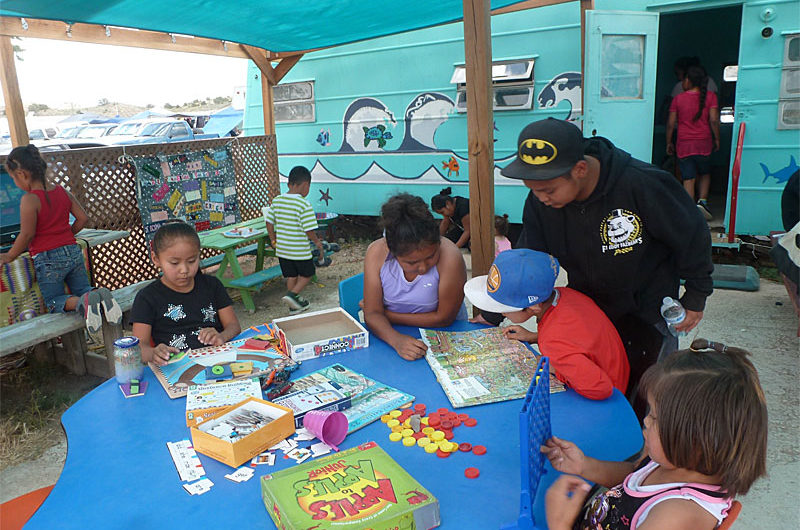 In 2017 ATD Fourth World invited people around the world to document real-life "Stories of Change" starting from situations of injustice and exclusion caused by extreme poverty. These stories, from activists, community leaders, and others, show that when people work together, real change can happen. For more about the "Stories of Change" blog, click here.
A Story Garden in a flea market brings about positive changes for children, families, and the local community.
By Karen Stornelli (United States of America)
Seen from afar, Gallup, New Mexico looks like the edge of the world, just another dot in the vast desert of the southwestern United States. Flyover country! But seen from the ground, it is actually a hub of economic life and a gathering point for cultural exchange for people from a huge geographic area. At its heart is the Gallup Flea Market, site of ATD Fourth World's weekly Story Garden*.
Trying to bring about change in a meaningful way in this area, while facing significant geographic, historical, and systemic obstacles, is a challenge — a challenge that ATD New Mexico faces with a trailer painted with waves, fish, and sea creatures. Decorated by children and volunteers, it is the hub for a space where the community can come together around books, learning, and creativity.
Picture this: every Saturday, around 10 AM, the Story Garden team sets up colorful bookshelves, banners, and tablecloths, with the help of a handful of children awaiting our arrival. Next come the learning toys and games, set up on a large children's table, with toddler toys on a small painted picnic table. Beautifully illustrated books are displayed next to colorful rubber mats where children and their families sit and read. The touchscreen computer is big enough for two or three children to enjoy at a time. Inside the trailer, children draw, play, and chat with new friends. Over at the art table, children discover the day's art activity and then add a new level of creativity.
The space is often full of children and their families before the set-up is done! Many of the children are at the market while their family sells goods. They go back and forth from their family's stand to the Story Garden space. Parents and grandparents stop by to be with their children when business is slow. Other families go to the market to buy goods, and stop at the Story Garden for anywhere from a few minutes to a few hours. Around 4 PM, vendors start packing up their goods to make the sometimes-long trip home, and the Story Garden facilitators follow suit.
But can a space like this lead to real change for people? Before the start of the Story Garden in 2012, the manager of the Gallup Flea Market warned the ATD Volunteer Corps members: "Things don't change here. People don't like new things coming in. They're set in their ways."
So, five years later, what has changed?
Some changes are concrete — such as adult family members seeing their children doing better in school, showing stronger friendships and relationships with family, thinking creatively and solving problems, and getting more involved in their own learning.
"My daughter was in special education throughout last year. She's not anymore. That's because she's doing better with you guys," one mother told us recently.
"My daughter's creativity came out when she started at Story Garden. Now she is into trying any type of art. She shows her teacher and tells her about what she made at Story Garden," another parent said.
One dad explained, "Story Garden brings out my son's kindness. Now he's nice to everyone and helpful."
A mother shared, "My daughter has a better attitude now, especially at school. The teacher asked me what we were doing differently. I told her we're not doing anything different [at home]. I told her I think it's on the weekend when she's with you guys."
So Story Garden has led to positive changes among children. What about their families?
One grandmother discusses the impact of Story Garden on the way she raises her grandchildren:
"Since we've been doing the Story Garden, it has cut back on their TV time. There's reading and artwork. As a grandparent, I'm usually in the kitchen doing something. I'm getting to a point to where I'm catching myself. I'll turn off the stove and dinner can wait — I'll go help her! So, I'm learning that as I see what you guys do."
Through Story Garden, some participants have found that they see themselves and others differently. A guest facilitator from the University of New Mexico-North Campus, Adult Education Center, put it this way:
"I really didn't have the confidence to do what I did out there: to read in front of those kids. I'm not a very good reader. It was something I was really scared of. But when I did it, I felt really good about myself." She explains how her daughter was surprised that her mom was able to facilitate the Story Garden and how proud she was that her daughter could see her that way.
She goes on: "At the Story Garden, you see a different side of somebody. It's really amazing how you could see other people just come and join their kids — whether they're busy or not — they still come to interact with their children. And I think you guys have done that a lot for other people and it's really amazing."
Perhaps most inspiring though has been witnessing the Story Garden's impact on the flea market as a broader community.
A former staff member spoke about changes he has seen at the flea market since the Story Garden began:
"The relationship between staff and vendors was tense," he explained. "The vendors stayed to themselves, and the atmosphere was often difficult. Parents and staff worried constantly about the children's safety in the market.
"Now, actually, since you all have been there, we know where the kids are going, and we know they're gonna be safe and we know they're gonna have fun. So we, as staff, are more comfortable. And their parents, I think, feel that way too, and they can relax a little more because they have that confidence in you all. The vendors are more approachable now. They're more open towards us. The atmosphere is friendlier and has changed a lot since the Story Garden began."
In just five years, Story Garden has become part of the Gallup community — and the positive changes it has brought about have been beyond what we could have imagined when we began.
*The Story Garden is similar to Street Libraries that ATD Fourth World runs in many countries around the world.