Carry on Creating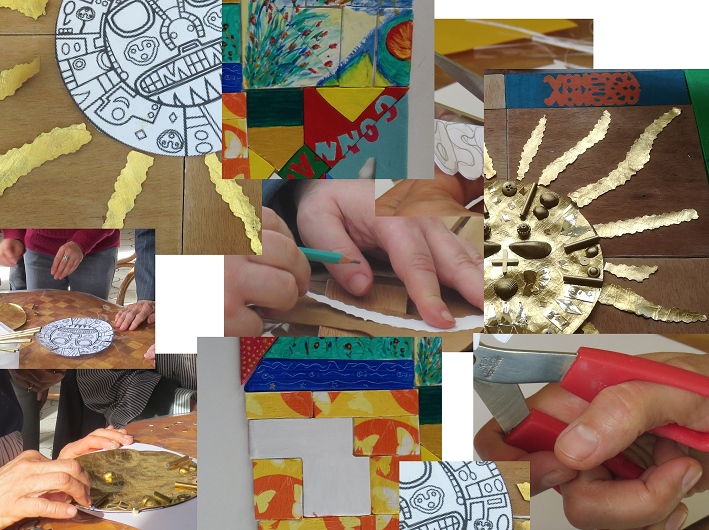 A new art project is making its way around the world! ATD Fourth World is launching a collaborative travelling art project similar to People of Courage. Through working on a piece of art together, people in different countries where ATD works exchange ideas and experiences, helping to build a sense of community and overcome isolation.
Small groups will create and decorate "squares" made out of wood or other light material suitable for travel. Each square will travel to another country with a short presentation about the group that made the square. The next group adds its own artwork to the square and sends it on with the new group's presentation about themselves. The square will be complete when four groups have contributed to its creation, one after another.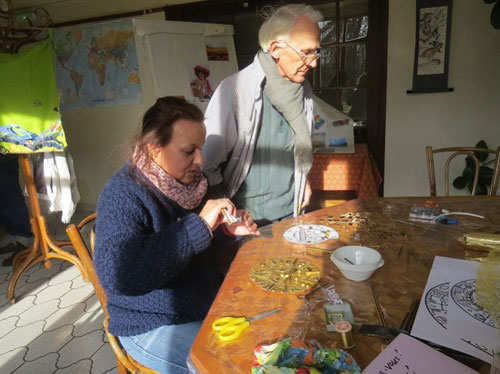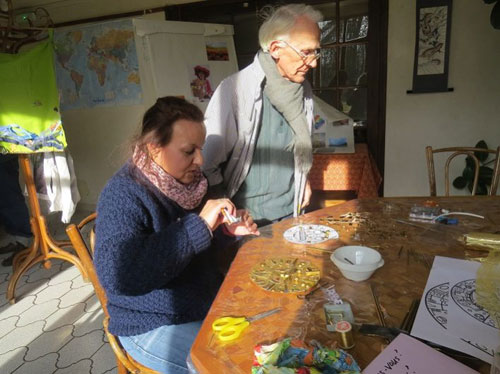 This project provides people with the opportunity to use materials and techniques they already know and to learn about new ones. Through the travelling squares, people get to know about other places and meet new people. The creative dynamic keeps these exchanges light and allows diverse groups of people to contribute to a shared composition.
With seven squares already started, this project is just getting underway. Some of the squares are being worked on in Switzerland and others are on their way to Burkina Faso, Haiti, the Philippines, and Peru.
How to start your Square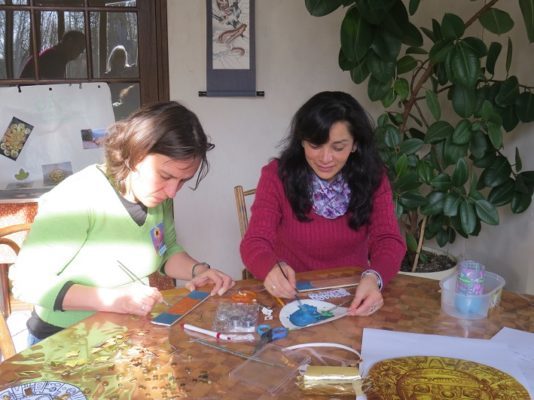 Select a material that is light, like fabric, to make a square of 70 cm by 70 cm. (If using wood or other stiff material, cut your square into pieces that can be put back together, to make packing and travel easier!) You can use many techniques, perhaps painting, woodworking, sewing, knitting, pyrographing, paper sculpture, marquetry, collage, patchwork, batik, dye work, etc.
The first group launching a square should think about the background on which other groups will continue to work. In the first step, the group should work freely, but the square should not be overworked so as to leave room for others' contributions.
Take the time to reflect on your presentations. You could include photos and information about who you are, what your dreams are, what your daily life is like, what excites you, the place you live…in an effort to inspire the next group. Artistic expression should have free range, but if certain types of representation are significant to you, you could explain why.
The square is then ready to go to the second group, which will continue working on it while leaving space for the third group which will also add a short presentation about itself, and then send the square to the fourth group.
Try to keep in touch with the other groups working on your Carry On Creating square so they can tell you how things turned out.
Take pictures if possible and note who participated and in what context.
Have fun with your collaborative creation!
If you do not live near an ATD Fourth World team but would like to start or work on a square, please be in touch with project coordinator Ros Tanton: 
Origin of the Squares Project
The Squares Project was inspired by a number of other ATD collaborative art projects that served as opportunities to be creative and to be in touch with other people working to overcome poverty around the world:
Linked Squares: In 2012, in Brussels, Belgium, the Youplaboum Centre for Expression and Creativity started a project called "Carres en lien" (Linked Squares). The goal was to build connections to other centres through a common project. In 2014, the collection of squares was exhibited to promote these socio-cultural efforts. The Maison des Savoirs (House of Learning), an ATD Fourth World cultural initiative and recognized centre for expression and creativity, participated in the creation and decoration of numerous squares of all types.
The Tapori Suitcases: Groups of children from around the world decorated, constructed, and filled the "suitcases", which travelled from one Tapori group to another.
"Those Who Are Absent" Embroidery Project: Groups of people living in poverty throughout the world embroidered scenes from their lives. These embroidery works were assembled on large canvases and presented to the Pope in 1989.
The Patchwork of Our Lives: Pieces of fabric with significant meaning to individuals involved with ATD around the world were assembled as a patchwork that represents the commemorative stone memorial at the Trocadero in Paris. ATD displayed the patchwork project at the UN and in numerous countries.
The Wall of Courage: Hundreds of visitors to ATD Fourth World's International Centre created clay tiles between 1989 and 2000. The tiles were secured on a wall called the Wall of Courage.
Photos of the The Wall of Courage in Méry-sur-Oise, France.
For additional information about ATD's work bringing art to disadvantaged communities.