Celebrating 25 Years of Community and History in Honduras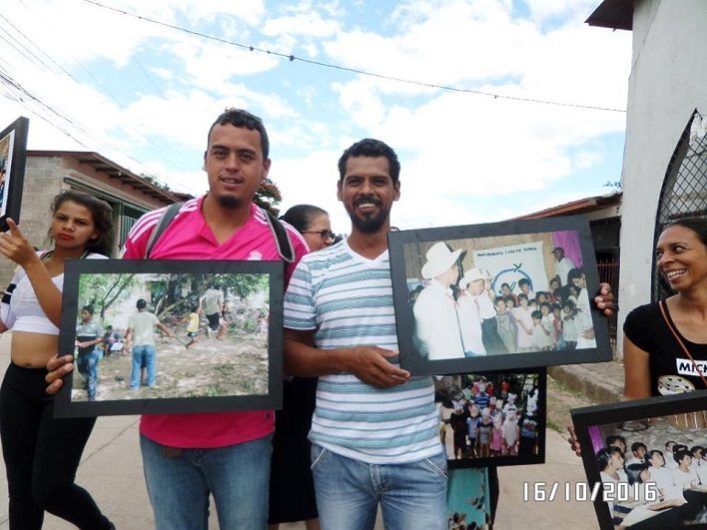 When ATD Fourth World in Honduras recently celebrated its 25th anniversary, it was not a celebration of projects run by outside development groups. It was a celebration of the people living in extreme poverty who, despite desperate struggles to survive day to day, have built a strong community together over many years. For some families, several generations have been part of efforts to improve their own lives, but also to reach out continually to other marginalized families.
In October 2016, several events celebrated the start of ATD's work in the Nueva Suyapa colony and the 'La Bolsa' neighbourhood. In January, ATD activists and Volunteer Corps members started planning the grand celebration. In addition to organizing the 25th anniversary events, their meetings also led to the development of new projects. The existing Street Libraries and "Children's Day" events have been so successful that people wanted to organize other gatherings such as a 'Tea Time' for families and allies, and a Book Club to discuss works by Joseph Wresinski, the founder of ATD Fourth World.
These new activities have reinforced the connections between families that belong to the same community and have the same history. Carlos Roberto García of Nueva Suyapa explains:
"Forty two years ago, the colony of Nueva Suyapa, near the capital, Tegucigalpa City, was founded right after an invasion. The first settlers experienced extreme poverty. We lacked all basic services and our streets were dirt paths. Houses were made of cardboard and pieces of cloth and rags…. Instead of letting their poverty beat them, many parents, including my own, devoted themselves to hard work. They never gave up hope that their children would become professionals, ending this life of extreme poverty."
Edgardo Rodríguez, also of Nueva Suyapa, added:
"As young people we keep trying to focus on the essential, and the essential was always to look out for children and their families and the poorest among us. Our support knew no limits because many of us we were living through difficult times, but that is what motivated us."
For the 25th anniversary celebration, ATD prepared an exhibition of 25 photographs showing the progress made through the dedication of many people over the last 25 years. The exhibition highlighted events illustrating the courage of countless young people over several generations as well as the parents who allowed their children to participate in ATD's cultural activities.
Nueva Suyapa's Our Lady of the Visitación's Parish Centre exhibited the photos for a week. The church had been helpful in encouraging young people to become leaders in many of ATD's activities in Flores de Oriente, Los Pinos colony, and Comayagüela's 'La Bolsa' neighbourhoods.
For many people, visiting the exhibition was an emotional experience that evoked the memory of young people who had been killed or who had left the neighbourhood in search of a new life. The exhibit had a profound effect on many ATD members because it showed how they and their families had contributed to the development of what has become a significant movement in the country. "What a brilliant idea!" said ATD member Henry Guillermo Norales, taking a picture of a photo to send to his sister, who no longer lives in the area. In this way, she can feel a sense of pride in seeing her mother recognized and honoured for her contributions to the community. "We are part of a great history!" exclaimed one resident of Flores de Oriente.
"Dona Xiomara Mejía has been a fundamental person in the path I've taken in both my commitment and motivation, because she has inspired me. In spite of experiencing so many obstacles, these days she continues to be an example of a motivating woman for many people we know, since they have always received us with open arms in their homes and wherever we see them. Despite so much hardship she keeps on constantly struggling through everything. When we chat with her she leaves us with a lesson that moves us and makes us continue helping the most excluded."
Ivan Calix, Brisas de Suyapa
On Sunday, 16 October, the 25th anniversary celebration took place as part of World Day to Overcome Poverty. From the early hours of the morning, families from the 'La Bolsa' neighbourhood gathered with people from the colony of Nueva Suyapa for "a day of friendship and communion," as Esteban Zepeda put it. This gathering at Parish Centre was a wonderful reunion for several generations of families from various neighbourhoods, all of whom have been part of ATD Fourth World.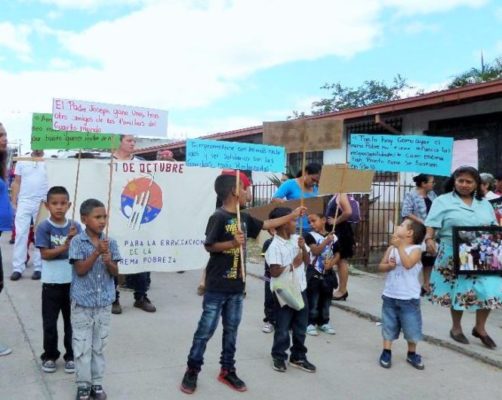 Carrying posters and photographs, the group walked together, accompanied by the colony's school band, towards the FANIA educational centre.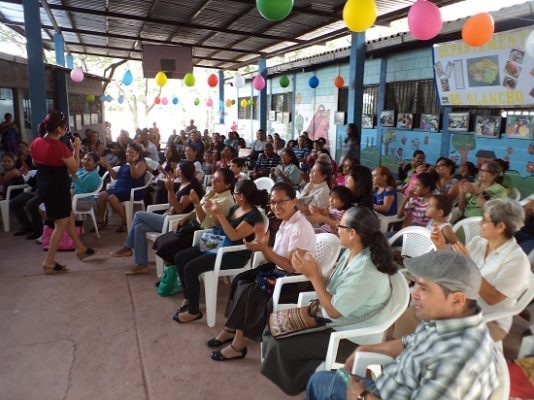 Following the march, there was a large ceremony that included all the participants, accompanied by ATD Fourth World Honduras members Rosa Perez and Dimas Perez, Guatemalan members of the ATD Volunteer Corps, and Juliet Pino, a member of ATD's regional delegation for Latin America and the Caribbean. Carmen Banegas and Carlos Roberto García began the event saying, "ATD Fourth World has left an indelible mark on my life and the lives of all of us." Following his speech, others spoke about their personal experiences.
"I feel especially proud to be here because ATD Fourth World has been very important to me. When you are a child sometimes you feel your dreams stunted by poverty. I never imagined I would be standing here today giving a speech… My husband and I both took part in the Street Library as children. One day my daughter asked me how she could take part in the Street Libraries. She managed to become a facilitator and that has motivated me to get involved again with ATD Fourth World."
Wendy Archaga, Flores de Oriente
In the community of Nueva Suyapa, ATD celebrates life by honouring the strength of parents and the determination of young people through all their struggles. For 25 years, the community they have created together has never given up their work to build a future without poverty, a future of full justice and peace for everyone.