Celebration of World Day for Overcoming Poverty in Haiti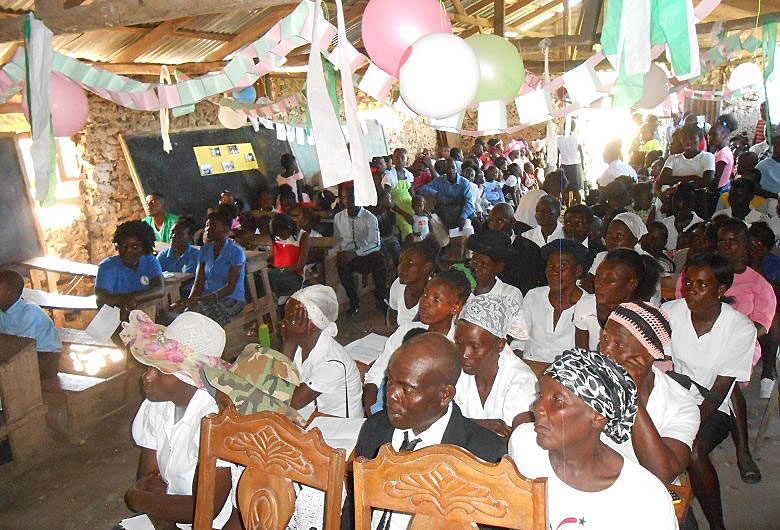 The week of 17 October 2018 was marked by tense news stories in Haiti of social movements and protests. Despite current affairs bringing uncertainty and insecurity, several events took place to celebrate the World Day for Overcoming Poverty.
On 16 October, 18 media organizations attended a press conference held in the Office for the Protection of Citizens (OPC). Representatives from OPC, the Episcopal commission "Justice and Peace", "LAKOU-LAKAY Don Bosco,"* and ATD Fourth World explained World Day's origin and meaning as well as its importance in Haiti today.
"You cannot talk about extreme poverty without referring to fundamental human rights," the OPC representative stated. "In a context of increasing extreme poverty and inequality, everyone has to take responsibility, starting with public authorities," emphasized the representative from "Justice and Peace."
For the first time, the day itself was celebrated at Jean Rabel in the northwest area of the country, where two Haitian members of the ATD Volunteer Corps have been working since January 2018. Organizing the event required a tremendous effort on the part of many people. Jean Rabel is a rural community spread out over a large area, where dirt roads are difficult to navigate. Daily life is very precarious. There are problems finding and transporting clean water and it is challenging to develop agricultural resources. People face problems related to hunger and ill health. The 17 October gathering took place in an isolated and poverty-stricken area that virtually never sees visitors, yet 258 people were there. The fact that the local authorities and people from other regions travelled to this area gave significant meaning to the celebration. During the ceremony, adults gave two speeches on behalf of the community. Five young people accompanied by a grandmother presented a theatre piece, and children and adults sang songs.
On 19 October, a second gathering of more than 300 people took place in Port-au-Prince at the offices of "LAKAY Don Bosco." Young people involved with "Don Bosco" in LAKOU and LAKAY gave a striking performance of circus acts. A collectively prepared address written by parents involved in ATD Fourth World projects described how hard it is for families to stay united in the face of the tremendous challenges of living in extreme poverty. They emphasized all the efforts that parents make so that their children can grow up within their family, without denying that these efforts do not always reach their goal. This address, to be published in the Creole newspaper Good News, was widely echoed among the families present who experience extreme poverty. The response from a number of these families was: "That's exactly what we're going through too."
*A project to help children and young people living on the streets.