Central African Republic: Peace as the Road to Civic Engagement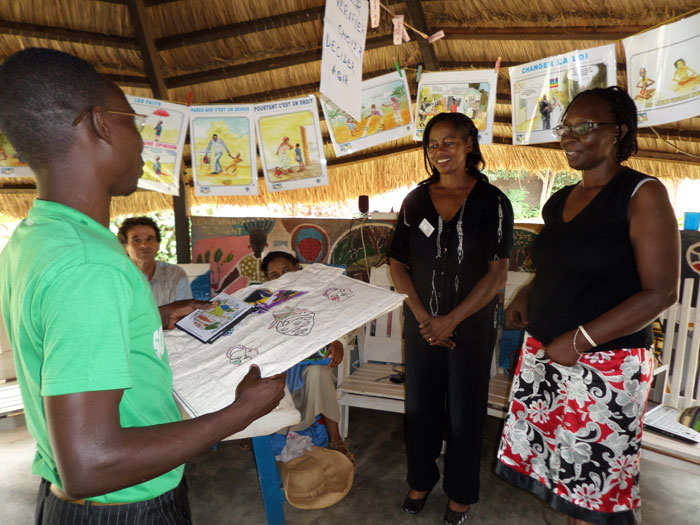 Coincidence? While the President of the Central African Republic (CAR) assembled some of the country's well-known figures to reflect on getting past various divisions and moving towards the mutual recognition of all as full citizens, 50 young people who lead activities in various associations got together at ATD's Courtyard in Bangui for a professional training entitled, "Peace as the Road to Civic Engagement."
It was precisely in order to "open minds," to think together about the mechanisms that led to CAR's conflict, and to ready themselves for an active citizenship that fosters peace, that 25 students and young people in social action networks, along with 25 youth members of ATD Fourth World took part in this leadership training and exchange. ATD Fourth World organized the leadership training in partnership with the Rwandan association Umuseke (meaning "Aurora" in Kinyarwanda ).
In this uncertain time for the country, hearts and minds gathered in a joint act of trust: "Now is when our country needs this message," said one young Street Library facilitator in anticipation. Nothing could diminish the eagerness to meet together, to take a step back and get some perspective in order to, as one participant put it, "Imagine together what peace can be."
Participants were welcomed at ATD's Courtyard, temporarily renamed "Linga Siriri ti" (meaning "Peace Drum" in Sango) by a close friend, the elected district chief. Central African participants and facilitators from afar witnessed that civic life begins with responsibilities taken at the grassroots level.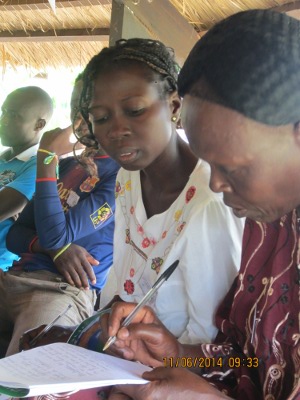 Some string, clothespins, and 29 poster-sized drawings of scenes of daily life – these were the teaching tools that the facilitators, two women from Rwanda, used to support dialogue. What a relief to be able to shed light on prejudices that tear people down: "There is the reality, and then there are misconceptions. People say that all the Mandja are thieves, that all the Banda women cheat, and that all the men here have a 'second office'[mistress]. They say all Muslims are armed and that all the Christians have machetes; that all 'godobés' (child workers ) are robbers and bandits. Such judgments do not respect individuals as persons. People judge according to what group someone belongs to. That person gets labeled and loses his dignity as a unique individual. This fosters resentment and leads to retaliation which leads to conflict."
The program continued with exploring two major components: the sources of conflict (highlighting the effects of perceptions, generalizations, prejudices, rumors, etc.) and possible solutions. In addressing the sources of conflict, many participants felt they could better analyze what they had experienced in recent months.
One primary school director recalled having tried to counter rumors: "There were Mauritanian refugees near us. Some children in our school said that they were Seleka. The next day very few students came to school; parents were afraid. With the few children who did attend, we went to greet the refugees. The children saw that the Mauritanians were nice. I sent the children home at the end of the day with the mission to tell others the truth. By the next day, these children were able to reassure their friends, and rumors that these refugees were dangerous ended."
Another who volunteers in an association that provides vocational training for young people with HIV continued: "At the airport site where, on May 26, under the rain, I took refuge with my family, we were told that Seleka had entered the camp: everyone fled. On the spur of the moment, we, too, had no time to hesitate; first we had to run. Only afterward can you stop and think, otherwise—because sometimes there is some element of truth—you put yourself in danger."
In one critical thinking exercise, facilitators asked participants to take a position (yes, no, both) in relation to a statement. For example: "All the Central African young people are being manipulated by political agents." After a long, animated, and sometimes heated discussion, nobody had changed sides. Yet all the arguments were convincing! Everyone became aware of how much that tendency to take and hold a position is imbedded in each person: "If you are on one side, you can't change, otherwise you're a traitor." In very little time, participants realized the magnitude of their task: create in oneself, as well as in others, a spirit of peace and listening, a sense of citizenship and respect!
One participant made the link to what has been happening in the country: "As Muslims and Christians, we were together, and then we became enemies because we heard on the radio the opinions of people who told us we were in a war between religions. But that was put forward by the people who wanted power, and that put us in a terrible situation. When you keep hearing opinions in just one direction, you really have to step back and think about them, and detach the facts from the opinion."
When the facilitators asked, "Do you see examples of good citizens, people you would call exemplary because of the civic actions they undertake?" of course, participants gave names like Bartholomew Boganda [CAR first Prime Minister] and Nelson Mandela. But then Firmin, who helps run the Street Library in Kokoro on the outskirts of Bangui, expressed what much of the group was thinking: active citizenship starts locally, with the youth themselves. "This leads us to become more aware of our own actions. I won't keep this training to myself; I'll share it, and that will be my way of being an active, engaged citizen."
One evening the facilitators from Rwanda explained how young people there manage to get past divisions. One of the participants was already looking toward the future: "Just as our Rwandan friends have come to give us this message of peace today, we know that one day, it is we Central Africans who will carry the light of peace to those who need it."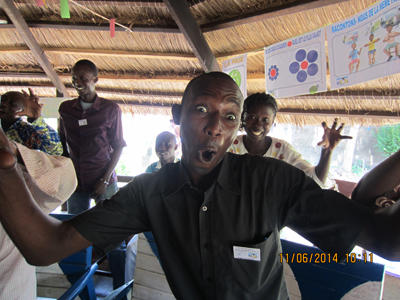 Each participant left with a "civic engagement binder" containing the teaching guide for the program, along with a colored, laminated set of the posters ready to use in activities with other groups. The partners have scheduled a follow-up meeting in which the Rwandan trainers will help the young people take stock of their experiences in their grassroots groups.
For now, in ATD Fourth World street libraries, in classrooms and educational centers, and in groups of various denominations (with appropriate precautions taken in the current context), the ATD Volunteer Corps members and youth leaders will help each other create times of reflection and dialogue for children and teens. They will bring lessons from their own journeys; they'll make the road together as they walk it.
Before returning to his village some 22 km (14 miles) away, one youth leader said: "Our country is going through a time in which all people must play their part for peace. We came to this training as artisans of peace. This commits us to transmit in our respective areas what we've learned. As we leave this village [the ATD Courtyard], we must become a phenomenon that researchers and analysts take up: an outbreak of peace is going to spread from the 'Linga Siriri ti' village!"