Children and Books Break Down Walls Between Grown-Ups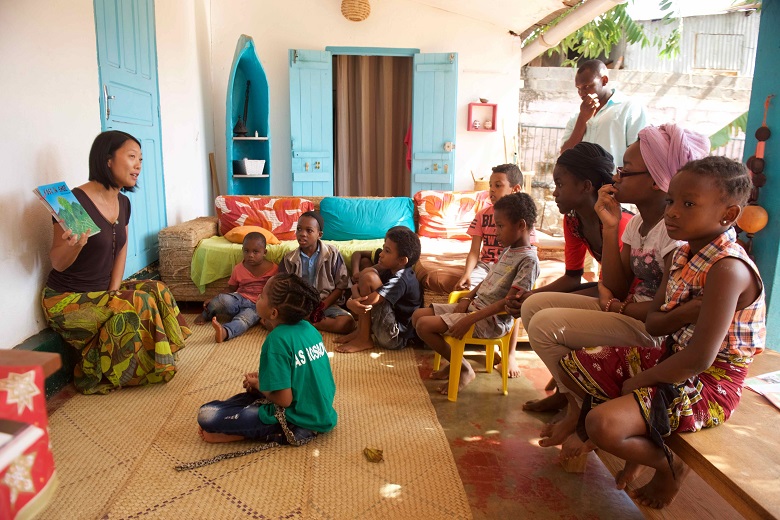 Shirley and Alexander are friends of ATD Fourth World in Mayotte, a small island in the Indian Ocean. In the capital city of Mamoudzou, they live in a neighbourhood called Passamainty. It is a challenging place where the residents face many difficulties. But Shirley and Alexander chose Passamainty as their home because they wanted to put into practice what they had learned during the two years they spent as permanent ATD volunteers in France. In 2014, they moved to Mayotte to invest themselves in the community where they now live and work.
Shirley is a social worker who specializes in prevention services. She uses a "reach out" approach that makes for real connections with local people. She and her co-workers also run two street libraries similar to those ATD organizes all over the world.
Alexander is also involved in social work. When the agency responsible for minors seeks to remove children from their homes, he raises questions about whether the parents are, in fact, unavailable or unable to care for their own children. He suggests other ways to support the family so the children do not have to be placed in foster care.
Both Shirley and Alexander wanted to get to know the residents of this troubled neighbourhood who come from the different islands of Mayotte and Comoros. The only 'Wazungu' (white people) on the street, Shirley and Alexander live alongside families whose lives are difficult, especially when they have no residency permit. A few blocks away, at the foot of a hill, live families in homes made of sheet metal boxes.
Early on Shirley and Alexander noticed divisions between the families in their neighbourhood. There were conflicts between natives of Mayotte and people from Comoros. For example, people from Mayotte hired people from Comoros for various jobs, but paid them low wages under the table.
After meeting with families from different backgrounds and origins, Shirley and Alexander started a Tapori group. They wanted to help the neighbourhood children be friends, even if their parents weren't on friendly terms. They also hoped the children might eventually help bring the parents together. As the home of "Wazungu" located in the middle of the block, Shirley and Alexander's house is considered a neutral spot for the children's program. Throughout the year the Tapori group organized activities on family and environment, how the children see themselves and what they particularly enjoy. The group also worked together on a presentation about the neighbourhood, and exchanged emails with other Tapori groups in the Indian Ocean region.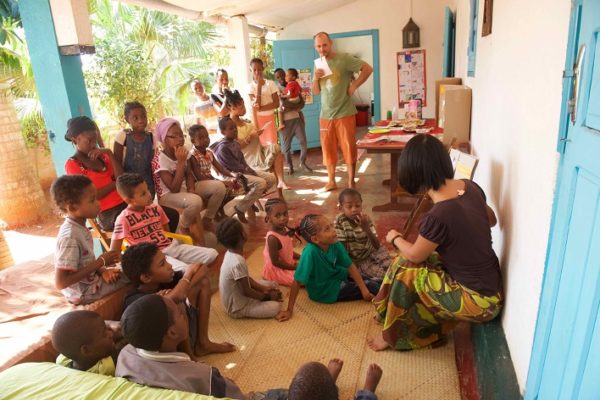 For over a year, the Tapori group consisted mostly of children. Parents were reluctant to take part in the meetings. They would drop off their children but never come in the house to see what they were doing. The Tapori group leaders always introduced themselves and told the parents a little about what was going on, especially when they walked around the neighbourhood inviting children to participate. But it is unusual for parents to get involved in their children's outside activities if they trust the adults who run the group.
So it was a special achievement when, in July, parents attended a presentation of the Tapori group's work. The children and Tapori leaders had invited parents to come and see what the group had done over the past year. But the hope was also that parents would get to know one another in a relaxed setting focused on their children's accomplishments. Those who attended were very interested to see what their children had been working on all year. The children proudly showed their parents their individual contributions to group projects and the parents were delighted to see what their children had said or written.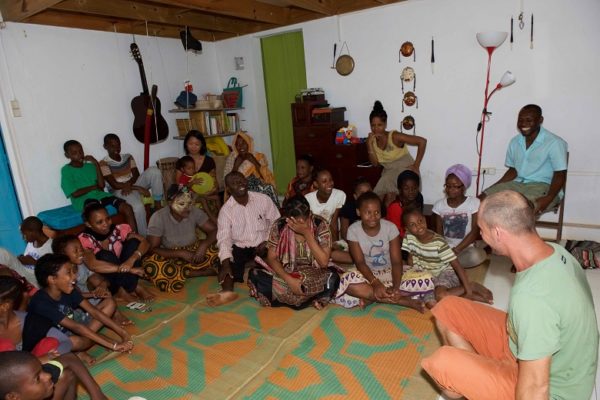 There were many nodding heads and murmurs of approval when the group leaders explained more about Tapori. Its central theme, they said, is bringing children from all over the world together so they can share experiences and ideas. More broadly, Tapori is about enabling people in extreme poverty to talk publicly in order to show that they too have important ideas, and to demonstrate that people must work together for progress to be made. Looking at ATD photographs, one adult was struck by the fact that while poverty exists everywhere in the world, the pictures showed children happy to be with their families and to be reading books. The meeting ended on a high note with music, singing and dancing!
Culture is in the spotlight this year for the World Day to Overcome Extreme Poverty in France: "Grow our connections, share our cultures." To learn more, download the press kit here (in French only).