2022 Spring Message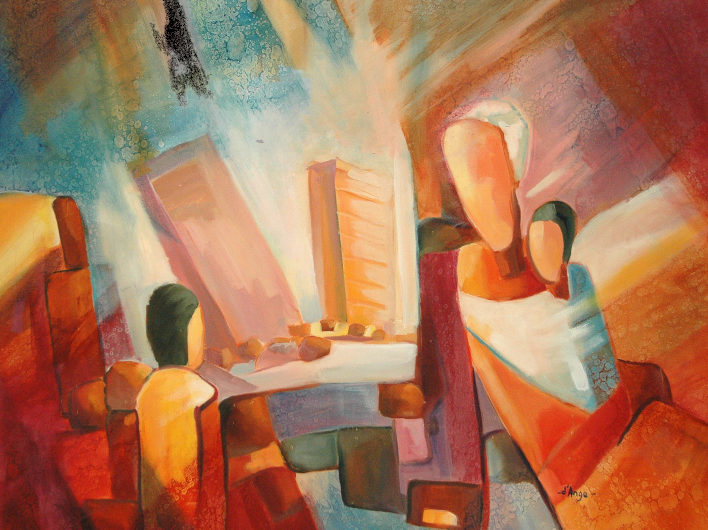 Image above: Destruction Angel, Henri Rambello © ATD Fourth World/Centre Joseph Wresinski/AR0205601002
Whatever the world thinks, all human beings, however deep in poverty, have the same potential for love, the same ability to love and be loved.
By Bruno Dabout, Director General, ATD Fourth World International
A friendship bridges inequality
The story of Annie and Caroline shows how two people can become friends despite being separated by enormous inequality. Relationships like this, where both people can give and receive, are key to overcoming social exclusion. Of course sharing material wealth is also important, but it can't undermine mutual respect.
Recently, Annie and Caroline took part in a Tapori videoconference together. For them, it was amazing to be sitting together and talking to people around the world who all want to end extreme poverty. After the meeting, Annie said, "It's like we're joining a new family."
I first met Caroline when she was in high school. At school and later when she was building her career and family, Caroline always remained devoted to ATD Fourth World's work. Today, she lives in Ivory Coast. Recently, she sent us this story.
A chance meeting
I had just dropped off my kids at school. A woman approached me with a baby on her back.
"Do you have any work I could do?" She is young but I can see in her face the suffering of extreme poverty. She tells me that she's just returned from fetching unsold bread that she resells in her neighbourhood for a low price. But that day, there had been no bread. She is about to return home to her other children.
No, I don't have any work, I think to myself. But I can offer friendship.
– My name is Caroline, and yours?
– Annie.
– I just moved here so I don't know anything about the area. This is your home. You could teach me a lot.
We arranged to get together. When we did, Annie showed me the market, the dump, the cassava processing plant, and the place where fish are smoked. Annie opened my eyes to so many things that, as a foreigner, I couldn't see. Our friendship grew slowly, day by day.
A dilemma
Several times my husband and I thought about asking Annie to work for us. Maybe she could do our shopping or pick up our children from school? Then she would have a regular salary. After all, her life was so hard!
But a little voice deep inside always said that if Annie started working for me, she might not feel as comfortable confiding in me or even just talking.
Right or wrong, I didn't hire her.
A partnership for children
Then one day Annie said, "Look, there's my home! Why don't you come in?"
After that, I dared to tell Annie about my dream of creating a Tapori group where children could help each other learn. I imagined a group making friends and contributing in their own way to changing the world.
Annie was enthusiastic about my idea. But she worried about the time it would take to start a project when she was also looking for work.
Even so, it was Annie who found us a shady plot of land in a central location. She even approached the landowner about the project. He wanted proof that ATD was for real and assurance we weren't going to harm any children. I'll bring you some documents, I told him, and tell you about my experience with ATD Fourth World.
"I want to help people too"
However, at one point I began to have doubts. Wasn't it unfair for Annie to work on this project for nothing when she had so little? I had asked her to help me because we needed to work together. Without her, I couldn't do anything.
When we talked about this, Annie's answer surprised me:
"We certainly don't have a lot and we're in need. But we also have things to pass on. What we give our children now comes back to us in the future."
The more I learn about Annie, the more I marvel at how she pays attention to women worse off than she is. She gives them bread for nothing. "I want to help ", she told me. "I want to work with you so I can help other people too." So now I feel like shouting to the whole world:
Do you know how much people who struggle every day just to survive also want to help others?
We need your support
ATD Fourth World's goal is a world where people are free, a world where they can trust each other. We work through interpersonal relationships and group projects to build a society with dignity and justice. Much of what we do is built from a web of chance friendships or relationships that often looked impossible at the start.
Please contribute to support our educational activities around the world.
Without your help, our work would be impossible. Thank you!