"The Cooperative Preserves Our Dignity"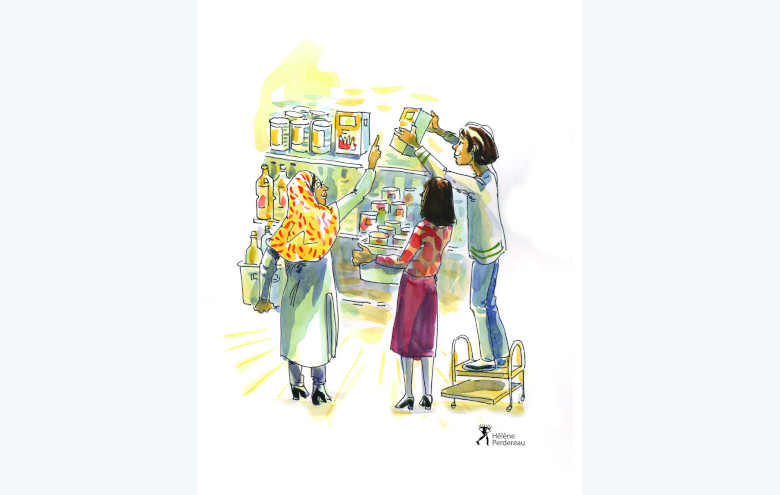 This article originally appeared in the Letter to Friends Around the World #105 by the Forum on Overcoming Extreme Poverty.
Beitouna
Beitouna is a cooperative in Lebanon. It was founded by the residents of Nabaa, a neighbourhood in Beirut. The cooperative launched in 2006 at a time when large numbers of refugees were arriving in Lebanon from southern Libya and Syria. Several Lebanese families who had relocated to Nabaa got together to consider how they could best help themselves, rather than simply relying on aid.
Out of this came Beitouna, which buys products in bulk and resells them at 30% less than the market price. A cooperative of families, each of which pays a small subscription, four local women manage Beitouna. All are volunteers and it's they who make the purchases, clean and display the produce. In discussion with the members, they decide what to buy, and when to open.
"Prices shot up after the October Revolution in 2019 and we could no long afford to buy produce, so we had to close the cooperative", explains Maya, one of the members. But with the advent of the Covid-19 pandemic, the women saw the need to take action again.
Beirut recycling initiative
The women got involved with a Beirut recycling initiative set up by artist Hayat Nazer. This initiative exchanges empty bottles for food vouchers. By collecting 200 bottles, Beitouna qualified for four vouchers, enough to fund a small initial stock. This was boosted by financial contributions from Beitouna supporters.
At first, during the restart of the cooperative, there were not many members. Plenty of food parcels had arrived after the explosion that rocked Beirut in August 2020 and at the start of the lockdown due to Covid-19. But very soon families found it necessary to turn to the cooperative, which offers a more sustainable solution, even if they could not afford the subscription because of the Covid-19 pandemic. In local supermarkets, basic essentials had become very expensive.
When prices go up, the cooperative loses money. Without price controls, wholesalers increase their prices whenever they want.
Since the cooperative reopened, 35 families have signed up. The plan is to increase that number, and to open three days a week, because there is a growing need among families in the face of increasing problems.
"The cooperative preserves our dignity, because we are the ones choosing what to buy, and we are the ones paying for it. Being involved gives us a role and boosts our self-esteem."
More on the the Forum on Overcoming Extreme Poverty.
Maya A., Beitouna, Lebanon