Event: "Reframing" to Expand the Realm of Possibilities for Social Change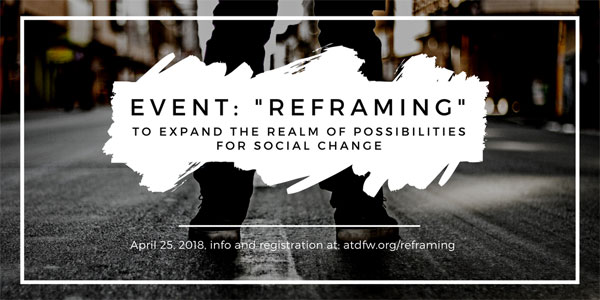 Wednesday, April 25, 2018
10:00 am Boston | 3:00 pm London | 5:00 pm Jerusalem
"Reframing" to Expand the Realm of Possibilities for Social Change
In his book The Poor are the Church, Joseph Wresinski argues that in excluding those living in poverty, we deny our own humanity. However, an important observation of Wresinski's is that those living in extreme poverty often live profoundly difficult lives and, as such, it can be a challenge to be in relationship, to live in community with them. Thus, responsibility to the poor might imply a burden that one takes upon oneself, voluntarily or involuntarily. In the spirit of Joseph Wresinski, however, we suggest an alternative understanding of responsibility as the 'ability to respond', meaning commitment to being in a relationship with another person. And, when something goes wrong, responding in a way that preserves and deepens that relationship.
In this Webinar we will discuss a model that can guide the building of relationships with people experiencing extreme poverty and social exclusion. At the heart of this model is the skill of "reframing" that enables us to expand the realm of the possible in challenging situations. In describing this model we will ask: How does one actually respond to people experiencing extreme poverty or exclusion, especially when our immediate reactions to them are frustration, anger, disgust, or even fear? What does commitment, especially commitment that is effective and productive, look like in practice?
Presenters:
Jane Feinberg is the Founder and Principal of Full Frame Communications, a consulting practice that helps mission-driven organizations develop their communications, community engagement, and leadership capacities. She also has specific expertise in strategic framing, an approach to communications that is geared toward shifting the public conversation about social problems in a way that makes explicit the invisible structures in society that lead to inequity.
Victor J. Friedman is Associate Professor of Organizational Behavior and Co-Chair of the Action Research Center for Social Justice at the Max Stern Yezreel Valley College, Israel. He is co-author of the books Demystifying Organizational Learning and From Exclusion to Excellence: Building Restorative Relationships to Create Inclusive Schools and associate editor of the Action Research Journal. He has published over 50 academic papers and book chapters.
Christopher Winship is the Diker-Tishman Professor of Sociology at Harvard University and a member of the senior faculty at the Harvard Kennedy School of Government. He is a faculty associate of the Institute for Quantitative Social Science, the program in Criminal Justice, the Ph.D. program in Organizational Behavior, the Center for Public Leadership, the Safra Center for Ethics, and the Program in Social Inequality. With his former student, Steve Morgan, he wrote Counterfactuals and Causal Inference: Methods and Principles for Social Research.
This event, organized in partnership with Max Stern Yezreel Valley College, builds on a discussion held in June, 2017, at the International Cultural Center of Cerisy La Salle in France, as part of the one week symposium, "Rethinking our World from the Perspective of Poverty – with Joseph Wresinski." This landmark event brought together over 80 academics, activists in the fight against extreme poverty, and people living in poverty from 15 countries in order to discuss how extreme poverty challenges our way of thinking.