"Our only weapon against humiliation was fraternity and solidarity."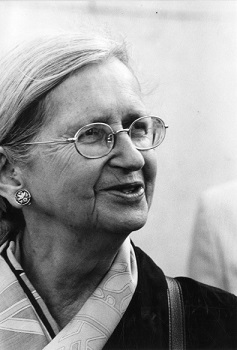 May 27, 2015, Paris: Genevieve de Gaulle Anthonioz – resistance fighter, deportee to Ravensbrück concentration camp, and ardent human rights activist – will enter France's secular mausoleum the Pantheon today, alongside 3 other members of the French Resistance. In 1958 she took up cause with ATD Fourth World founder Joseph Wresinski, alongside families who struggled with courageous resistance themselves in the face of crushing poverty and exclusion. President of ATD Fourth World – France for 34 years, Genevieve de Gaulle helped build an international movement with a message for the world: "Extreme poverty is violence; it is a denial of humanity. We must unite to eradicate it." Below her own words recount a part of her journey and reveal a lasting strength of commitment.
Of her internment in Ravensbrück concentration camp, Genevieve de Gaulle Anthonioz wrote in The Dawn of Hope – A Memoir of Ravenbruck of the brutality, despair, resistance, courage and hope that she witnessed and through which she passed during the year and half she spent there. (Original 1998 French title: La Traversée de la Nuit, roughly translated excerpt below):
As we went into the camp, it was as if God remained outside. By the dim light we caught a glimpse of women carrying heavy vats. […] I was struck to the core by the look on their faces…Never had I seen people so indelibly marked by cruel suffering. As human beings, though still alive, they had already lost every trace of expression. […] I was struck with the absolute certainty that there was indeed a fate far worse than death: the crushing of our souls, which was the purpose and goal of the concentration camp.
Her encounter in 1958 with Fr. Joseph Wresinski and families in the emergency housing camp of Noisy-le-Grand, France, took her back to that Ravensbrück experience:
There is no doubt, the expression which I read on the faces of the men and women [in Noisy-le-Grand] was the same as that which I had long read on the faces of my fellow deportee comrades at the Ravensbrück camp. I read the humiliation and despair of human beings struggling to preserve their dignity. […]
I saw this marginalization, this rejection suffered by the families as a great injustice. Opposition to this was why I had fought in the Resistance and during the deportation. We had struggled for the dignity of every human being and for their rights and value to be recognized. I came to discover a world apart, a world that had nothing to do with the one that I frequented daily. I never imagined such distress. Hundreds of men and women living crammed one on top of the other in the mud, yes, in the mud.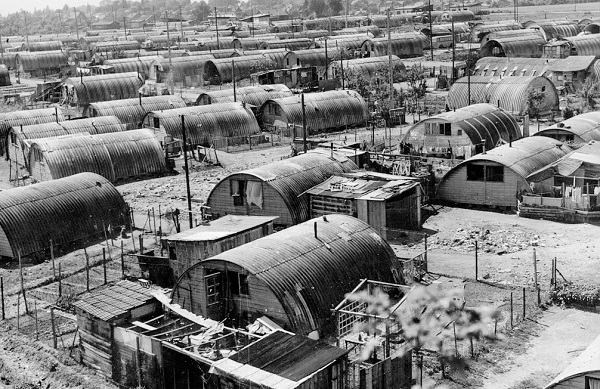 In 1964 Genevieve de Gaulle Anthonioz became president of ATD Fourth World in France, promoting from that position for some 34 years the voice and experience of families in deep poverty. She never ceased to relate her experiences at Ravensbrück with what those families revealed to her:
To counter the cruelty, hatred, and the oppression of the human soul in that concentration camp, we had nothing but fraternity, solidarity. That is what wins out in the end because it's more powerful than anything else. And what families in poverty teach us day after day—with the means they have, with the relationships they build amongst themselves, and with us allies and the outside world (whom they could rightly detest being themselves are so unjustly plunged into deep poverty)— is just that: fraternity and solidarity.
And in 1998, after ten years of work to promote new legislation on poverty and social exclusion in France, de Gaulle Anthonioz alluded to her journey, in speaking to the French government's advisory Economic and Social Council:
On this evening after the final adoption of the new strategic law against poverty and social exclusion, I am remembering everything that I have learned from people in poverty. Overcoming with them the most difficult of times, having to dig deep within myself, I am indebted to them for teaching me that the secret of hope is fraternity.
The entry into the Pantheon of French Resistance members Geneviève de Gaulle-Anthonioz, Pierre Brossolette, Germaine Tillion and Jean Zay is being covered extensively by French media. A standing exposition detailing the commitments and legacy of each is open to the public. In honor of Genevieve de Gaulle, who died in 2002, a diverse delegation of ATD Fourth World members is participating today's procession and ceremony in Paris. (click for France24's article.)
In Dublin, friends of ATD are spending a week presenting and exchanging with Irish society around Genevieve de Gaulle's life and commitment. See attached PDF for a short biography, photos, and list of events.