Meeting with French Minister Laurent Fabius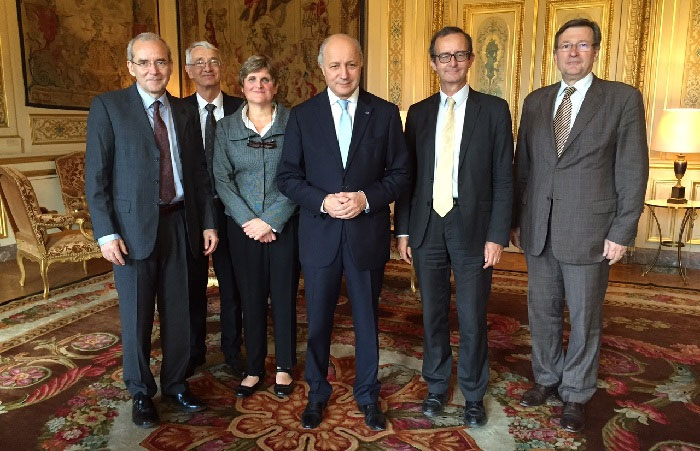 On 21 May 2015, Isabelle Pypaert Perrin and Jean Toussaint were received by Laurent Fabius, the French Minister of Foreign Affairs and International Development.
This meeting provided an opportunity to discuss with Mr. Fabius, as the president of the 2015 Paris Climate Conference (COP 21), the issues and concerns of those families who are the most vulnerable and how the fight against poverty might be synergistic with discussions about the climate.
Using real life examples of families from different parts of the world, ATD Fourth World wished to explain to Mr. Fabius how extreme poverty is a form of violence and to tell him what families say about the situations they endure in order to cope with deprivation, insecurity, disdain, and humiliation imposed on them by an unseeing and uncaring society.
During the meeting, Mr. Fabius agreed that it is indeed important to challenge the double violence:
violence caused by a climate that is out of control and whose effects are felt by people in poverty first and foremost;
and violence of unintended consequences when solutions to climate change are conceived without consultation of people in poverty or consideration of how they will be impacted.
Photo by ATD Fourth World:
Larent Fabius was accompanied by H.E. Jean-Jacques Beaussou, delegate for relations with civil society partnering organizations, and Gregoire Chauviere Le Drian, member of the Cabinet representing the Minister of Foreign Affairs and International Development responsible for international economic affairs, commerce, development, and health.
ATD Fourth World was represented by: Isabelle Pypaert-Perrin, Director General; Jean Toussaint, Deputy Director; Pierre-Yves Madignier, President ATD Fourth World-France; and Xavier Godinot, Director of Advocacy.