Giving Poverty A Voice: A New Blog by ATD Fourth World–UK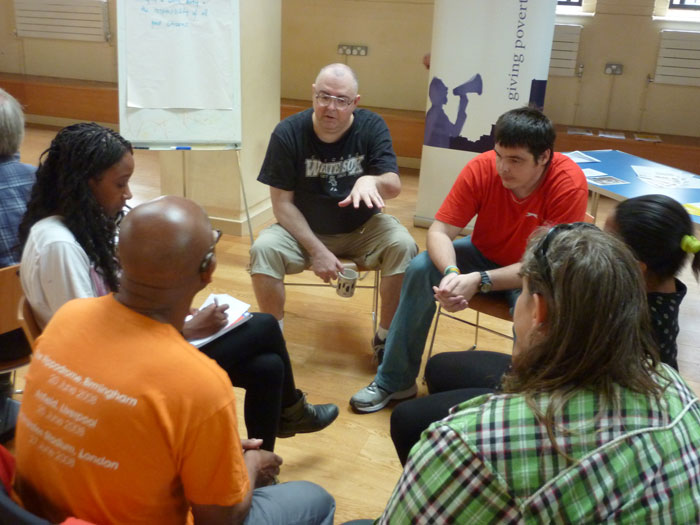 "Poverty destroys people, but having a space where people with an experience of poverty can speak out shows all kinds of wealth, ideas and expertise which are not at all recognised by society."
– Project participant
On March 31, ATD Fourth World–UK launched a new blog to give people living in poverty a chance to speak out about their experiences, ideas, challenges, and aspirations. Another participant says, "The blog is very important, it gives us a voice. This is what ATD Fourth World is all about: to give the very poor a platform so that they can get their voices heard across the board."
The project coordinator, Dann Kenningham, says: "One of the main obstacles in any anti-poverty work is challenging the public perceptions of poverty, often based on the misleading main-stream media agenda or lack of real experience and understanding of poverty. This new blog aims to counterbalance these negative perceptions in creating a space where real-life experiences, thoughts, expertise, and challenges can be shared publicly by those living on the sharp end, hopefully creating a platform for change."
The blog will be a space for collaboration between people with an experience of poverty and those who stand beside them. To access the blog, please click here. If you are interested in contributing a post about poverty and the impact it has on everyone, please contact Dann Kenningham at .
The new blog is part of ATD Fourth World–UK's anti-poverty programme. Its projects include:
Giving Poverty a Voice: this initiative empowers and encourages people to stand up and be heard. Giving Poverty a Voice enables people experiencing poverty and inequality in the UK to have their say on the decisions that affect their lives. In addition to this new blog, the project includes issue-based discussion forums, capacity-building workshops, and other opportunities to participate in the democratic process. The project also seeks to build networks with grass roots and community organisations across the city to strengthen the links between diverse experiences and perceptions of poverty.
The Roles We Play: this project challenges the widespread negative stereotypes of people living in poverty through the use of positive imagery and self-representation.
The Social Worker Training Programme: this collaboration with Royal Holloway, University of London brings together families living in poverty, academics, and social work practitioners to produce a training programme that reflects the needs and concerns of those in the field while also finding new ways to address the issues service users wish to tackle.
Family Support Programme: Through One-to-One Support, Getting Away From It and Skill-Sharing/Access to Volunteering, ATD Fourth World bases its Family Support Programme on a relationship of trust with each family that is built over the long-term. This relationship informs our efforts with policy makers by reconnecting families with services and professionals so that they can work together and learn from each other. It is only by bringing all these elements together that we can combat isolation and exclusion and reinforce those steps people in poverty take to make changes in their own lives.
For more information on ATD Fourth World–UK, see: Twitter @ATDFourthWorld, #povertyexperts, or https://www.facebook.com/ATDFourthWorldUK/