Becoming Journalists Together in Manila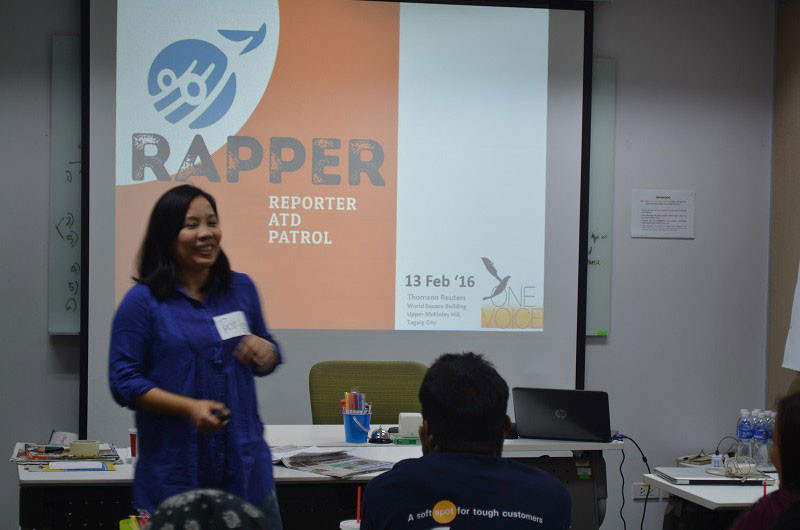 While many websites are designed by public relations professionals, ATD Fourth World–Philippines considers that the most important viewpoint is that of people living in poverty. In February, thirty of our members there met for a workshop to design their website together. Here, Sana Santa Ana recounts the workshop.
How do you have tons of fun while creating a national website from scratch while making sure that it captures everyone's voice? At our "One Voice" workshop, ATD's members helped put together our new web site, scheduled to be launched before October 17, 2016. Thirty members — including people living in poverty and other friends of ATD — suggested ideas for the new site and got a lesson in Journalism 101 so they can contribute regularly to building the site in the future.
Every one was invited to become a RAPPER — a Reporter for ATD Patrol. This means contributing to the website by writing an article, taking photos or videos, or submitting a poem, drawing, painting, etc. "One Voice" was not a typical workshop with speakers lecturing and participants listening. Everyone learned from one another as we developed a vision together for the new site. As you can see from the video below, everyone had a great time! The workshop started with a challenging question: how can we sum up in a single sentence what we most want to tell the world? These messages were collected to provide goals for the website.
Then came the fun part: the workshop identified the good qualities of a RAPPER in a lively manner that engaged everyone. Instead of just writing down ideas, participants expressed them by dressing up one group member as a "Good RAPPER." Using newspapers, markers, scotch tape and any other materials they could find in the room, each group created clothing and accessories that represented the qualities of a good RAPPER: fair, honest, writing with heart, being prompt, and many more.
Then it was back to the basics. RAPPERS got a lesson in Journalism 101. In many countries, journalists learn the 5 Ws (Who, What, Where, When, & Why) and 1 H (How). Here, we also focused on integrating 3 Ps in the Tagalog language: Pag-iisip (critical thinking), Puso (injecting emotional feelings), and Pulso (feeling the pulse of the public) to make a story more engaging. ATD ally and artist, Robert Alejandro, then shared his experiences as a TV reporter for an investigative television program.
Finally, participants had an opportunity to polish and edit articles and photos they had submitted prior to the workshop. Overall, the enthusiasm was infectious — every one was eager to be a RAPPER!
In the very near future, ATD Fourth World–Philippines will launch its website featuring life stories and contributions of these thirty RAPPERS and others.
YES, we are RAPPERS! Congratulations RAPPERS!
"One Voice" was organized by a group of ATD allies: Artist Robert Alejandro (artist), Michelle Ciriacruz (blogger), Sana Sta. Ana (marketing practitioner), Tisha Timbang (public relations officer), and Gege Sugue (communications trainer) all of whom volunteered to share their knowledge of writing and reporting.
ATD Fourth World–Philippines wishes to thank Thomson Reuters (especially Mr. Ralph John) for providing space in their offices for the workshop.