Haiti's Earthquake 5 Years On | Jacqueline Plaisir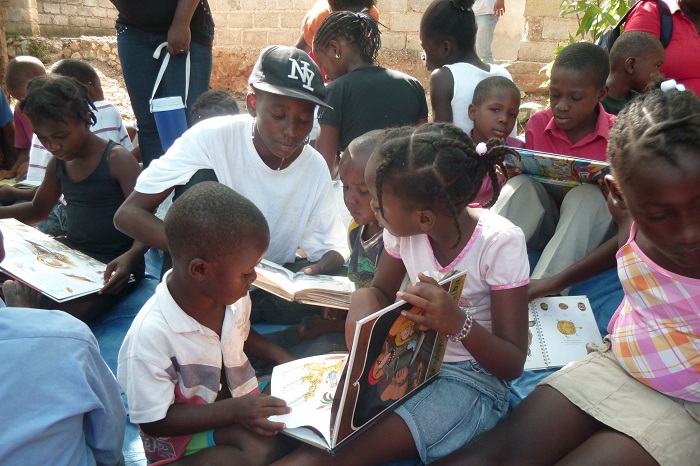 Jacqueline Plaisir, Deputy Director of ATD Fourth World, was a member of the team in Haiti at the moment of the earthquake. Here she writes reflecting on the past sufferings and future hopes of the Haitian people for rebuilding a new society. Five years later, what happened to those hopes?
On the evening of the destructive earthquake of 12 January 2010, in the chaos, and even in the first weeks, neighbors of all ages and social backgrounds gathered outside, empty-handed, their hearts grieving; at night they all slept on the ground, side by side, united as a people without pretense or reservation. It was like a balm on the suffering of having lost so much in just seconds. There was a restored fellowship in this deprivation shared by all. But gradually people gathered what possessions and security they had left and returned to their courtyards. Those who had struggled most in poverty before the earthquake were left amongst themselves in the streets or having to go to a refugee camp.
People held out hope that international aid would help rebuild the country with the sweat, courage, intelligence and commitment of Haitians themselves, but that didn't happen. Haitians were overwhelmed by a tide of humanitarian aid workers and experts directed by donors and in a very garbled dialogue with authorities. They had little control over aid distribution and reconstruction.
In the heights of Martissant, most families stayed in their neighborhoods to benefit from one another's support; they coped thanks to that solidarity. These families wanted to give their opinion on the rebuilding of their country, as part of a consultation initiated by then Special Adviser to the UN Michele Montas. She wanted to give "a voice to the voiceless" at the first donor conference in New York in April 2010, but she was accorded only a few minutes to speak. Yet respondents had clear ideas of what would be good to do for their country: immediately they'd said it was not about just reconstruction, but rather a rebuilding of the nation on the basis of unity: taking more into account of the rural area—often forgotten in the shadow of Port-au-Prince—in a process of decentralization that would ensure the entire country receive the fruits of the choices and efforts made together. People wanted all families to have a roof, access to health care, and schooling conditions in which all children could learn.
Five years later, some one hundred members of ATD have expressed their disappointment through the video Nous fek kare lite ("Nonstop, we keep up the struggle"). Of course there have been some achievements in the context of reconstruction, but not the opportunities hoped for such as work and access to free school for the children. Above all, families expressed their disappointment at not being able bring out the essential: an awareness that when we're talking about building community and working for the common good, we musn't leave anyone aside because everyone has something to contribute .
I remember that just two months after the earthquake, a mother of Martissant call out the team of ATD Fourth World: "We need to start up the pre-school and Babies Welcome program again. That's the most important!" We immediately set up a marquee to receive the toddlers, eager to get back to their pencils, books, and especially their friends. Then we set up mats and toys for moms and their babies. Constantly in search of meaningful activity, even in the depths of crisis, the families expressed their sense of hope and that profound conviction that only in standing tall, imagining and forging a better future, can humanity be at its best. Families in extreme poverty develop this resilience, this confidence in life against all odds, inventing answers for today while never losing sight of the horizon. With dignity, they affirm, "Nonstop, we keep up the struggle. This is our the greatest weapon."
It has been like this since the beginning of Haiti as a nation when women and men, high on their newfound freedom, but also fiercely defensive lest it be again usurped, had to rely on their own strength and resources. Remain unshared through lack of exchange their intuition of an egalitarian society, their developement of "koumbit" and "tet ansanm" where we share the strength, courage and intelligence to build the foundations of a new more cooperative, sustainable society. In 1986, the Haitian people overthrew the dictatorship, yet a large majority of society gained no power to influence the country's transformation. Again in 2010, who really wanted to listen to those who have the most difficult lives, that they express their dreams and vision for the rebuilding of their nation? They're still condemned to manage on their own, without being included in this essential dialogue within society. This remains the nation's challenge.
At an international level, Haiti prompts us to dare a new type of partnership, dare to be guided by the creativity of a people in their quest for unity and openness to the world. "Alone, no one can free themselves from extreme poverty," Joseph Wresinski said, reminding us of the necessity to unite, in the sense of linking our destinies, to walk together, to take risks with those who live in perpetual crisis, starting again over and over.
Haiti has something important to say. This country can help us understand our human reality. "Not only the Haitian reality, but also the human reality in general, the great human disorder," says the fascinating painter, writer, playwright Frankétienne of Haiti. "We're just disovering it now: the planet exists in . Life itself is a type of chaos that generates light."
Haiti is like an irresistible call of life to want to be understood and loved. In its quest, Haiti reminds us of the urgent need to connect with one another to free ourselves for good of vain notion of "every man for himself" that depletes our strengths and our withers our humanity. May we connect with one another from our neighborhoods to our nations, so that we may finally experience an era of cooperation and building together. Our world needs it for the peace and security of everyone.
Jacqueline Plaisir,
Deputy Director ATD Fourth World