Joseph Wresinski on Human Rights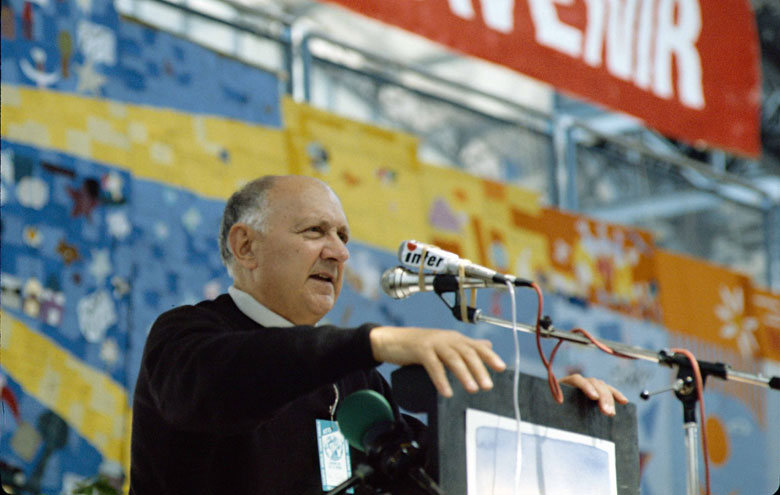 Photo: Joseph Wresinski, 1985 © ATD Fourth World/Centre Joseph Wresinski/0640-140-032
In The Very Poor: Living Proof of the Indivisibility of Human Rights, Joseph Wresinski describes what living among people in extreme poverty taught him: allowing people to take responsibility for their own lives is the true meaning of human rights.
From The Very Poor: Living Proof of the Indivisibility of Human Rights, by Joseph Wresinski
"'Humanity is a human being's own best cure', as our friends in Africa would say. In the light of this perspective, all people, whatever their philosophies and beliefs, have a vocation and a mission to help the very poor. Could not such an awareness give new vigor and direction to our reflection and experimentation with regard to human rights?
"On this basis, rich and poor from the same country, and rich and poor people among all nations, would have the chance to meet on a more equal footing, and to discover the common heritage which justifies the great international declarations and conventions, and which alone can ensure genuine, common implementation of them.
"It is not so much education about human rights that the world needs but rather a joint inquiry into what makes for the indivisibility of human beings not only as individuals, but also as a body, necessarily united and jointly responsible for the human rights they grant one another.
One every continent, impossible to live as equals
"For my part, I can say… that the poor have taught me an invaluable lesson about this comprehensive indivisibility. First of all, they taught me that we will not get anywhere in improving our understanding of extreme poverty by dividing it up along geographical lines.
"When we allow them to speak for themselves, they are much more concerned to tell us what unites them, namely the impossibility of being proud of their identity, of their history, the ban on belonging to any group which is not negative or even shameful.
"On every continent, they tell us that it is impossible for them to live as equals with other people, as long as these people continue to be unaware of who they are. The inexorable concentration of deprivations which makes life as a person and as a family impossible is, to my mind, the clearest indication of the indivisibility of the fundamental rights that must be attributed to them if we want them to be truly free.
Capable workers and parents
"More important still: people living in extreme poverty in all countries express their conviction that living as a person, as a brother or sister, as a citizen implies being able to take on one's responsibilities. For them, fundamental rights have their true meaning and are truly achieved only when they enable people to be responsible beings, that is to say, workers re-cognized as such, parents capable of rearing their children, useful members of a community, men and women playing their part in the destiny of their country.
Rights and responsibilities are inseparable
"The poorest teach us not only about the indivisibility of rights and responsibilities but also of the co-responsibility between individuals and between peoples which this indivisibility signifies. For the poorest in all countries, everyone has a personal share in the single mission of building a national and international community "where our children can live", "where people would go hand-in-hand''… a mission which is conceivable in the light of every one of the faiths and beliefs represented in the United Nations.
"Could it not be that, in the end, the future of human rights will depend on the poorest and the mission they wish to take on with us? To achieve these rights, a new alliance and new partners are offered to us. What a gift it would be to the world if we were willing to accept them!"
For more, see Joseph Wresinski Archives and Research Center
Full text of The Very Poor: Living Proof of the Indivisibility of Human Rights