Implementing the "Guiding Principles on Extreme Poverty and Human Rights" in the Indian Ocean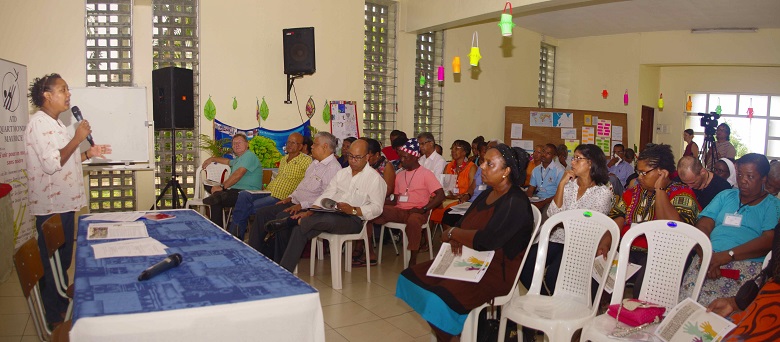 In May 2016, in Mauritius, a day-long session was organized by ATD Fourth World and Caritas Mauritius to work on improving citizen access to human rights in the Indian Ocean region. The session focused on using the new handbook, Making Human Rights Work for People Living in Poverty. The handbook serves as a guide to implementing the UN Guiding Principles on Extreme Poverty and Human Rights, adopted in 2012 by the UN Human Rights Council. (See also the video below for more information on the handbook).
Paul Mercier, United Nations Development Programme (UNDP) representative in Mauritius, opened the day by underlining the challenge in the coming years of involving citizens, "in particular the most vulnerable citizens… in the development and evolution of their society."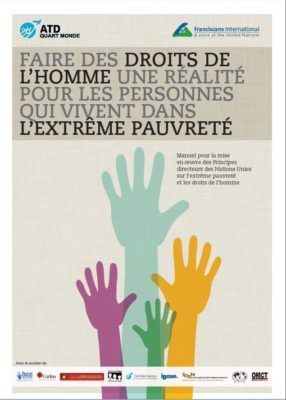 Seventy participants attended the meeting, among them people living in deep poverty. Attendees came from Reunion Island, Madagascar, Mauritius, Rodrigues, Comoros and Seychelles. They were joined by 25 partners from various Mauritius civil society organizations, institutions, ministries and foundations.
Work and Employment
The central theme of the day was work. Participants described many examples of human rights not being respected in the area of employment. Sometimes solutions were found, sometimes not.
One example was an area in Madagascar where informal work on landfills provides a livelihood for entire families. Children help support their families in this dangerous and difficult job. People push each other and children have to compete against people bigger than they are. The community therefore agreed on a system: as the trucks drive up to the landfill, the strongest people climb on them and start to recover useful items. As soon as the trucks dump their load, children and women take over so that everyone has a chance to recuperate something from the truck's contents.
Despite this system, accidents occur and it is difficult to obtain proper health care. In addition, children working at the landfill are not able to attend school. ATD Fourth World began meeting with parents to talk about their children's schooling and health concerns. They also worked on finding other means of earning money.
Other examples showed how important it is for people to help one another to ensure that human rights are respected. For example, a woman was fired without due process or compensation when her employer learned that she was HIV positive. For six months she had no income. After what she had gone through, she did not dare look for other employment. However, she was able to obtain a lot of support. One friend accompanied her when she needed assistance, one association provided emergency support and another helped her obtain compensation from her former employer and see that this employer was sanctioned.
The meeting included presentations on the "solidarity economy" such as the Working and Learning Together project in Madagascar. Union activities were also discussed, such as the fight for decent salaries organized in Mauritius by "cleaners" (state employees who clean school facilities) and supported by the Workers Confederation of the Private Sector.
Improving Access to Decent Work
Following the day's presentations, participants proposed 14 actions that governments and civil society could undertake.
Simplify redress mechanisms with respect to the time, language and forms required, so that everyone can defend themselves.
Draft a law against discrimination.
Create work opportunities, especially for people living in deep poverty.
Develop fair trade giving priority to small handicrafts.
Ensure craftwork has a place in national and international negotiations for economic development.
Encourage the Commission of the Indian Ocean to share progress made on labour rights in one country with the other countries in the region.
Join discussion forums on these issues.
Ensure equality among workers by standardizing the required labour conditions; require equal pay for equal work.
Establish a minimum wage based on what is needed for a decent standard of life.
Improve access to information by increasing the number of employment offices and enhancing the quality of the customer service provided.
Ensure that training is adapted to individual needs, so that everyone receives a diploma and the certificate needed to get a job.
Publicize the Guiding Principles handbook, especially among government agencies.
Build a database of best practices to be shared among various networks.
Make support flexible so that it can be adapted to different situations rather than providing the same assistance regardless of someone's particular needs.
Rights are Everyone's Business
The day helped shed more light on the fact that poverty is a human rights issue and that people living in poverty must be involved in efforts to provide access to rights.
"I know my rights, but I do not dare talk about them. Sometimes there is no one to listen to poor people and to tell them their rights. There are some who do not know their rights at all and they need to be told about them. Those who know they have rights and who do not dare talk about them, they need to be supported." (participant from Madagascar)

"Human rights are trampled on all the islands. It's important to unite strongly to overcome poverty and gain your rights. You need to visit people where they are to see what is really going on behind the scenes and then look for solutions with people who are suffering." (participants from Seychelles and Comores)
Patricia Adèle Félicité from Caritas Mauritius insisted that it is important for people engaged in the fight against poverty to make the sorts of changes that the Guiding Principles handbook recommends. "The work we have done shows that we will not be able to eradicate poverty if our projects are not based on human rights. The handbook is intended for everyone who works at the local level. It is not only for civil servants, social workers, community facilitators, and teachers, but also for non-governmental organizations, religious institutions and community associations. It is important for everyone to adopt this method of work based on human rights."
Gilbert Descombes, President of ATD Fourth World in Mauritius, noted that the poorest people often are already involved in human rights work. They give real meaning to the word "participation".
"These guiding principles provide general guidelines, and are not constraining. However, if many people implement them, we could find a way to make these human rights an obligation. We must all feel responsible for applying them in our work. (…)
"Families and people living in extreme poverty suffer from discrimination and violations of their rights, and yet they are still active in their neighbourhoods. They take the initiative to do things that may never be noticed. Often many of these people take risks as we saw in the examples highlighted here. They support people who are even poorer than they are. People should know about discrimination and rights violations, but people must also hear about all these experiences and the efforts people make. Through actions such as these, we understand that 'participation' has real meaning."
This meeting was organized in partnership with the Commission on the Indian Ocean and the support of the European Union.
Download the synthesis document on the work of the day.
More information on the Guiding Principles and how they are being implemented around the world.