Guiding Principles on Extreme Poverty and Human Rights
"People living in extreme poverty are… disproportionately affected by many human rights violations. Discrimination against people living in poverty is widespread and widely tolerated."
The Guiding Principles on Extreme Poverty and Human Rights
Adopted in 2012 by the UN Human Rights Council
In its local projects, ATD Fourth World has, for decades, documented the experiences of people living in extreme poverty. When they talk about their lives, it becomes very clear how extreme poverty is, in fact, a violation of human rights. One of our primary international advocacy efforts involves addressing extreme poverty from a human rights perspective through implementation of the UN Guiding Principles on Extreme Poverty and Human Rights.
Many advocacy organizations, including ATD, contributed to the UN Guiding Principles, which state:
"…[E]radicating extreme poverty is not only a moral duty but also a legal obligation under existing international human rights law."
ATD and ten other international non-governmental organizations have developed a Handbook for implementing the UN Guiding Principles. "Making Human Rights Work for People Living in Extreme Poverty" translates the principles into language that everyone can understand. It puts forward concrete ideas for advancing the rights of people in extreme poverty.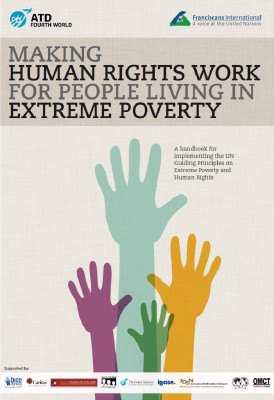 Currently, ATD Fourth World is using the Handbook in many countries to implement the UN Guiding Principles. The document is useful for local actors such as social workers, community organizers, teachers, and urban planners, as well as for non-governmental organizations and religious or community organizations. Groups working alongside people in poverty are working to put into place the concrete actions it suggests. People within academia, non-profits, government institutions and services are also finding the Handbook a practical tool for advancing the rights of all citizens.
The articles below describe this work in more detail and elaborate on ATD's Human Rights based approach to extreme poverty. To learn more, please contact our International Relations team in Geneva at .
Download the free Handbook in English, French, Spanish, Italian and Portuguese.
Latest News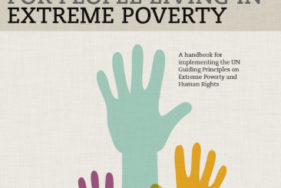 December 10 is Human Rights Day, observed every year around the world as the date when the United Nations adopted (…) Read more →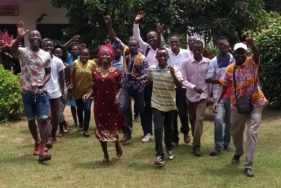 From March 2018 to February 2019, five young women and seven young men participated in a Social and Cultural Mediation (…) Read more →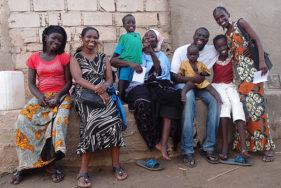 ATD's work focuses on extreme poverty. But what is extreme poverty? In countries where many are well off, it's easy (…) Read more →