Janet Nelson, World Citizen, is New VP of ATD Fourth World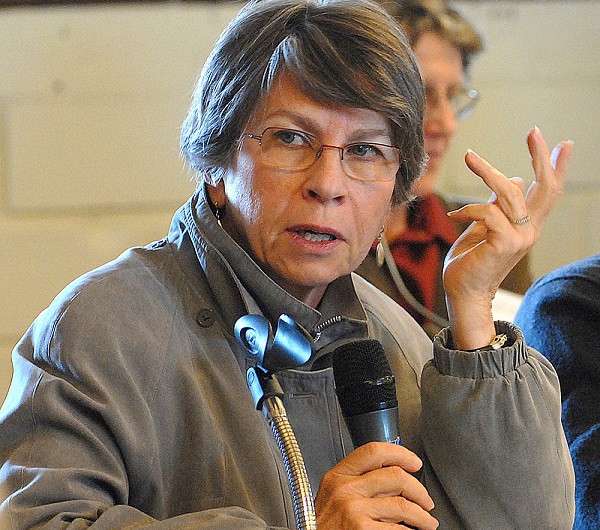 Janet Nelson has been a member of ATD Fourth World's international Board of Directors since 2006. She took on the role of Vice President in January 2015. As ATD representative at the United Nations in Geneva, her priorities are to work closely with the UN Special Rapporteur on Extreme Poverty and Human Rights, and to promote the UN Guiding Principles on Extreme Poverty and Human Rights (adopted in 2012) as a viable tool for making human rights work for everyone.
Born in the United States, longtime resident of Switzerland, Janet Nelson is a citizen of the world whose life knows no borders. She spent most of her childhood amidst the colors and aromas of Africa; Janet's parents were missionary teachers in Belgian Congo, a far cry from her native state of Mississippi. "I had a lot of affection for the people of the village. I played with their children," she recalls. "I felt very close to them, and loved their warmth, their simplicity, their spontaneity."
There, Janet learned about the suffering and humiliation of colonialism. This was intensified by the jolt she got when she returned to the United States just before the Civil Rights Movement and the fight against racial discrimination led by Martin Luther King, Jr. "I was very shocked to see how black Americans were treated. I had an enormous sense of outrage when I saw such exploitation, such lack of respect for people like those I had known since I was a small child."
In college, Janet participated in protests against segregation. She chose to study international relations, focusing on communication. Recruited by UNICEF (United Nations Children's Fund), she there found herself surrounded by people who shared her values and ideals. For years, she worked at UNICEF in order to fight against discrimination, and for the rights of each individual, with special attention to those of children, because of the tremendous impact of those childhood years on the rest of a person's life. "For me," Janet says, "behind all the statistics about literacy, about health, etc., there will always be the faces of the people like those I met in the Belgian Congo, Zambia, Tunisia and elsewhere."
After having worked so many years to make sure that no one was left behind, it was through her meeting with ATD Fourth World in 1990 at the World Summit for Children, that she came to understand the "difference between people in poverty and people in extreme poverty – one's dignity is so severely undermined that it's even harder to escape."
Upon retiring from UNICEF in 2002, Janet began representing ATD Fourth World at the United Nations in Geneva. At the Human Rights Council, one of her main priorities was to advocate for the drafting and adoption of UN Guiding Principles on Extreme Poverty and Human Rights, the first international text to recognize that extreme poverty is both the cause and the consequence of multiple human rights violations and not simply a matter of lack of income.
This long-term project saw Janet working in consultation with ATD Fourth World members from Poland, Bolivia, France, Belgium, Peru, the United Kingdom, Ireland, Thailand, Senegal, Cameroon, Switzerland, and Madagascar. ATD activists with an experience of poverty combined their knowledge with members from other organizations, as well as UN experts, to shape the text of these Guiding Principles.
Once the UN Human Rights Council adopted the text of the Guiding Principles on Extreme Poverty and Human Rights in 2012, Janet set to work with a group of partner organizations, in particular Franciscans International, to create a handbook that would help people put these Guiding Principles into action in their countries. Available in English, French and Spanish, the handbook is destined for grassroots organizations and public sector services which work directly with people living in poverty. Janet's main focus is now on supporting ATD teams around the world in organizing or contributing to presentations and workshops on its use, as well as making it known to other organizations and human rights experts.
Watch this video portrait of Janet Nelson, ATD's representative at the UN in Geneva, and discover her convictions and work on the Guiding Principles on Extreme Poverty and Human Rights (31 March 2015).