Journey to Justice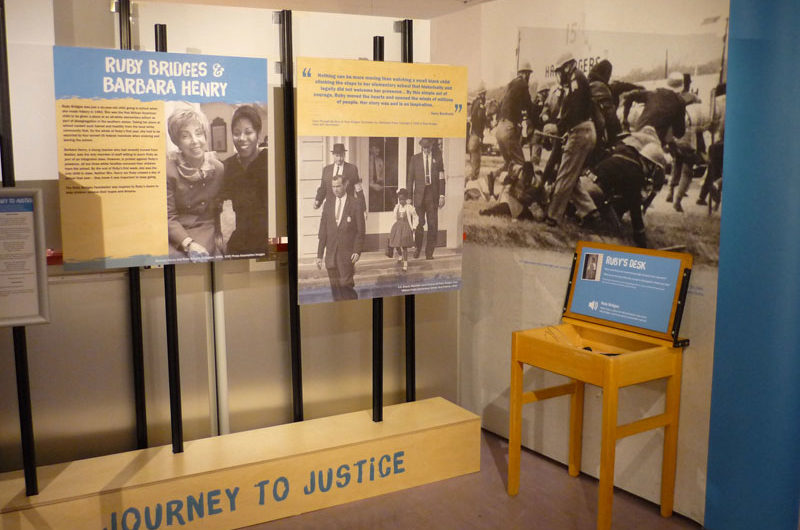 Journey to Justice's multimedia exhibition is coming to the London borough of Tower Hamlets 3 December 2016 – 1 January 2017.
Human rights organisation Journey to Justice (JtoJ) is bringing ATD Fourth World's anti-poverty activist Jean Stallings from the US to the UK in December. Ms. Stallings' trip connects to JtoJ's mission: to inspire and empower people to take action for social justice through learning from human rights movements and the arts. Coming together as a group of educators, students, youth and community groups, human rights and faith organizations, artists, film-makers, musicians, trade unionists, historians and archivists, the organisation aims to motivate people to see that injustice can be challenged and that they have the knowledge and skills to play an important role in bringing about change.
Tamla Parris-Bah, who volunteers her time with JtoJ, speaks here about her experience with JtoJ. Tamla's background was in education. She first got involved in Journey to Justice when she lost her employment and wanted to build on her employability skills for a role in fundraising. Nearly two years later she is still with JtoJ, utilising her skills in education to work with young people across London.
Tamla says: "Stumbling across JtoJ could be described as a happy accident, but I believe there is no such thing as coincidence! I was looking to get back into work and was interested in a career in charity fundraising so wanted to volunteer to gain some hands-on experience.
"Discovering JtoJ was a mixture of the professional and also personal. I always had an interest in black history and the civil rights movement, so it really seemed the perfect opportunity."
Despite getting involved initially for fundraising experience, Tamla soon discovered that her experience as an education officer would prove vital in her work for JtoJ.
"I initially helped with applying for a bid for funding; although we were unsuccessful it was a great experience and I soon moved on to working with young people on the Be The Change programme at Northumberland Park Community School.
"Working with educational institutions such as NPCS, and City and Islington College allowed me to do what I really loved; and I also felt that I was useful — my previous skills were helping the organisation and I was making so many connections with different organisations."
Tamla says that the highlight of her work has been the opportunity to use music as an instrument for social change.
"I'm passionate about music and was named after Tamla Motown so it's always been a huge part of my life. Music is such a great platform to engage young people and is a great unifier, helping people to find common ground.
"Inspiring the younger generation to make a difference is what drives me. These are our leaders of the future and their feedback really gives me hope. They feel empowered after our workshops and it is so much fun to get involved with them."
Tamla says she would recommend that anyone wanting to make a change for the better get involved with JtoJ: "My time with the organisation has been amazing — you will meet people who will become lifelong friends. We are fighting for social justice and anyone who gets involved cannot help but be inspired!"
JtoJ's multimedia travelling exhibition previously, shown in Newcastle, Sheffield, Middlesbrough and Sunderland, is coming next to the London borough of Tower Hamlets and will be open to the public 3 December 2016 – 1 January 2017 at the Rich Mix cultural centre. The exhibition highlights the links between the US civil rights movement and struggles for social justice in Tower Hamlets, and aims to encourage visitors to take action against injustice in their own lives.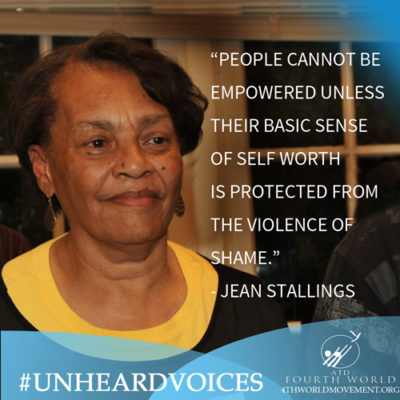 Jean Stallings is a US civil rights and anti-poverty campaigner who was part of the National Welfare Rights Organisation and Martin Luther King's Poor People's Campaign in the USA in the 1960s. She will be the guest of honour at the exhibition's opening event on Human Rights Day, Saturday, 10 December starting at 11.30 a.m. The event at Rich Mix will include a variety of local, national and international performers, and presentations including Grand Union's World Choir, Baroness Helena Kennedy QC, Rushanara Ali MP, 'Naga MC', Roger McKenzie of UNISON, Dan Jones, Girlz United, Sing Tower Hamlets, Roisin Gewirtz-O'Reilly, JtoJ Live, Romford Rebels, and Dave Rosenberg as master of ceremonies.
Entry is free, but booking is essential via this link.