Ravine of Hope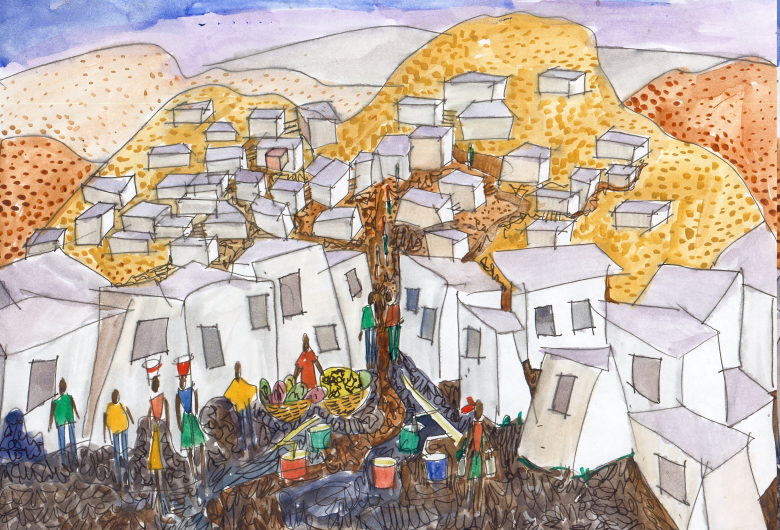 Painting above : Morne de Grande Ravine, Haïti, 2005©Jacqueline Page/ATD Quart Monde/Centre Joseph Wresinski/AR0200902086
Eight years after the 2010 earthquake in Haiti, ATD Fourth World published Ravine of Hope, a book written by authors who experienced the disaster themselves. At the 11 January book launch in Paris, ATD's General Director, Isabelle Pypaert Perrin, gave this speech on "Facing the impossible together in Haiti."
ATD Fourth World has been active in Haiti for nearly 40 years. In 1981, ATD's founder, Joseph Wresinski, visited the country when ATD Fourth World was 25 years old. Wresinski had started ATD in a shantytown near Paris where he had convinced families confronted by extreme poverty to band together to form our organization. ATD Fourth World had spread through a number of countries in Europe and North America, and we were just beginning to learn about the difficulties families were enduring in refugee camps of Thailand and Guatemala.
The Haitian people Wresinski met during his 1981 trip captivated him. He was equally captivated by the entire country and later said, "Haiti should tell the world about the strength of its people who have risen above the limits that poverty has tried to impose on them." People have for many years tried to force the Haitians to their knees. But these indomitable people have never stopped getting up again and moving towards their vision of freedom, a freedom to be won for themselves, for those they love, but also for all people in the world.
In the early 1980s, several members of ATD's Volunteer Corps went to live and work in Haiti. They started in Fonds des Nègres in the rural part of the country, and then began projects with families living in a Port-au-Prince neighborhood called "Grande Ravine" in the city's Martissant district.
There our movement took root, supported by the immense hope and courage of parents who were struggling to help their children grow up, get an education, and become adults who would help their country. These Haitians told us, "Our children are intelligent. Who will take their desire to learn seriously, as we do? We want them to have a different life than ours."
This was how ATD started projects to provide access to education and healthcare. With the Haitians they met, ATD Volunteer Corps members developed rural libraries and small schools in the hills, Street Libraries in Port-au-Prince, a "cultural hub," and a preschool. Today, this preschool has become a pilot project, which allows children whose lives are very difficult to have access to primary school. One mother in a shanty town started this pre-school by gathering neighborhood children outside near her house so they wouldn't be far behind other students when they started school.
Soon we created "Babies Welcome," an early learning effort that gathers infants and their relatives in a program where everyone becomes enthusiastic about children's learning and discovery of new things. In addition, ATD and the people we were working with implemented a health initiative, which prevents child malnutrition in a supportive and non-shameful way.
In 2010, a few days after the earthquake, Haitian families told us, "We need to continue our projects with children. Of course, we have to struggle to find drinking water and food, toiletries, and housing. We have nothing left. But we can't give up on our children's education." This was incredible wisdom coming from families who have so much to teach us. They were focusing on the future even in the midst of the most extreme destitution and a drastic emergency situation.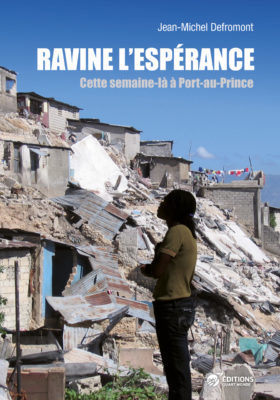 Ravine of Hope, which the authors are going to talk about, describes the extraordinary love people in Haiti have for their children, and their relentless efforts to give them a future. Sadly, these efforts are all too often made alone.
Haitian young people devoted to these neighborhoods have also helped to build ATD Fourth World. With only sheer will power and tremendous energy, they are determined to make their country a better and more just place to live. Over the years, some of these young people have become full time members of the ATD Fourth World Volunteer Corps, taking on responsibilities in their own country or abroad.
After the earthquake international aid organizations designated the area where ATD works a "red," or "no go" zone. They did not deliver relief services to the area. Once again, the families living there had only each other to count on. However, the Haitian young people we know well crossed into the "no go" zone and took inventory of all the children there. Aided by a partner group, they organized food distribution for children. This effort reached all the people there and occurred in a peaceful and dignified manner.
In the weeks that followed, we participated with many families and young people in all the meetings and proceedings organized by the United Nations and Haitian civil society. These meetings were supposed to ensure that the voices of Haitian people, including the voices of these families in poverty, were heard and taken into account concerning the reconstructive policies in the country. However, we witnessed international assistance efforts bypass the country's own institutions. The international cooperation, which the country so critically needed, did not match the level of cooperation taking place in neighborhoods and local organizations. However, we also observed the courage and intelligence of many Haitians who did not hesitate to step up and respond on their own to the emergency.
Through this work we had hoped to help Haiti itself become a leader in cooperative international re-construction work. Had such a crucial collaboration occurred in a mutually respectful way, it could have served as a cooperative model across the globe. Sadly, this did not happen. The international community has a long way to go to recognize that we must learn to face the challenges which confront all countries currently experiencing economic, environmental, social, and ethical crises by calling on the intelligence and experience of each and every person involved.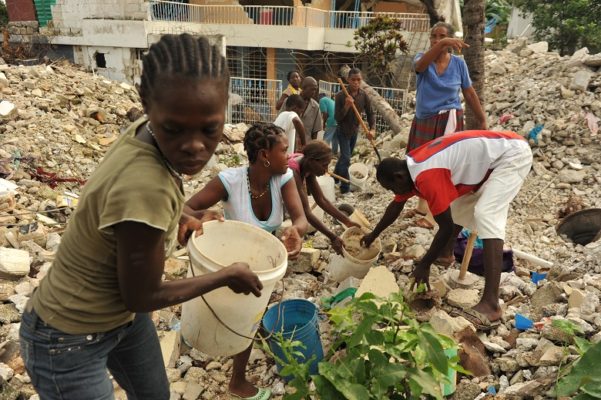 ATD Fourth World has expanded in Haiti thanks to friends who are teachers, engineers, nurses and doctors. These are people who have repeatedly been offered opportunities to leave Haiti. They could have had a career in another country but they decided to stay, insisting, "I am at home here." Fifteen years ago, with these friends, the organizations they created, and local health agents, we were able to implement a health insurance program. This initiative allows families living in extremely poor shantytowns to access health care for themselves and their children. Four thousand people currently participate in this project.
Today our challenge is to determine how this type of project, which has inspired others in Haiti and elsewhere, can be supported and replicated so that some day social welfare rights become a reality for all people everywhere. In our search to make these projects better known and to keep them going, we call on the Haitian diaspora as well as international organizations.
For the past nearly forty years, Haiti has inspired the progress of the ATD Fourth World throughout the world. Through their daily struggles, members of ATD in Haiti have contributed to our understanding of how poverty is a form of violence. They have participated in international marches and research work. They have been involved in colloquiums such as the 2008 meeting organized with FOKAL and Michele Pierre-Louis, "Democracy tested by Extreme Poverty – The Relevance of Joseph Wresinski's Ideas in Today's World." These are people who never give up, despite everything they face day in and day out. They create the conditions necessary to live together in peace in their local communities. A mother in the shantytown, whose daughter was killed by a stray bullet, said this: "Peace is a source of pride. We need to talk about violence in order to understand and be proud of how we create peace."
It makes me wonder: when will the Nobel Peace Prize be awarded to these families and others like them throughout the world?
Ravine of Hope is about the search for peace. However, this is also a story of violence.  The violence is suffered in silence; silence compounds physical violence. Eventually, people who have been subjected to violence put it into their own words. They know violence. They have brooded about it in their hearts. They know that denouncing violence without first creating the right conditions to break silence only rekindles violence. They know that violence is part of the human condition; and they also know that the only response can be dignity, the dignity demonstrated by people who refuse to give up their daily struggle for a peaceful tomorrow.
More information about ATD Fourth World's work in Haiti. 
Photos : © ATD Fourth World