Madagascar Commemorates October 17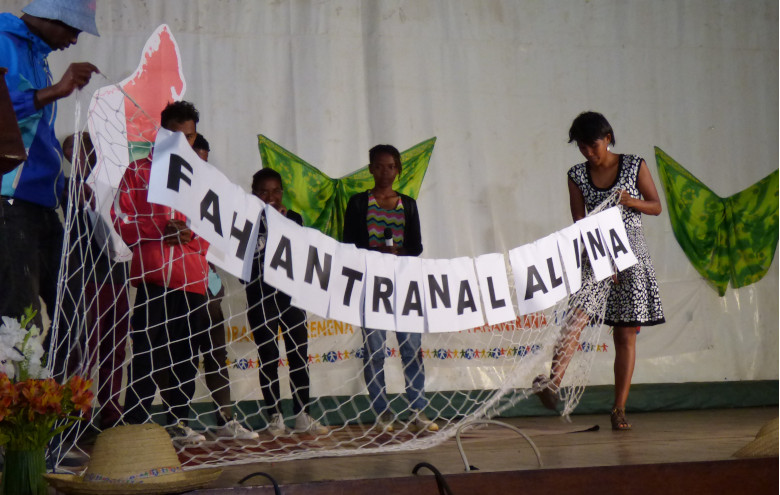 By ATD Fourth World Members in Madagascar
World Day for Overcoming Poverty Commemoration at the University of Antananarivo
ATD Fourth World Madagascar commemorated the 2022 World Day for Overcoming Poverty at the University of Antananarivo. It was an important moment because families in situations of poverty rarely have access to a university. During the visit, the university president, faculty, and the university's communication department welcomed ATD members.
University President Ravelomanana Mamy Raoul opened the program with a welcome speech. He thanked ATD for choosing the university to mark the day. The Madagascar national anthem followed the speech.
Quality education for all
The day focused on one of the major concerns for families living in poverty in Madagascar: Education for all that is truly free and of quality. People with an experience of poverty often speak of this subject. During the event, ATD members shared their views through videos, including this comment:.
"Food should be provided at school because there are students with empty stomachs. This makes their minds confused, distracted, and they always want to sleep. When you're hungry, the mind wanders. Only those who aren't hungry can follow the teacher."
Everyone's commitment helps
During the event, the craftspersons of the Miasa Mianatra Miaraka (Learning and Working Together) project and the young mothers of the Early Childhood program (a program that supports very young parents to better understand their child's needs, basic care, and development) spoke. Like all parents, they want the best for their children, but they also know that the obstacles facing the children are enormous. To give their children a future different from theirs, the parents have had to postpone their own ambitions
The parent representatives of the Tahiry School Savings Project (a program that encourages parents to save money throughout the year to buy school supplies for their children when needed) closed the commemoration with a stage show in which they stated:
"It is not enough if everything is only based on the will of the students and the efforts of their parents".
They strongly called on officials at all levels to unite to end extreme poverty in Madagascar.
What can we do together?
Participants observed a minute of silence in tribute to the victims of poverty followed by a group discussion on the question:
"What can we do together to change the existing system?"
Key takeaways from this discussion included:
Promote the participation of people in poverty to create real change
Evaluate all projects with people in poverty to make improvements
Convert desired change into political action
The Chair of the Board of Directors of ATD Fourth World Madagascar concluded the program by linking this commemoration to the other World Day for Overcoming Poverty events also held on October 17 from around the world.