Madagascar: The successful return of the Festival of Arts and Learning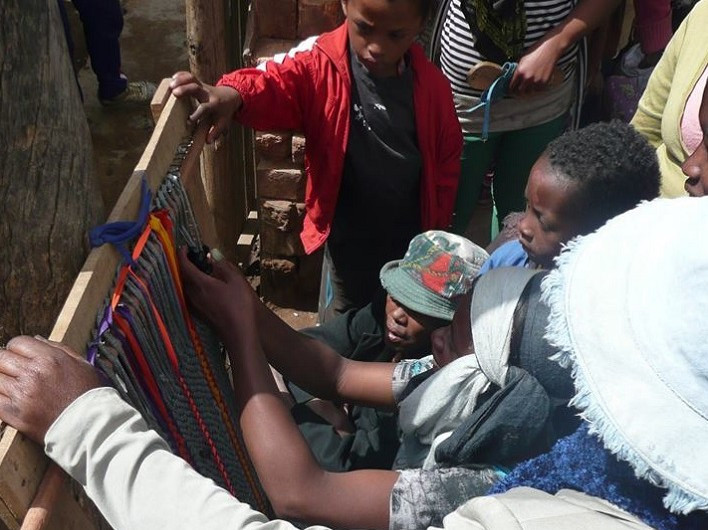 The 2015 Festival of Arts and Learning was keenly anticipated in the neighborhoods of Antananarivo, where it had not taken place for eight years. For several weeks, about sixty people (ATD Fourth World members from Antananarivo, Mahajanga, and Toliara, and partners from NGOs such as Manaode, ENDA, and Graine de Bitume) worked together to run various workshops and facilitate the festival in Andramiarana and Antohomadinika, from 25 to 28 August 2015. Here, ATD Fourth World's team in Madagascar shares highlights.
The Festival of Arts and Learning enables children who cannot go away during school holidays to create, dream, and take a breather from daily worries. It offers community members the opportunity to invest in a project and be proud of their neighborhood. This chance for the community to interact with artists and craftspeople promotes mutual knowledge and enriches everyone.
This year, the program included carpet weaving, origami, plastic art, beadwork, storytelling and book-related activities, cooking, scientific research, circus stunts, Ludo games, manufacturing environmentally friendly charcoal, embroidery, and traditional dance.
The festival began at the garbage dump of Andramiarana — where about 300 families live — from 25 to 26 August 2015. Everyone in the neighborhood helped with the preparation: moving about 1000 bricks for the "Traditional Dance" workshop took only 10 minutes with everybody working together.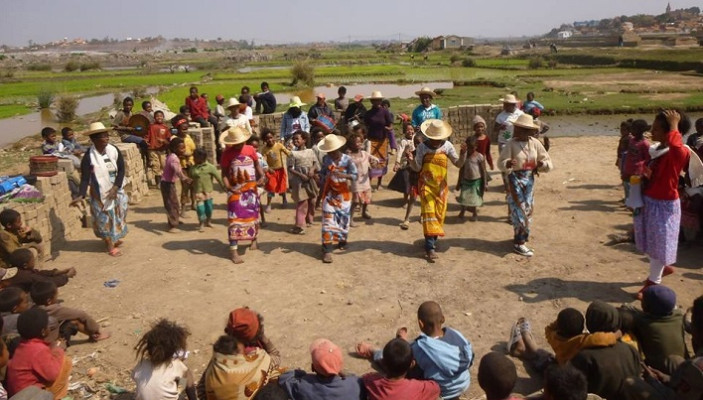 While each facilitator was in charge of his or her workshop, everyone helped to welcome the guests with dignity, even if some were nervous. All shared the aim to make this festival a success.
Community residents were proud to welcome people from outside their neighborhoods and to share their knowledge, challenging the often low expectations of others. A mother told us: "I cannot believe that someone else is interested in our work at the garbage dump. We are proud and happy to share our carpet weaving with our friends from Antohomadinika, Toliara, Mahajanga and the other guests."
Ms. P., a member of ATD Fourth World from Mahajanga: "I facilitated the charcoal-making that Mrs. Jacqueline taught us in Mahajanga. This means that the knowledge is being passed around in ATD Fourth World, and I am very proud to share it with others."
We are always aware of the importance of searching for those who are most in need. We know that at the end of the main street, very close to the garbage dump, there is a child with disabilities who lost his arms and legs. The Festival venue is far from him, so we go and pick him up and his friends take turns carrying him on their back.
The Festival continued in Antohomadinika from 27 to 28 August 2015, with many children, young people and adults. The workshops were held nearby the Joseph Wresinski Library building, which helped them to attract a lot of people in this central neighborhood of the capital city.
These four days of friendship and powerful meetings between people of different neighborhoods left positive memories and have motivated us to continue finding ways for people to share what they know how to do.
F., 12 years old: "We met a lot of new friends in our neighborhoods."
A volunteer facilitator: "I'm not just providing a service; it is a real pleasure because I am happy to see all these children grow during the sessions."
Mrs. A. ATD Fourth World member from Toliara: "We would like to propose a further meeting after the Festival, so that friends from Antohomadinika, Toliara, Mahajanga and Andramiarana can continue to share their know-how."
M JP., ATD Fourth World member from Andramiarana: "It was a wonderful festival, I enjoyed seeing these two neighborhoods working together for the same goal. For those four days we were one united neighborhood."
A student who visited us during the festival: "What you do is a real example for us young people. Sharing know-how with others brings happiness and hope to carry on living. I really want to join ATD Fourth World!"
In each neighborhood, the Festival was closed in spectacular style with a circus show hosted by the facilitators and young people of ATD Fourth World and the NGO ENDA. The festival brought together a little more than 1000 people over four days!
Prisca and Guillaume for ATD Fourth World-Madagascar