"Mary Helped Us Discover Our Strengths"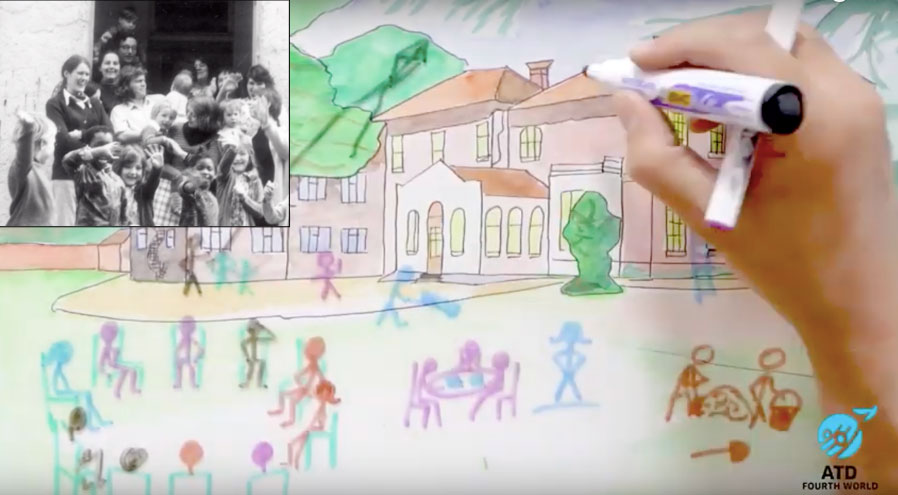 This is the last in a series of videos that retraces the life of Mary Rabagliati, one of Joseph Wresinski's co-founders in launching ATD Fourth World.
In this concluding video we return to an earlier period in Mary's life, when Joseph Wresinski had asked her to live and work at Frimhurst Family Home in Surrey, England. During her time there, a media company, Pathway Films, arrived to film a documentary about ATD Fourth World. Some of the footage is included in this video so that we can see the woman behind the animations in the previous videos as she gives a brief summary on camera of their work at Frimhurst. After explaining that families were sent to Frimhurst by social services for stays of six to nine months, sometimes longer, she added:
"And when they go, we do keep up with them. We go to see them or they come to see us, but we do keep up. But then we're no longer responsible for them and we have an altogether different relationship with them."
Indeed, the friendships between the families and members of the volunteer corps last for many years, with families seeking help in times of crisis or returning to Frimhurst on friendly visits. One such visit took place in 1986 when a group of nine young adults, who had lived at Frimhurst as teenagers, returned to Frimhurst for a get-together with Mary. During their stay they decided to find out what had made her stick with ATD Fourth World for so long.
Their interview with Mary starts with a wonderful glimpse of Mary's feistiness and charm; but then the more probing questioning begins:
"Don't you ever feel like chucking it all in and forgetting the whole thing?"
"You've kept going for years now. Why?"
"What have you achieved for ATD Fourth World?"
"What do you hope for in the future for ATD Fourth World?"
Mary's thoughtful and unpretentious answers give us a flavour of her unique personality and of the depth of her commitment to the life she had chosen. In answer to the question "What are the most important things you've learnt?", Mary replied:
"I've learned that everybody has something important to say and to contribute in spite of difficulties. Some people talk in a way that you can't understand immediately. They may have had less education. But education doesn't show anything. Underneath it, I've discovered that they have a lot to teach me about being a good human being. They've also taught me that we all can do much more than we think we can."
This concluding video of the series ends with some of the tributes paid at Mary Rabagliati's funeral. Sir Peter Bottomley, a British member of Parliament said: "Like Oscar Romero [the Salvadoran champion of the poor], Mary found the saintliness in other people. She could get ordinary people to do extraordinary things often, and that's where extraordinary talent comes from."
One of the women who had lived at Frimhurst many years earlier and on one occasion had led a 'strike' against Mary before gradually realising that in Mary she had found someone she could really talk to and trust, had this to say: "Her joy was infectious. She helped us discover our strengths, in a way that saved us our dignity."
This woman is correct that a great deal of Mary's influence and inspiration for others stemmed from her sense of joy. To recognise this, the working title for her biography has now been changed to Joyful Revolution: The Story of Mary Rabagliati and People the World Forgot.