Mauritius: Indian Ocean Commission and ATD Fourth World sign an agreement to address poverty together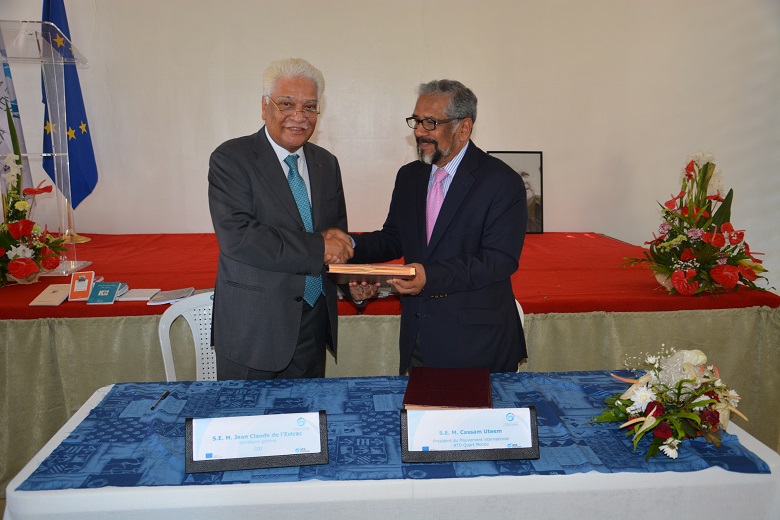 Pont-Praslin, Mauritius — On May 5, 2016, Mr. Jean Claude de l'Estrac, general secretary of the intergovernmental Indian Ocean Commission (IOC), and Mr. Cassam Uteem, president of the International Movement ATD Fourth World, signed an agreement to work on joint measures to address poverty in the region.
This formal agreement, described as "historic" by Mr. Uteem, cites three areas where the IOC and ATD share a common interest in regional cooperation:
promoting dialogue and training for efforts to overcome poverty;
reinforcing civil society's commitment to peace and human rights;
backing the Fourth World People's University initiative in Mauritius and Madagascar.
"The agreement that we signed today should allow us to plan joint activities in order to fight against poverty more effectively. The IOC will indeed contribute its expertise and the assistance of its partners in this effort," said Jean Claude de l'Estrac. "I am also pleased to welcome the head of the European Union delegation. Her presence here today underscores our principal partner's commitment to our development projects, and particularly all our efforts to overcome poverty."
For her part, Ms. Marjaana Sall, head of the European Union delegation in Mauritius, Comoros and Seychelles, spoke of the numerous projects that the European Union has put in place to overcome poverty "in order to promote inclusive growth, notably through a greater participation of non-state actors in development." Ms. Sall concluded by recalling that "respect for human rights is one of the European Union's fundamental principles and we are committed to respecting these rights in all our cooperative programs."
This ceremony was also an opportunity for members of ATD Fourth World to present a summary of a seminar held earlier in the week. Speaking to the IOC about the grassroots challenges of overcoming poverty "encourages us to move forward together: the IOC, ATD Fourth World and the European Union, with the commitment to leave no one behind", said Ms. Jacqueline Plaisir, Deputy Director of the International Movement ATD Fourth World.
"We have high hopes for this agreement. We have no right to disappoint families who live in extreme poverty. They are counting on us," said Mr. Cassam Uteem. "Our region's economic development will become truly sustainable only when poverty has been eliminated. This is ambitious, but achievable if we are committed to it, alongside institutions such as the European Union and the IOC."