Meeting With Francois Delattre, French UN Ambassador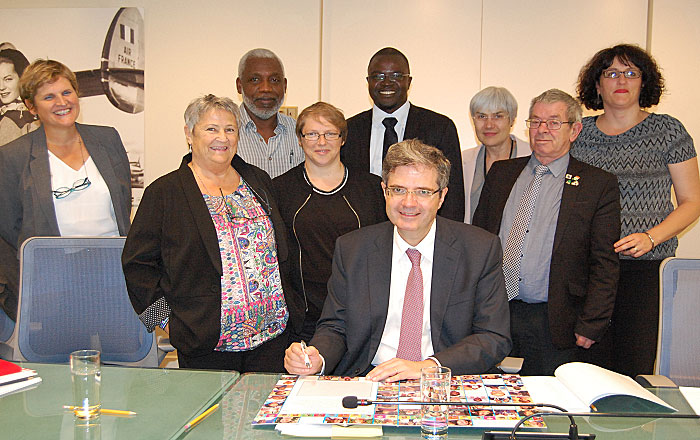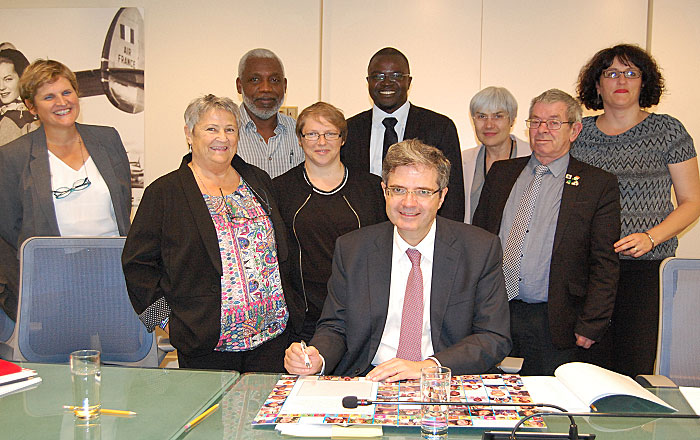 On 13 October 2017, UN Ambassador Francois Delattre, the current chair of the UN Security Council, met an international delegation from ATD Fourth World. The nine-person delegation, in New York for the commemoration of World Day for Overcoming Poverty on 17 October, included those who have an experience of extreme poverty.
Delegates started with examples of how extreme poverty is a form of violence: parents losing their children to the state, stigmatization, a lack of resources that takes the future away, institutional hostility, and schools that produce "children that cannot read or write and who are likely to be involved in violence" and who themselves are victims of violence. The delegates also added that the waste of human potential is yet another form of violence, as are social programs and international aid that doesn't reach areas where there is extreme poverty.
All too often, people living in extreme poverty are judged and treated as incapable and sometimes come to believe they are. The dehumanization and its internalization are an ultimate form of violence.
In all these instances, people living in poverty are silenced, which is an additional aggression.
Yet those in poverty do not look for violence but for peace. Martine Le Corre, ATD Fourth World Deputy Director, spoke of this reality. "ATD Fourth World itself is a vehicle of peace. Father Joseph Wresinski has always tried to bring people together, no matter who they were."
Mahamadou Kone said that in Burkina Faso, volunteers helped a child who left his village and lived on the street to find his family. The child left his village because he felt he was a burden. But he learned a trade and built self-confidence. Because of this, he had the confidence to reconnect with his family. This was a happy event for the village. This re-connection built peace, not only in the child's family, but in the local community.
Angélique Jeanne stated she does everything to keep links with her children in care, an act of peace she believes.
Seamus Neville said he supports others in court if there is a risk of someone losing their child to the state. Seamus also fights stigmatization through ATD's The Roles We Play project. He builds goodwill by training social workers to better understand the reality of living in poverty and to be better professionals and human beings. Seamus has had a difficult personal history with social workers who have caused him much pain. Yet he has been able to move beyond his anger and hatred of social workers.
Mr. Delattre was touched by the meeting and said how what he heard was in line with the theme of sustainable peace, which is not the absence of armed conflict, but the absence of violence. The meeting was a real eye-opener for him, he said. He asked Seamus Neville if he had forgiven those who had wronged him. Seamus without hesitation answered "yes". That won the admiration of all present. Seamus added that hatred prevents us from moving forward, and we must move forward.
The very personal meeting ended with Ambassador Delattre signing the #StopPoverty Call to Action.