Meeting the Challenge of Distance Education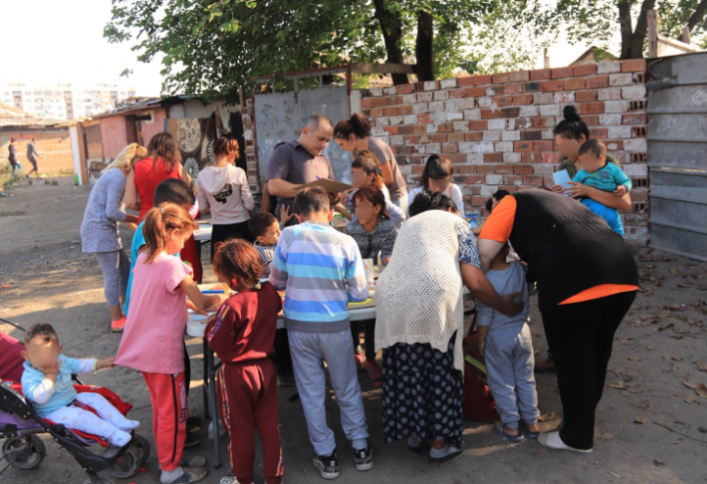 Photo above: The Mobile School Stolipinovo – Bulgaria, October 2019 © Magdalina Rajeva
The Mobile School Stolipinovo offers the opportunity for creativity and informal education in the streets for children from one of the improvised areas of the multi-ethnic and segregated neighbourhood of Stolipinovo in Plovdiv-Bulgaria. Since October 2019 four teachers of the Pencho Slaveykov School have joined this initiative.
The teachers come to the area and, with the team of the Mobile School Stolipinovo, conduct workshops in between the barracks. In the winter, they gather some children from the area and go inside the school for an activity they have prepared.  This combined approach is building a bridge between the families and the school.
Lock-down
During this time of lock-down due to the pandemic, access to education is an extremely difficult challenge for the children and teachers. Since March 6, schools are closed. Since March 13, everybody must stay home.
Bulgaria has organized a system for schooling from home. But most of the children from this school can't use it:  they have neither tablet, nor computer, nor internet connection. This denies thousands of children access to education.
One of the teachers, Rosi Zlateva, shared her worries with the Mobile School Stolipinovo team and took up the challenge. She is devoted to the education of her class of 6th graders who are 11 and 12 years old. They live in badly damaged buildings close to the improvised area.
Call for second-hand tablet
Team members of the Mobile School Stolipinovo put out a call for second-hand tablets. In a few hours more than 50 people responded, and 10 of them donated tablets. Each tablet was rebooted, learning software<note>Supported by a technician- Ivan Karadjov (Indi) who made installation of the educational software even on old tablets posiable.</note> installed, and online lessons prepared. Each student received a tablet of their own.
Rosi is in touch by phone with mothers of her students. She made appointments and gave students an individual 2-hour orientation session in her car, with all the necessary precautions. For the first time children are able to use tablets in a learning process as well as educational programs like Kahn Academy, Google Classroom, etc. Before, they only knew Viber and Facebook.
Within the first week, 7 students were able to learn and they submitted their first math homework via an internet connection near their home. It is a slow process, but it will continue to develop.
Rosi commented recently:
"I thank the team of Mobile School Stolipinovo and all the people who responded to the call for tablets. I do not know how to describe it, but I will never forget the eyes of the children when I gave them a tablet and told them that people gave it to them so that they could study."
Pride and optimism
This project created faith in society and an infinite amount of pride and optimism for everyone at Mobile School Stolipinovo.
This initiative shows that it is necessary to be inventive to make it possible for children to continue to learn. Even if there are still many more children to reach.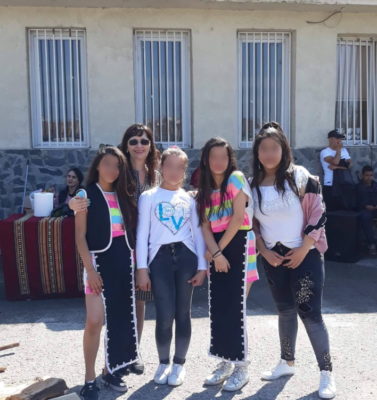 More on ATD Fourth World in Bulgaria and South Eastern Europe.