Merging Knowledge to Create Proposals for an Inclusive Europe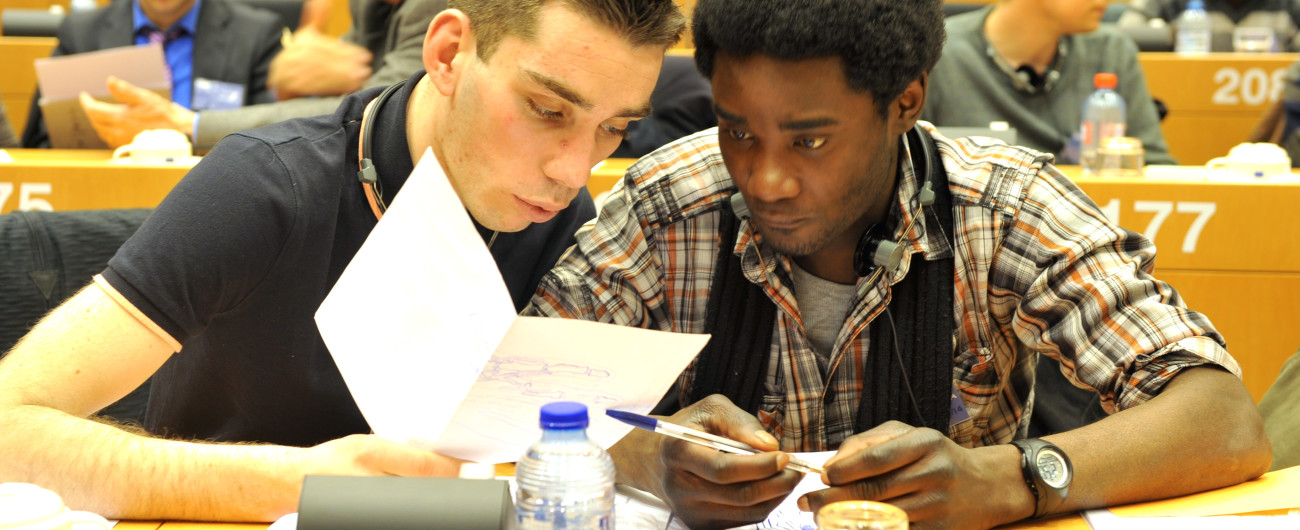 What can be done to ensure that European policies no longer exclude people? For ATD Fourth World, it is through drawing on the knowledge of all individuals to reflect on policies – particularly the knowledge of those living in extreme poverty – that a Europe which is fairer and includes everyone will become possible. A "European elections working group" has shown that drawing together knowledge in this way is both necessary and possible.
Work together with the very poor to build Europe's future.
Over a period of six months, the bilingual working group (French/Dutch) established in 2013 by ATD Fourth World brought together European citizens from very different backgrounds but all united by the same ambition: eradicating poverty in Europe and ensuring that the EU develops with the input of everyone, in line with its fundamental values of dignity, respect of human rights and solidarity, as is set out in articles 2 and 3 of the Treaty of the European Union.
Individuals with experience of extreme poverty have therefore written a working paper in cooperation with other individuals who, in some instances, hold positions of responsibility within European Institutions. The purpose of this paper was to present solid foundations for proposals to be addressed to the European Union in the context of the elections next May, so that the EU can be more effective in its fight against poverty.
Drawing out all potential expertise by "merging knowledge"
To move forward the members of the working group made use of the "merging knowledge" approach. First of all substantive discussions on the European project took place within groups in "pairs" (comprising representatives of institutions, Fourth World members and other supporters), each individual was recognised as bringing their own expertise and their own responsibility, before doing this together in the whole group. So, while for some the priority was to make sure that the proposals had a basis on an institutional level, others wanted to ensure that they were actually reaching the poorest people and the most excluded people saw that they could have a wide impact on society. Working by merging knowledge is therefore not just a question of putting in place the necessary conditions so that everyone can learn from each other, it is also about developing reciprocally, humanly and intellectually so that people who would have been on opposing sides in another context become fully-fledged partners, integral to a shared project.
A positive experience within a broader movement
The working group members saw how well their knowledge and understanding complemented that of the other members, and, in particular that those living through great difficulty brought unique and invaluable experience for the development of projects targeting the well-being of everyone, without excluding anybody.
The final text draws out a set of underlying priorities, mainly around the themes of participation for all, education, employment and also the means necessary for family life. Today it serves as the basis for the preparation of the European Fourth World People's University on 5 March at the European Parliament, which will bring together citizens (with or without experience of poverty) from ten countries this year, as well as institutional officials. Together they will seek – always through sharing their expertise – to further the goal of creating a Europe for everyone.