New Book Catalogue for 2018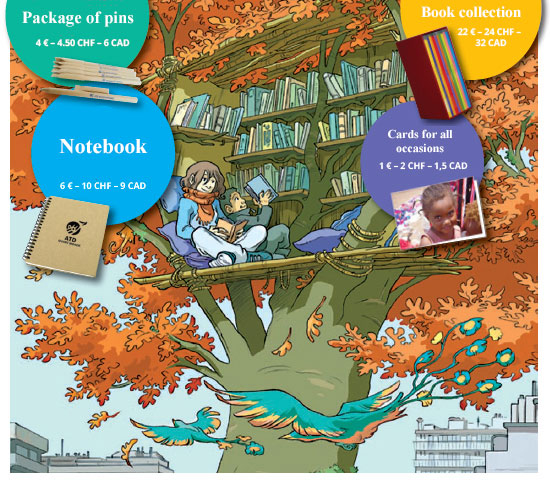 We are pleased to announce a new catalogue about all of ATD Fourth World's English-language publications.
These publications are tools for reflecting, learning, and taking action. ATD Fourth World publishes numerous books, reports, and films about extreme poverty, with a focus on the role of people in poverty as actors for peace. Many books in the catalogue are available for free download.
Our books are an important way for the voices of people living in poverty to be heard.
Stories of Change gives examples of how poverty can be overcome and presents a positive message in contrast to the continuous stream of negative news that leaves many people feeling discouraged and powerless. These stories from south-east Europe have inspired others to get involved with those who resist poverty in their daily lives.
This publication is available in 5 languages (Bulgarian, English, French, Hungarian, Romanian) and can be seen online or downloaded for free as a pdf here: www.atd-fourthworld.org/ebook-southeast-europe/
Yes ! I love to learn In their own words, children from very different backgrounds express the importance of trust in learning, working together and sharing knowledge with less able or disadvantaged children.
Pdf version is free to download or order copy from the Tapori International Team in Geneva at: tel: 022 344 41 15.
The Roles We Play brings together photographic portraits exploring the roles played by those living in poverty with the aim of highlighting their efforts and challenging the negative attitudes often held towards vulnerable and excluded families in the United Kingdom.
This publication can be downloaded for free as a pdf on the ATD Fourth World UK's website.
Making Human Rights Work for People Living in Extreme Poverty is a practical tool for social workers, policy makers, civil servants, law enforcement officials, teachers, health care providers, and human rights advocates working at the local level to ensure that public policies reach people in extreme poverty and respect and uphold all their rights.
This publication can be downloaded for free as a pdf.
These and many others can be found in the catalogue. In addition to our most recent books, the catalogue lists some books that are out of print but are frequently available in the libraries of ATD teams around the world.
ATD Fourth World is always grateful when people post their reviews of our books on Amazon or Goodreads. The more positive reviews our books have, the more often they will be suggested to new readers. Social media is an important way to make these publications better known! Thank you.
Download our catalogue by clicking on the image below.