Newsletter December 2017 – ATD Tanzania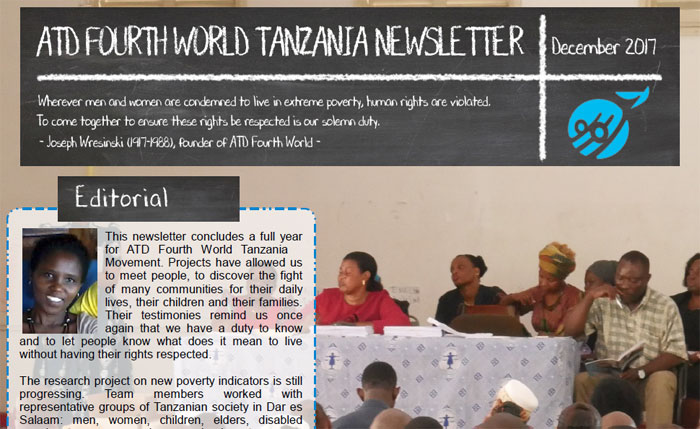 This newsletter concludes a full year for ATD Fourth World Tanzania. Projects have allowed us to meet people, to discover the fight of many communities for their daily lives, their children and their families. Their testimonies remind us once again that we have a duty to know and to let people know what does it mean to live without having their rights respected.
The research project on new poverty indicators is still progressing. Team members worked with representative groups of Tanzanian society in Dar es Salaam: men, women, children, elders, disabled people, stone quarry workers, academics, etc.
We will share the fruit of our discoveries and our meetings. Enlightening testimonies invite us to reconsider what it means to live in extreme poverty: "(…) extreme poverty is not just about money. It is especially the absence of peace and permanent insecurity. A mother who cooks at the Fish Market and who can lose at any time everything she has or another mum who breaks stones and can not help and has to take her little child with her to the quarry. " In 2018, we will meet people living in rural areas.
This newsletter is also very special. It concludes the action on Education for All. The team has prepared a special article to remind us of the major issues of this project and what it has allowed us to win. This year 2017, the meetings have made it possible to raise awareness of how the meeting and unity between parents and people from school is the key to success so the child can succeed and go to the end of their ambitions at school.
We also want to share with you this key moment of our year. As every year: on the World day for overcoming poverty. Hundreds of members of ATD came together to say that we must be with those who suffer the most the weight of a permanent struggle to attain their basic rights.
May 2018 bring us more strength and energy and allow each of us to further strengthen our ties to end the violence lived by the poorest people.
Alexie Gasengayire
ATD Permanent Volunteer
Leadership Team Member