October 14th and 15th: International Solidarity in the Heart of Paris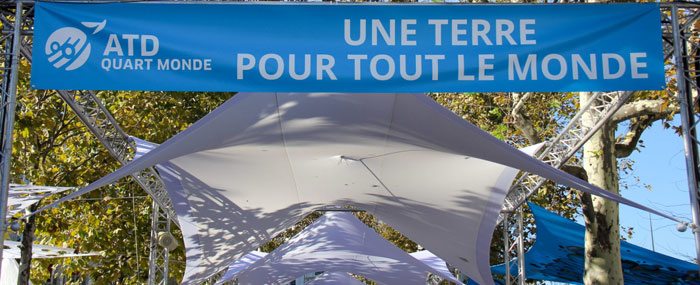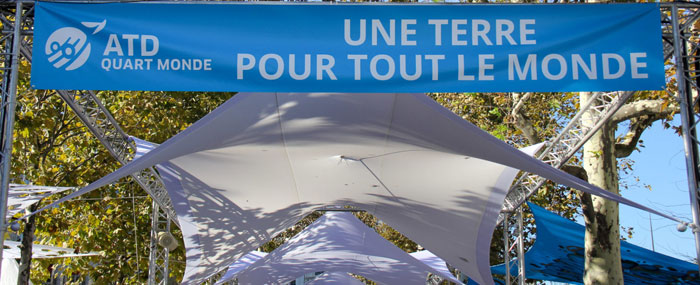 This article is imported from our 2017 Stop Poverty Campaign web site.
As part of the "Initiatives for a Better World", which took place in Paris on the 14th and 15th of October, the stand of "international solidarity" offered a space to look learn more about ATD Fourth World's international work.
The stand was flanked by two huge mannequins from Haiti and Belgium, created by members of ATD Fourth World. They form part of a traveling exhibit and they are inspired by people who fight every day to overcome poverty.
A team of ATD Fourth World members with international experience were waiting inside ready to welcome, listen, and speak to all comers. Their goal was to suggest different ways of discovering the international dimension of ATD Fourth World: reading Stories of Change, enjoying the"Colors of the Letter" exhibit by International Forum for Overcoming Extreme Poverty, or watching different videos from around the world.
As one participant told us:
"I spent a while with a boy who was really curious and looked at a sculpture of a Street Library supporter in Haiti. He wanted to know who the person was, and why she had a small boy sitting at her legs, and why they were looking at a book. It was a different moment, with the children we talk in a different way, it was a special moment."

"When he finished watching a video of an interview with Joseph Wresinski he asked me if he could write down the youtube link to find it, 'to be able to watch it again at home, calmly, listen to it well'…"

"Speaking to a young man about our commitment as members of the Volunteer Corps, I discovered the gaze, the worry of a young french woman, restless to change the world. We put our thoughts together and our ambition for change".

"There was one woman who was moved by watching a video about people living in poverty in the United States. She told me, "But, that's what I've lived!" When I suggested that she write her message, she told me that the worlds of that person were her message. We looked together again for the phrase in the video that had so moved her and we wrote her message."
Another proposal that had a lot of success was to sign the call to action that thousands of people have already signed this year, taking a photo and writing a message sharing their conviction that a different world was possible.
There was a photography studio with professional photos; one by one the photos were put up on the wall. More than 300 people participated and "put themselves up" next to others who believe that a different world is possible. A combination of image and expression that gives hope.