Statues Depicting Strength of People in Poverty Exhibited in Paris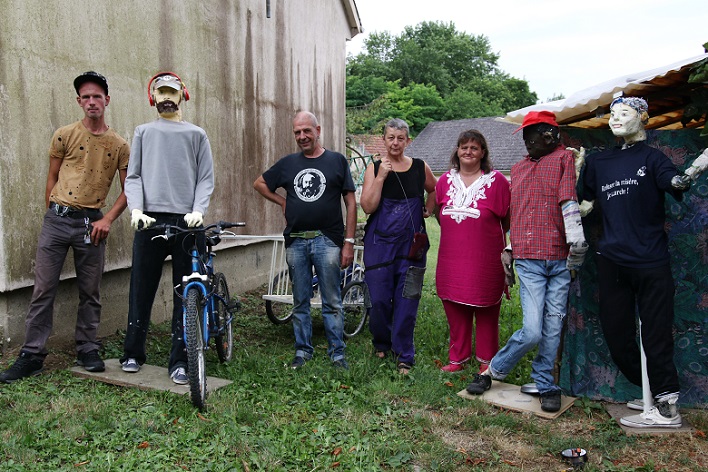 Every Monday afternoon for the past year, ATD members have been meeting to create sculptures depicting the strength and resilience of people in poverty. At ATD Fourth World's international centre in Méry sur Oise, France, a group of three life sized paper mache people slowly emerged.
This small group is part of a larger paper mache collection of 15 similar sculptures around the world, each one created through an international artistic initiative originally launched in Belgium. A series of workshops for young people – attended by ATD members from Belgium, Peru, France, England, and Switzerland – examined the question of identity and inspired the first sculptures that were later exhibited in Belgium and France. The sculptures in the exhibit and the written pieces that accompanied them all depicted stories of strength and courage demonstrated by individual men, women and children in poverty.
The success of this initiative and the resulting exhibit gave birth to a wider international effort to use the art of sculpture to examine and depict people living in poverty and the resilience they must summon in order to face every day difficulties. The project grew in different countries where ATD works, especially through a number of projects with young people.
Participants in youth workshops (held in Champeaux, France) did research and talked together about what they wanted their sculptures to represent. In the end, they chose to show solidarity between young people with a focus on the goal of leaving no one behind. Three characters came into being: Christian, a lone man collecting scrap metal for a living, and two other people who approach him in a gesture of friendship. The scene is accompanied by a poem by Christian D'heer, a member of the group who helped make the sculptures.
Christian is like us.
Like me he takes his bike and trailer out
every morning without knowing what he'll find.
He counts on other people to give him tips
about where to look.
He pays attention to what they tell him
so he knows where to find building sites.
When he finds something beautiful, he fixes it up.
And he gives it to one of his friends.
To hold on to the friendship.
He finds some dumps open. Others are closed.
In the morning when he leaves, his trailer is empty and he cycles fast.
In the evening, with all that he has collected, it's heavy.
He pushes his bike home, with the trailer behind it.
When he's at a building site
he sits on a rock to eat a sandwich.
He eats alone.
Everything he finds,
He takes home with him.
He repairs it.
He makes sure it is working.
He tries to sell it.
In the morning, two young people, Francis and Jennifer, greet him.
He thinks of them during the day, when he is lonely.
This makes him sad.
But he must continue his efforts
so that his family can have a better life.
Christian's mother, Veronique, helped create the sculptures as well. Another member of the group, Lydie, became the costume expert for all the statues. Christian and Lydie along with two other group members, Ros and Arnaud, travelled to England to help with another ATD statue showing a person trying to "get a foot up the ladder" but who encounters many obstacles in life.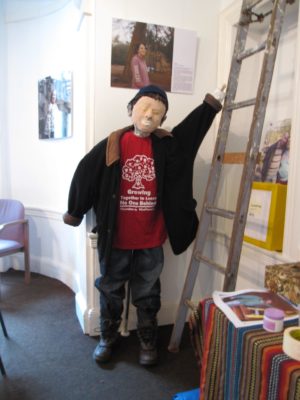 All these experiences made it possible to meet, to laugh together and to overcome differences.
15 Profiles of the World
So far, 15 "People of Courage" have been created around the world.
For Joseph Wresinski's 100th anniversary, the sculpture initiative made "Joseph and the family's goat", representing an important time in Wresinski's childhood in poverty. Sculptress and ATD friend, Jacqueline Renard, created the ceramic head of Wresinski.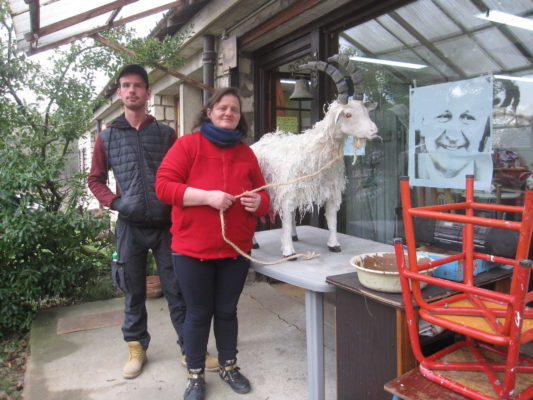 "Joseph and the family's goat" was exhibited for the first time at the STOP Poverty campaign launch in Angers, France.  Some of the statues were on view in Paris at the "Village of Initiatives" exhibit, a Stop Poverty campaign event attended by thousands of people in October.