Will the European Pillar of Social Rights reach the most vulnerable in the EU?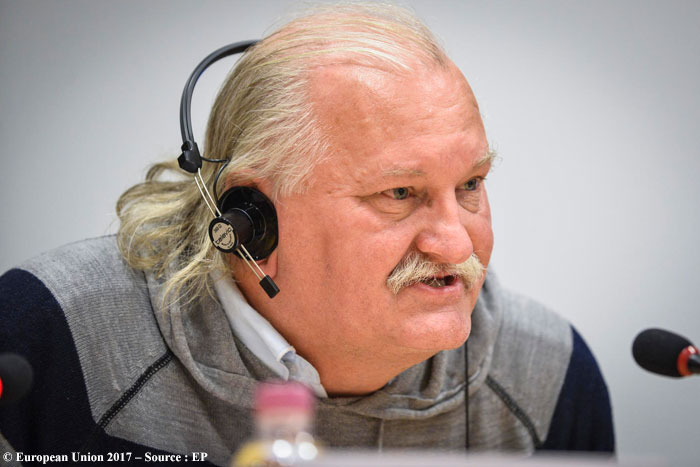 Photo: Brussels, October 17 2017, European Parliament for the Extreme Poverty and Human Rights Intergroup meeting – Jan Timmers Fourth World activist from the Netherlands talks about the difficult and unfair situation of "ghost citizens" (spookburgers) in his country. People are removed from government databases against their will or refused entry and therefore they no longer have health insurance or lose their benefits.
As part of the Göteborg Social Summit for Fair Jobs and Growth to be attended by European heads of states, an inter-institutional proclamation will be adopted supporting the European Pillar of Social Rights. This is thanks to the support of the Council of the European Union. At this key moment, ATD Fourth World urges that the experiences of people living in poverty be taken into account and that no one be left behind.

During the creation of the Pillar of Social Rights, ATD Fourth World actively participated in the European Commission's consultation process and expressed its concern that people living in extreme poverty in Europe must be taken into account. The Pillar of Social Rights should not only improve the situation of people who have jobs and those with close ties to the labour force. It must also take into account extreme poverty and respond to the problems of ineffective implementation and lack of access to social rights. A large percentage of people living in very precarious situations can not get the help they need. There are a number of reasons for this, but two deserve particular attention.
Lack of the legal status, identity documents, or residence required by the area where a person lives in order to be eligible for various social rights.
Stigma and discrimination, especially suffered by people living in poverty.
The European Pillar of Social Rights, announced in September 2015 by the President of the European Commission, Jean-Claude Junker, sets out 20 principles that address both the new realities of employment and the improvement of general social protections.