People's University in Mauritius Addresses Housing Issues
People on the receiving end of government programs often see good ways to improve bureaucratic effectiveness. In Mauritius, recipients of low-income housing programs shared their ideas for practical improvements. Managers of national housing programs were impressed.
ATD Fourth World in Mauitius recently organized a people's university to follow up on an earlier meeting about housing issues. The participants, ATD activists, from various neighbourhoods, spoke with two housing officials about finding solutions to the difficulties low-income families face around housing.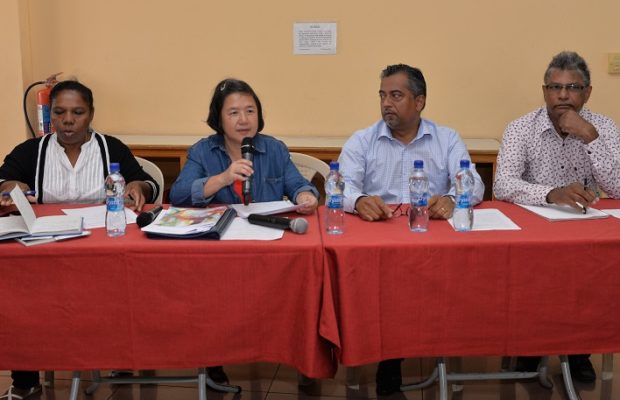 Participants met with Mr. Gilles L'Entêté, CEO of the National Housing Development Company (NHDC), and Mr. Clifford Vellien, Communications Director of the National Empowerment Foundation (NEF), two organizations responsible for implementing national housing programs. To prepare for the meeting, 40 participants were briefed on the government's housing policy. They thought through these policies in light of their own experiences, their hopes and the difficulties they have faced.
Participants began the meeting by stating that housing is critical for a family to feel safe, but also to be able to plan for the future: "a solid house with running water and electricity", "a house helps unite a family", "when a storm comes we do not need to worry or go to a refuge shelter", "a yard where we can plant and grow things", "housing represents everything for a person". The other participants agreed, emphasizing that housing programs answer families' needs for decent housing that is reliable and accessible to all.
There are, however, a number of obstacles that prevent these hopes from being realized. One participant noted: "I would like to know what has to happen so we can have a home where our children can live in peace, because personally I find it is really hard to find such housing. Working in a low paying job makes it extremely difficult to find affordable housing."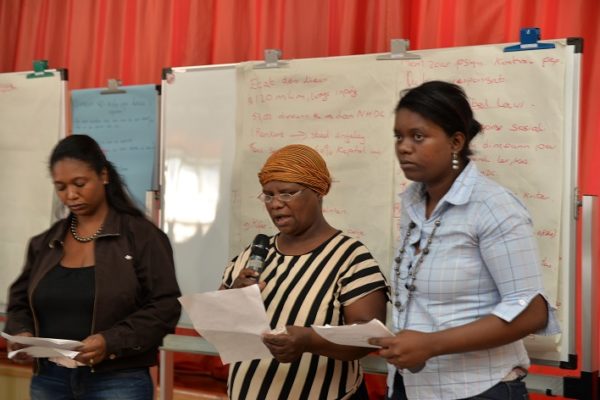 The housing officials explained the differences between the two organizations that provide housing to families according to their income. The NHDC requires a minimum salary of Rs6,200/month (about $178), while the NEF serves families that have salaries less than that amount.
Another participant pointed out how difficult it is to pay the high interest rates for their home mortgages when working at low paying jobs.
"I am the father of four children. In my family, I am the only one who works. I need to take care of feeding my children and paying for what they need at school. I own a NHDC house. Why is the interest rate so high? For four or five months now I am unable to make payments on my house. I worry that if I lose my house, I will lose my soul, I will lose my family, I will lose everything. I just want to know if there is an answer to this problem."
Concrete proposals for improving family housing policies
Throughout the session, participants representing several neighbourhoods made proposals and engaged in lengthy debates with the housing officials about their various situations in order to identify solutions to the very real problems they have encountered.
Records get lost and have to be reconstituted and there are too many people to deal with:
"Sometimes we don't know where to start or which office to visit. We would like just one person in the housing office that we can go to for information and that can tell us where our applications for housing stand. We propose a system of numbered cards that list the person responsible for our application, their telephone number, and the identification number of our application. That way whenever a person calls they will be able to get the information they need without having to talk with a lot of different people. A numbered card like this wouldn't get lost. If the whole file gets lost, we know which person started the file and can hold them accountable."
Housing organizations are not familiar with the areas where we live.
"When you send an official to a village, it would help to have one person in the village assist the official in finding the family they are looking for. Otherwise they get lost and contact is difficult to make or is never made at all. Where I live I work with officials from the NEF who are accompanied by people responsible for our neighbourhood. It makes everything easier. When an official visits a neighbourhood they have no idea who is poor and who is not. Instead of helping people in poverty who need it, they give help to those who are not as much in need."
Crowded living conditions force families in one neighborhood to live very close together or paperwork errors sometimes penalize families.
The interest of the housing officials in the participants' proposals was tangible: "You know, we can also learn from you. Your idea for a card and checklist for following the progress of a case file is very interesting," emphasized Gilles L'Entêté. The officials also explained a new system (SRM—Mauritius Social Register) that is intended to launch on-the-ground inquiries into situations of poverty in order to determine if families qualify for certain NEF social services that include family housing, job placement and training, and children's school supplies.
An important and constructive discussion
Participants were proud to have taken part in a constructive dialogue in which they could share their thoughts and experiences in ways that led both to concrete proposals and to a commitment from authorities to engage in further discussion.
"I would like to thank the representatives from Anoska, Richelieu, Case Nayale, and Saint Croix for their very helpful participation", said Mr. Vellien. "I appreciated their sincerity, their determination, their courage, and their frank comments. I have benefited from this meeting and I assure you that I will relay what I have learned to those who should be aware of what we have discussed. I thank you for your patience and for taking the time to have listened to us on a Sunday."
"I have learned much from you", Mr. L'Entêté agreed. "It is said 'ten heads are better than one' because we recognize we don't have all the answers ourselves. But we do know that when someone suggests an idea we can use it to find a different or better solution than what we would have thought of on our own."