From Child Participant to Program Organizer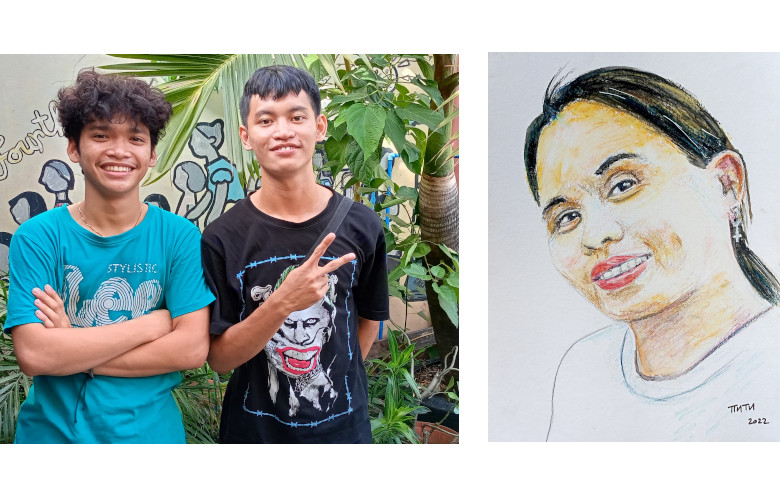 Three young people from a background of poverty are now supporting ATD's work in the Philippines. Here they talk about how they met ATD as children through education and art programs. Later, they became involved in running these same programs for other children. In addition, they've joined ATD in supporting members of their own communities. Despite a life of extreme hardship, they've found meaning and hope in this work.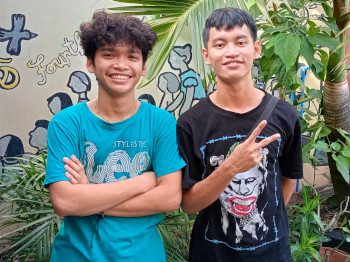 Christian
Last March Christian and Jhayson, who live in the Paco community of Manila, told their stories when the French ambassador visited the ATD headquarters in the Manila.
Christian is 24 years old and finishing studies in the fine arts this year. "I got to know ATD when I was a child," he said at the ambassador's visit. "At that time, I was living under a bridge with my family. I really enjoyed drawing and colouring, and I took part in the ATD "Festivals of Learning." I was very influenced by Robert Alejandro, a Filipino artist who led activities as an ally with ATD.
"When I grew older, people encouraged me to become a facilitator. Becoming a facilitator requires nothing more than your passion and commitment to ATD's work.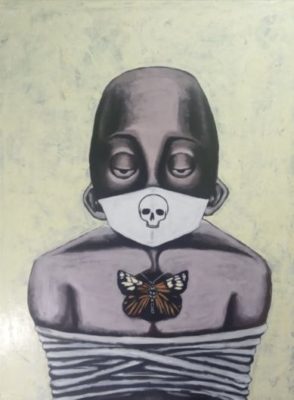 "I want to tell you about a painting that I did during the pandemic. It represents society and the injustice that rules over it. The person in the painting is wearing a mask because if you say something against the government, you could die or go to prison. In the painting, there are also strangling ropes because the government ties us down instead of helping us.
"However, despite everything that happens to us, we still have hope. We have a butterfly in our heart, which illustrates this hope."
Jhayson
Eighteen year old Jhayson is a member of the ATD youth group in Paco, Manila. "When I was a child," he told the ambassador, "I also lived under a bridge. From time to time, I would take part in the activities ATD organized. During the pandemic, one of the facilitators encouraged me to help organize the Street Library. I decided to join the group of young facilitators. In my opinion, ATD Fourth World brings joy to children.
"And for us young people, ATD is like a family. It helps me build confidence in myself and be in touch with other people."
Jhonalyn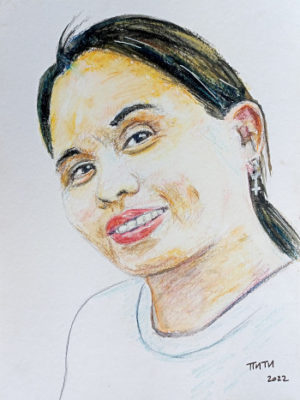 Jhonalyn is another young person from a background of poverty who is involved with ATD. On Women's Rights Day last March, she spoke at the French Alliance in Manila. There, she described herself as a "child of ATD."
"My name is Jhonalyn and I live in the North Cemetery* in Manila. When I was young, I used to go to the ATD Street Library. Today, I am a facilitator with ATD.
"My mother would wash laundry, clean, or sell 'balut' in the streets. She had to take any job she could find because she couldn't rely on my father to look after her five children. When I grew up, my mother became my inspiration.
"As a person living in poverty, and all the more as a woman, you are always held in lower esteem than other people. When I was young, my mother sent me to other parents to finish high school. But when I finished, they thought that, since I lived in the North Cemetery, I didn't need to do further studies. They made me work. And now, I cannot even speak English anymore."
With confidence comes strength
"ATD members help children to read and write, but they also help parents in their struggles," Jhonalyn continued. "ATD encourages them to think through issues together and to speak out publicly. Also, ATD helps us take responsibility in organizing activities.
"Personally, I enjoy hosting artistic activities to create Christmas decorations. We go to all the communities [where ATD works] and lead workshops for children and adults. In this way, we become less shy and more confident. It takes time. But we are proud to see that we can create things and also teach others. All of this is a great moral support for us."
Helping community members support each other
"ATD Fourth World encourages us to work to overcome poverty in our own community, but also to speak out in the name of other people," Jhonalyn concluded.
"My child was the classmate of a little one whose mother almost never went outside her home. She hardly ever talked to anyone. But we met at school and became friends. I told her about ATD. And now she hosts creative workshops and helps with the literacy program.
"For right now, she doesn't yet want to talk in front of other people. But she and I both want to say that there is one dream that all mothers of the North Cemetery have. Our dream is that one day we will have real housing outside the cemetery where we can live with our families."
*Many families who have nowhere else to go live in this enormous cemetery in Manila. ATD organizes education and art projects there.