Pope Francis Visits Monument Commemorating Victims of Extreme Poverty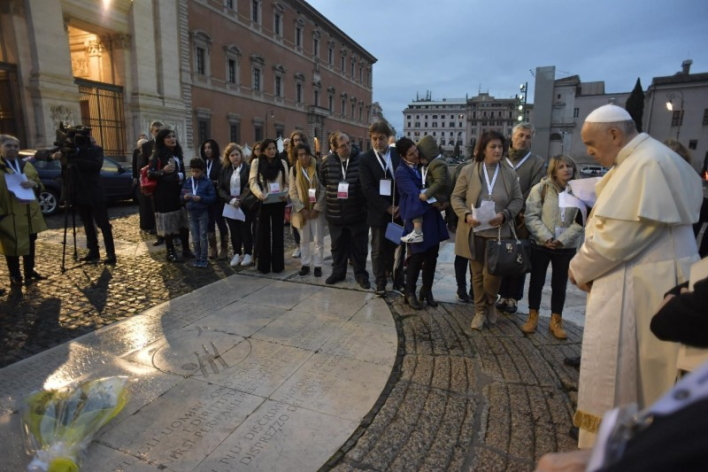 Rome Monument Honours Victims of Poverty
On November 9, Pope Francis was on his way to preside at the Eucharist in the Basilica of Saint John Lateran in Rome. Before entering the cathedral, the Pope stopped at a stone marker just outside. Laid 19 years ago, the engraved stone honours victims of extreme poverty. It is a replica of a similar stone in Paris that Father Joseph Wresinski, founder of ATD Fourth World, inaugurated on October 17, 1987.  Both are engraved with the words:
"Wherever men and women are condemned to live in extreme poverty, human rights are violated. To come together to ensure that these rights be respected is our solemn duty."
            Joseph Wresinski
The Rome monument also quotes Pope Jean-Paul II: "No more shall children and the poor suffer exclusion, discrimination, or disdain."
Pope Francis also met with a delegation of forty ATD members and friends from Italy. Among them were Aye Aye Win, of the International Committee for October 17 (International Day for the Eradication of Poverty), and ATD Volunteer Corps member Angela Medina Ugarte.
ATD Welcomes Pope Francis
Italian ATD member Assunta Ielapi welcomed Pope Francis, saying:
"Good evening Pope Francis,
Dear brother, I am very moved. I am pleased and honoured to welcome you on behalf of ATD Fourth World. We should also thank Father Joseph Wresinski, ATD's founder, who spent his entire life struggling to eradicate poverty. Living among people in poverty, he worked with them to establish the first memorial stone on the Trocadero Human Rights Plaza in Paris. Currently, a reproduction of that original exists in many countries around the world.
"Since that first memorable October 17, we have commemorated this day of freedom and dignity when we call to mind the many anonymous victims of extreme poverty. On October 17, 2000, we inaugurated this replica in Rome. Engraved on it are the words of Father Wresinski and Jean-Paul II.
"One day just outside Paris, Father Wresinski said, 'Walking by here, I have trouble recognizing this place. Just a few years ago, people here still lived in poverty and oppression. How many tears have watered this earth? How much suffering have hundreds of families borne? And how many cries have been sent up to the skies? Yet, no one has established a monument, pillar, or commemorative stone to remind us of their suffering.'
"That is the reason for this stone: to remember and honour everyone who struggles to eradicate poverty.
"In my being, in my soul, I too am determined not to accept the fate of people who suffer in poverty and who are sacrificed on the altar of greed and profit.
"You, dear Francis, recently unveiled a sculpture in St. Peter's Square commemorating all the migrants and refugees who risk their lives to flee war and poverty. This stone, like that poignant one, reminds us of Christ's words: "If they remain silent, the stones will cry out!"
"We wanted the cries of those who live in poverty to be heard. And we invite the world to join us so that no one is left behind.
"Thank you for coming here and for acknowledging our determination to follow in Joseph Wresinski's footsteps. You have my deepest gratitude, dear Francis, for your commitment to giving dignity and a voice to the least among us whom others have rejected. Thank you."
"The Right to Dignity"
Pope Francis then recited the Universal Prayer that Joseph Wresinski composed in 1987 "…for these millions of men, women and children, whose hearts are still pounding strong to the beat of struggle, whose minds rise in revolt against the unjust fate imposed upon them, whose courage demands the right to priceless dignity…" Following his benediction, the Pope greeted all present.
More on ATD Fourth World in Italy.
More on World Day for Overcoming Poverty.