Poverty Is Not Neglect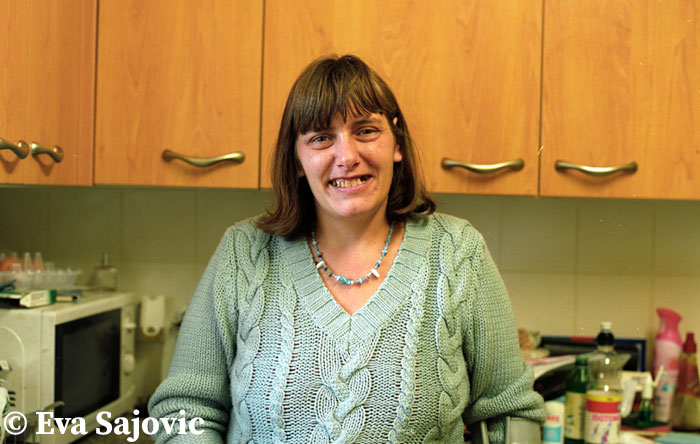 Above: Tammy Mayes in The Roles We Play project.
On International Women's Day 2022, ATD Fourth World celebrates women around the world who struggle to escape the trap of persistent poverty.
In September 2020, Tammy Mayes spoke on behalf of ATD Fourth World at a webinar on "poverty-aware" social work. She described how social workers accused her family of neglect because they were using a food bank. A recording of the webinar can be seen here.
Poverty is not neglect
Hi, my name is Tammy. I am a mum to four children. Two boys, aged 21 and 20. And two girls, 16 and 14. I am a wife as well.
The first thing I want to say is that poverty is not neglect.
Not long after we had our boys, we were made homeless due to no fault of our own. Social services housed us eventually but would only house me and my boys. Hubby was not allowed to come with us. They sent me to a B&B, away from all my family and hubby. I had to leave the B&B at 8am and was not allowed back until 7pm. It was a nightmare on my own with two babies. That was poverty, not neglect.
It feels like prejudice
Parents can feel that professionals are prejudiced against people in poverty. Years later, my family had to use a food bank after our washing machine broke just after we had come back from holiday. A holiday that we had been paying for a full year before and that we had no money when we were on it. At the same time, we also had to pay the council tax. That was poverty, not neglect.
But none of this was mentioned or explained.
It was said that we used a food bank because we didn't know how to budget and that using a food bank was a sign that we were neglecting our children!
I have told this story to social workers that want change and they are shocked at our experience. But there are loads of stories like mine out there.
What professionals (and it is all professionals; schools, doctors, mental health, social workers) don't seem to get is that most people in poverty will go out of their way to help others. They will go without themselves and live on nothing but one meal or a bowl of cereal just so their children don't go without. […] They might not be able to go out the same day the school shoes break or the trousers get too small but they do as soon as they can.
People in poverty budget everything but there is no money left over for emergencies.
Unfortunately like all walks of life you get the bad people that do neglect their children but not all parents are like that. No one chooses poverty or disabilities. […] Yet we get blamed for it. We feel we get discriminated against all the time and it is wrong. Because poverty is not neglect.
Social workers need "poverty-aware practice"
The next thing to say is that poverty-aware practice restores dignity.
I have been involved with ATD Fourth World as a family member for 18 years and 10 years as an activist. I have done a lot with ATD. One thing I did was The Roles We Play project. Which we made into a book and exhibition about how people who live in poverty are not all layabouts. We do stuff in our communities and we have goals. […]
There can be relationships between parents and social workers. We are people just like you. We have views and values, too, just like you. Also we want to protect our children just like you.
Treat us as human beings and not a number and understand that family life cannot be taught through a text book. […]
[P]ositive relationships are so important. Parents will judge social workers and social workers will judge parents but we both need to be open to the other side.
One key thing in changing the system is being open to the dynamics of the family and not relying only on what is written in a report. One social worker was great. When she came into our life she said that the reports were before her time but that she wanted to get to know us as a family. […] She took a look at the reports but did not read them fully. We all worked together and we spoke openly with her but then we always do. We have always worked with social services even when we have disagreed with them. You might be wondering why? Well, the reason is simple. Our children come first.
An example of effective family support
Finally, I want to tell you about how important parent-led advocacy and peer support are. Shaeda is a family support worker and advocate from ATD who helps families with stuff they have going on in their lives but doesn't tell us what to do.
She supported us when our daughters got put on a child protection plan because some professionals accused us of neglect and [she] helped us to keep a level head. When you're going through the process you go through loads of different emotions: upset, anger, feeling like a failure despite feeling you haven't done anything wrong. And you worry about what's going to happen and whether they will remove the children.
Shaeda was on our side and we knew that. She was someone we could talk to about what was going on, so we could get our heads around the legal jargon and properly understand what was happening.
I was often scared not to have understood things. It's so hard to listen to what people are saying in the local authority meetings. You can get emotional. You try hard not to show that you are angry and this is why you can miss what is being said. Shaeda took notes in all our meetings and took the extra time to go through all the paperwork with us. She was someone that also understands our family.
Peer support and parent-led advocacy
Being a member of ATD Fourth World also allows you to meet other parents who have been going through similar things. It gives you a peer support network. […] It's like a sounding board. You always have someone to talk to when you are having a bad day and vice versa. Someone who has been through it themselves. We feel listened to, feel supported and can give each other advice. Throughout the proceedings I had friends from ATD I could talk to when it was too much. A lot of my own friends outside ATD have not been through it and did not understand it.
ATD also brings parents like us together so we can think together and take action. […]
I have been part of the Social Worker Training Programme for nearly ten years now. It was strange at first because we were talking about our own experiences and how we felt social workers are and what should be different. As it's gone on, the project has changed and we made friends with social workers and we… work together. And we learn from each other.
Also we get to look at it from the other side because getting involved in training social workers helps us to understand things from a social worker's point of view. We can look at it from their angle and see they are under pressure from their managers. […]
It's very important to me because it is about reassurance and another way of not feeling alone. We are not alone in fighting the system. We have professionals alongside us as well.
This statement appears in a longer article on the ATD-UK website describing efforts to promote poverty-aware social work.
More on ATD in the United Kingdom.
Watch Tammy Mayes talk below: