Gender and Oppression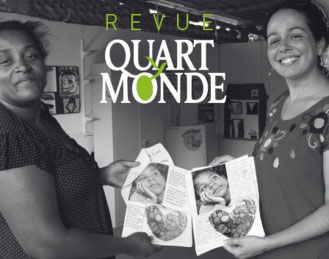 By Martine Hosselet-Herbignat, ATD Volunteer Corps member
In March 2021 the Revue Quart Monde focused on the issue of gender oppression. Featured were articles about women around the world who live in poverty. In the Review's introduction, Martine Hosselet-Herbignat questions the role of women in poverty in the feminist movement.
The oppression of women is getting more and more attention these days, sparking a lot of thought and activity. However, it is not clear that all women have benefited from this in the same way.
In fact, ATD Fourth World's experience with feminist movements has often showed that marginalised women face two different challenges. For them, it is not only a question of rights and equality between men and women. They also face a challenge to their very existence. Throughout history, both people in poverty and women in general have been invisible.
So for women in poverty, at issue is the right to exist fully as a woman but also as a human being.
You aren't liberated if you are constantly judged
In Tanzania, the female participants in ATD's participatory research project, The Hidden Dimensions of Poverty, highlighted the need to work in women-only groups for their voices to emerge. It is hard to see how to become liberated when you always feel, as one woman said, "judged, belittled as a bad mother" or obliged to meet standards defined by social workers.
In France, in the mountains around Lille, Sonia took a class called "I have a meeting with myself". It changed her life. Designed to help participants step out of the 'one-size-fits-all' image of the woman in poverty, the class encouraged women to be themselves. An important element of being yourself is recognizing you have multiple identities. Sonia talked about how she motivates herself.
"There you are making sacrifices just to have a life like everyone else. You can't focus on the fear. You have to find your own power so you can give your children power."
And then there is the suffering of women living on the streets. In Central America, Linda García's fight for intersectional feminism encourages women to learn from and support each other. For her, understanding how one oppression interacts with another is important.
Inclusive feminism
Inclusive feminism should dare to listen to what women in the deepest poverty have to say. These women's suffering and resilience can and should change the nature of the feminist struggle. Their experiences can help make connections between different forms of "resistance". In addition, they can clarify what support is most helpful in daily life.
Above all it is important to make known the efforts these women undertake every day, something that the public does not often recognize.
Women living in poverty tell us that gender inequality and assigning specific roles to each gender doesn't only penalise women. It also penalises men who experience poverty. These women call into question forms of "social progress" that ignore their daily constraints and their legitimate aspirations.
Other articles in Revue Quart Monde addressed these topics:
In Africa: Women and Speaking Out
The Invisibility of Women in Poverty