Ravine of Hope, One Week in Port-au- Prince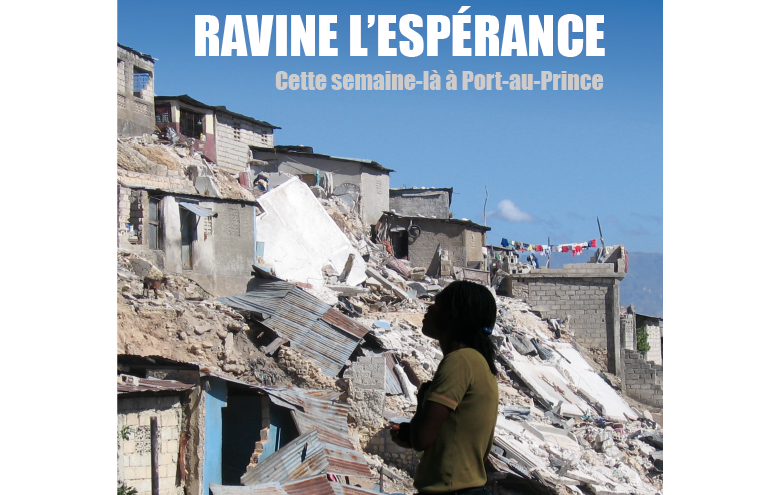 On 12 January 2010, a terrible earthquake hit the Haitian capital of Port-au-Prince and the surrounding area. In less than a minute, the earthquake caused destruction that would lead to the deaths of hundreds of thousands of people. On the eighth anniversary of the earthquake in Haiti, Fourth World Publishing has released Ravine of Hope, One Week in Port-au-Prince. Inspired by the stories of real people, Ravine of Hope is a collaborative work by authors who were living in Port-au-Prince when the earthquake struck.
The world was shocked in 2010 as devastation overtook Haiti. The earth shook and all at once destruction was everywhere. Port-au-Prince was in ruins. The city's inhabitants found themselves surrounded by rubble, searching desperately for survivors. Promises of assistance came quickly, but help did not reach everyone.
"Ravine of Hope" is the name of a slum at the bottom of the city's hills. Six of this novel's seven authors were living there when disaster destroyed the city. As the story begins, we see what life is like for people living in this disadvantaged neighbourhood. Some people find ways to profit from the poverty there. Others who work to improve living conditions are motivated by the belief that projects need to start with the neighbourhood's residents in order to be successful. The voices of the book's characters — Mickenson, Célom, Vinila, Fati, and others — are intertwined to tell a story that begins the week before the disaster and then recounts the terrible events surrounding the earthquake.
Much has been written about this troubled country by outsiders. Ravine of Hope tells a story about how Haitian people themselves see their own country. It illustrates the incredible strength and resistance of the Haitian people who, well before the earthquake, struggled on a daily basis for a dignified life. Six of the book's seven authors lived through the disaster. Four are Haitians: Nerline Laguerre, Jacques Petidor, Louis-Adrien Delva and Kysly Joseph. Two others are members of the ATD Volunteer Corps who were living in Ravine of Hope when the earthquake occurred: Jacqueline Plaisir from Guadeloupe and David Lockwood of the UK. An ATD Fourth World team had been active in Haiti for over thirty-five years, working alongside the local population.
The project of writing the novel began in a simple writing workshop with neighbourhood residents, which evolved to collect stories of other people's daily life and struggles. Jean Michel Defromont, a writer and member of ATD Fourth World, supported the authors as they drew from their own experiences to develop a story about the daily struggle to face the impossible.
A few weeks after the earthquake, additional members of ATD's Volunteer Corps arrived in Haiti to strengthen its team on the ground. These Volunteer Corps members were neither health nor logistics professionals, but their experience with ATD enabled them to work effectively in this area of extreme poverty. In addition to emergency response work, they quickly launched cultural projects to renew residents' strength and determination, supporting the resilience of the Haitians they met.
Far from being defeated by the earthquake, people in Ravine of Hope picked up where they had left off: struggling every day to overcome enormous challenges, believing firmly in hope for a better future. Jacqueline Plaisir recalls a mother insisting to the ATD team just two months after the earthquake, "We must re-start the preschool and Welcome Babies [two ATD projects from before the earthquake]. That's what is important!" A tent was immediately set up to welcome small children eager to go back to their pencils and books, and especially their schoolmates. Carpets and toys were set out for mothers and their babies as well.
Ravine of Hope is a story of sheer determination grounded in the Haitian people's fundamental trust in life. Against all odds, their indestructible belief in a better future endures, fuelling their ongoing quest for a life of dignity. As one Haitian states, "We never stop struggling for a minute, not even a rest to catch our breath. It's the greatest weapon we have."
Ravine l'Espérance (in French only) is available in bookshops in France, and through Editions Quart Monde.