Reflection on the October 17 World Day Commemoration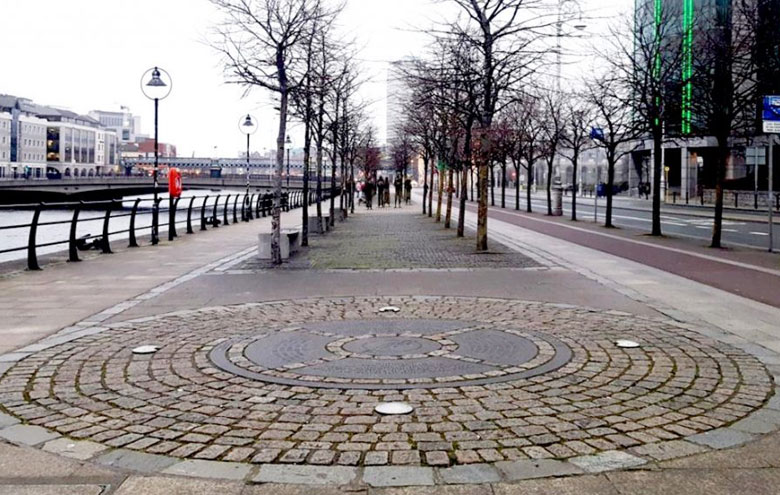 By Mark Hogan
Member of the Irish 17 October Committee and Ally with ATD Fourth World
This statement was originally published on the Irish 17 October Committee website.
20 years of participation
I have had the privilege of participating over the last 20 years in the annual commemoration of the World Day for the Eradication of Poverty on the 17th October, first at the Famine Memorial and later at the nearby Human Rights and Poverty Stone, on the Custom House Quay, Dublin.
With each passing year, I have grown in my understanding and appreciation of the significance of this important happening. For at its heart is a profound human expression which manifests itself in direct contradiction to our prevailing world order and its powerful inequitable forces.
Instead, as is the norm, of people living in poverty identifying and being defined as excluded, on the margins, voiceless and with no stake in society, now on this World Day and in this local setting, they are centre stage, their experiences are acknowledged, their history is honoured, their resilience is admired, and their contributions are valued.
Their life stories and testimonies, delivered with great courage and dignity, speak not only of the pain and suffering so sadly typical of lives of consistent poverty, but of their dreams and hopes for a better future and a fairer world for themselves and for their children.
These moving personal sharings are not a plea for charity and benevolence, but rather they are the desperate cry of a denial of fundamental human rights and the urgent demand that these rights, universal in their nature and import, be respected.
Those of us who are present listen in silence and humility, and are educated. We are renewed and reinvigorated in our personal commitment to work and live for a new world order where no one is left behind. We are reminded that there can be no workable pro-poor reforms, no social levelling up, no environmental sustainability, no durable solutions to economic poverty, unless the intelligence, knowledge and experience of people struggling against poverty are recognised and included.
The symbolism of the 17 October World Day commemoration where people in poverty come in from the margins to the centre, find their voice and seek validation of their rights, serves not as some piece of comforting public theatre for us. Rather, it is a challenge to all present, individually and collectively, to critique, to reimagine and to create a more just and equal world where the scourge of poverty – and its pernicious companions of discrimination and injustice – is finally eradicated.
It is an occasion that teaches us that the persistence of poverty is not only dehumanising to those who are affected by it, but, in essence, is dehumanising to us all.
It was Joseph Wresinski, the initiator of the 17 October commemoration, who, in 1987 before a gathering of 100,000 people at the Plaza of Human Rights in Paris, articulated the truth inherent in this thought-provoking and inspiring World Day – a time to be lived out and made real on every day of every year.
"Wherever men and women are condemned to live in extreme poverty, human rights are violated. To come together to ensure that these rights are respected is our solemn duty."
Join the 17 October 2020 international World Day for the Eradication of Poverty online commemoration