The Rejection of Poverty is Found in the Most Remote Places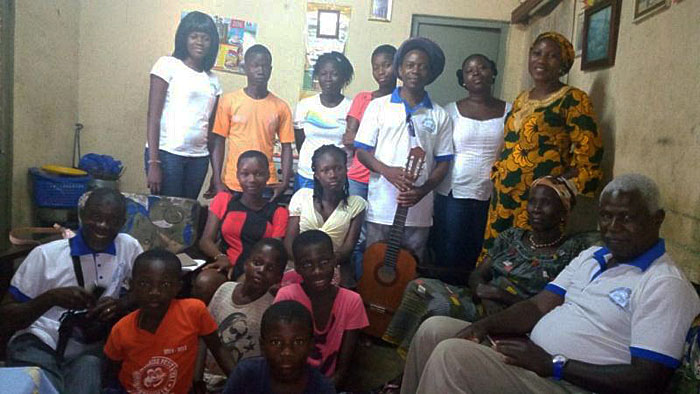 There are not just large events happening to mark this special anniversary of 17 October World Day for Overcoming Poverty.
In many countries, residents of neighborhoods, young people and groups of children, and small associations are coming together to mark the 30th World Day for Overcoming Poverty.
"Even without a lot of resources, we can do something," says Herve from Benin, "for it is our day."
Here are some examples of the activities that are taking place on this World Day:
A workshop on the theme of peace in a retirement home;
A class discussing how playing games can be used to fight against poverty;
A discussion around the "The Letter's Colours" correspondence from the Permanent Forum on Extreme Poverty Around the World which, with little means but a daily commitment, creates opportunities so that many different people can take part in 17 October. The Forum reaches the most remote places and to those people who are isolated. It supports them in having an active role in the rejection of extreme poverty, so that no one will be left behind.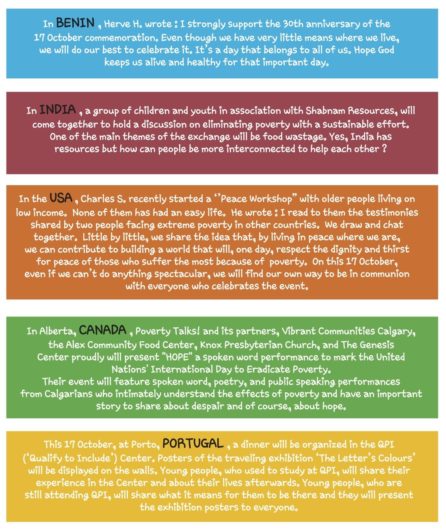 Photos : © ATD Fourth World : a small group visits an isolated family, Bouaké (Côte d'Ivoire)