The Colours That Break the Silence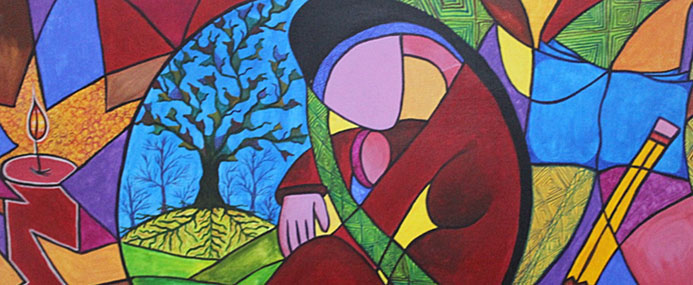 Image above: 2017 © Guillermo Diaz, Guatemala/Peru, /ATD Fourth World /CJW_AR0201602018
In Guatemala City an inauguration was held for the exhibition Breaking the Silence (Romper el Silencio) by the artist Guillermo Díaz Linares, as part of the World Day for Overcoming Poverty on 17 October.
Statement by Deputy Minister of Culture, Max Araujo:
"More than simply technique and visual, the artist highlights the problem of exclusion in Guatemala. But his artwork offers a ray of hope through its colors of joy."
He added that the exhibition has a double importance: not only do we get to know the work of Guillermo Diaz Linares, we can also learn about 17 October and ATD Fourth World and its founder, Fr. Joseph Wresinski.
This exhibition is also an opportunity to celebrate the centenary of the birth of Joseph Wresinski.
Guillermo Diaz Linares explains:
"For me to break the silence is to have the power to speak, to be able to enjoy the same rights, to be on the same level as all the others, because if these families do not have a voice, the Guatemalan people must give it to those who do not. Everyone must do something."
To discover more, here's a video by TV Matiz Cultura on the exhibition.