Remembering the 2010 Haitian Earthquake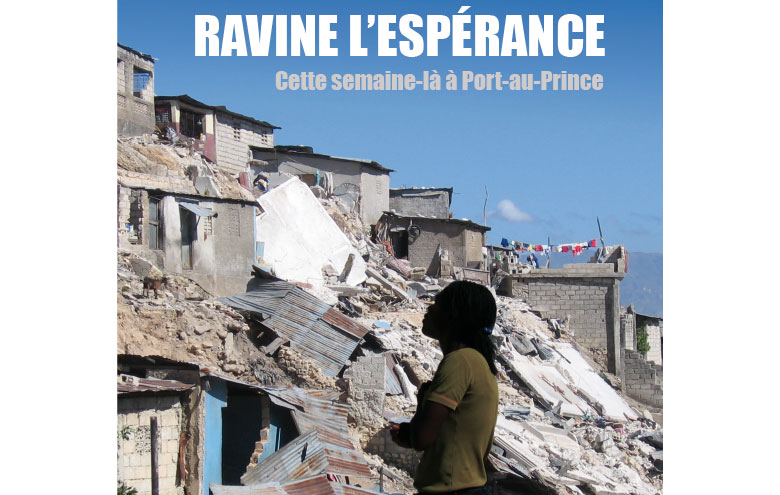 By Claude Mormont, ATD Fourth World supporter.
"This book speaks deep truths about Haiti."
Said a Haitian friend of ATD about Ravine of Hope. Written in the aftermath of the January 12, 2010 earthquake, the book is a collection of stories from members of the ATD Volunteer Corps and families they work with. Living in a shantytown near Port au Prince, most of the authors experienced the earthquake themselves.
Eight characters take turns reliving the week before the earthquake, then the sudden interruption of daily life on January 12, 2010. The characters are fictitious, but the facts in the stories are real. First person descriptions of the shantytown do not paper over the harshness and violence of everyday life. Equally vivid are the anxieties and humiliation residents regularly experience. The book ends with a short epilogue five years after the earthquake.
Despite the suffering depicted throughout the book, hope is the central element in each story. Against all odds, people come together and support each other. Trust develops between people who could easily have remained strangers. Reading Ravine of Hope is a reminder of the greatness of the Haitian people. Born from the crime of slavery, in 1804 they finally refused to accept their situation any longer, proclaiming their own freedom and dignity as human beings.
Even today, however, it takes extraordinary energy and determination to survive in a country so accustomed to suffering and injustice. Day in and day out people struggle heroically to free themselves from the chains of poverty. This inextinguishable hope and energy propels the narrative in Ravine of Hope. "Every activist in Haiti should read this book," urged one Haitian friend of ATD.
It's hard to imagine any effort to change things for the better – in Haiti or elsewhere – that does not rely on the strength of such people who, against all odds, refuse to stop dreaming of a better future.
Ravine of Hope (Ravine l'Espérance) is available in French.
The book was written by Jean Michel DEFROMONT, Louis-Adrien DELVA, Kysly JOSEPH, Laura Nerline LAGUERRE, David LOCKWOOD, Jacques PETIDOR and Jacqueline PLAISIR.