Reunion Island: Up-and-Coming Neighbourhoods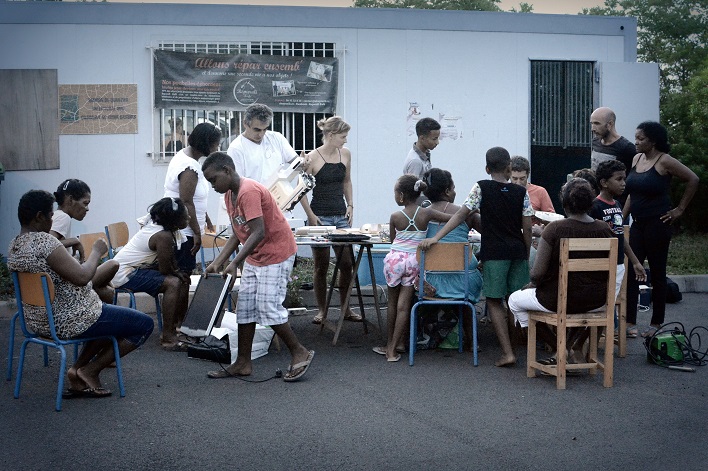 "You've healed our relationship with these neighbourhoods. "How did you do it?" asked a Town Hall official in Reunion Island. How had ATD Fourth World managed to smooth over tensions that existed between city government and low-income neighbourhoods?
Throughout 2016, ATD developed projects and partnerships with people in the two troubled communities. A critical element of these activities was reaching out to city government in order to build better relationships so that services reach these areas more effectively. As a result, the Pierrefonds neighbourhood in Saint-Pierre and the Grande Ravine neighbourhood in Trois-Bassins are now cultural havens where people are learning and developing their talents in a more peaceful atmosphere.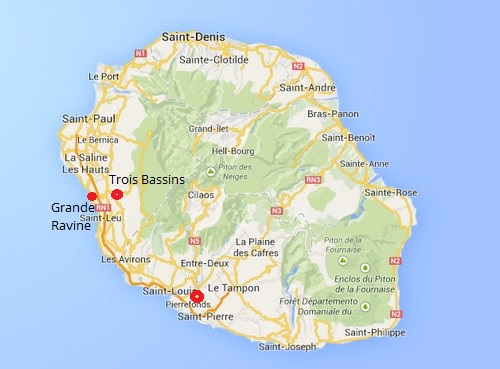 In Trois-Bassins
Providing access to new technology had been a stumbling block for the town government of Trois Bassins. They had created a cybercafé in the Town Hall open to anyone who wanted to get training in computer and internet use. However, many people from Grand Ravine could not take advantage of the cybercafé because they had to travel a 10 km (6 mile)-long, winding road to get up to the Town Hall on a ridge.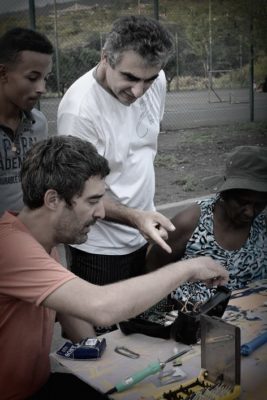 Réparali Kafé ("Café Repair"), a project in the area organized by the group Ekopratik ("Eco-Practical") provides volunteer repair service to owners of broken or defective items. ATD Fourth World encouraged the group to reach out to more isolated families living in poverty in the Grande Ravine neighbourhood. From the start they insisted on knowledge-sharing projects.
"It took several months of working closely and engaging in dialogue with the families of Grande Ravine before some women from that neighbourhood offered to lead workshops on their own," explained Marie-Bernadette Diop, an ATD Fourth World Volunteer Corps member. "Ekopratik came to the neighbourhood every two weeks. They didn't ask people, 'Is there anything we can repair for you?' Instead, they said, 'Let's repair things together.' This brought people in the neighbourhood together, for the first time ever, around a common goal. That helped start a sewing workshop, supported by an Ekopratik volunteer. Inspired by the workshop, mothers in the neighbourhood began doing other things. One young woman started a children's activity, and another mother joined in to support her. Mothers in the region found it inspiring to see a young person engaging children in such a creative project.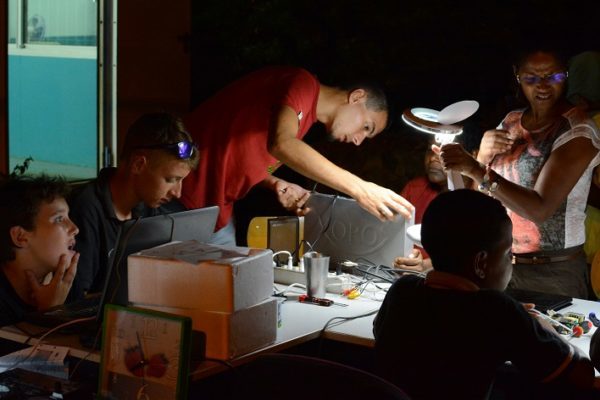 Thanks to the interest and energy generated by the Ekopratik workshops in the neighbourhood, the city's cybercafé started local computer workshops at Grande Ravine's community centre and later at ATD Fourth World's centre. Many families volunteered to write invitations and distribute them in mailboxes to let their neighbours know about the workshops. The key to success and active community involvement was an initial approach that gave people an opportunity to do things for themselves rather than fixing their problems for them.
In Saint-Pierre
2016 also saw the start up of skills-sharing workshops and a Street Library in the Pierrefond neighbourhood where ATD has maintained strong ties. Adults, particularly young mothers, come together on Wednesday afternoons at their local community centre for creative workshops in weaving, arts and crafts, and other activities. Each participant takes the time they need to complete their own creative project and appreciate the value of others' work. The women support one another and worry if some one does not show up. "[So-and-so] is not here; has anyone seen her?" The positive sense of community is so striking that people from other neighbourhoods visit to observe the project and learn how they can replicate the workshops' success. As a result, an organization called ADELI contacted ATD Fourth World and offered to host workshops on weaving with coconut leaves.
In the nearby neighbourhood of Joli Fond, ATD runs Street Libraries twice a week. A number of dance groups developed out of this project that now regularly take part in city-sponsored events such as a big party in November to mark Universal Children's Day. The event brought together people across the city and highlighted the voices and talents of Joli Fond's children.
Family Day: Improving communication with social workers
These sorts of partnerships between the city and troubled communities led to an important gathering on Family Day in May. Since early 2016, the issue of intra-family violence had been on everybody's mind, due to a dramatic series of recent events in the news. People involved with ATD decided to address this issue by organizing a Fourth World People's University on "The Role of Violence in Our Lives." The result was a conversation that helped heal relationships and pave the way towards more effective city social work services.
ATD Fourth World members invited three social workers to take part in the meeting. Talking together with "clients" was a new experience for the three professionals who discovered a different way to listen. The social workers participated actively in the break-out group discussions and began to see connections between what people were saying and what they hear from families they work with. One mother explained that when social workers asked questions about her children, she felt as though they weren't really listening and just saw her as a problem. Her story opened a discussion on treating families in poverty with respect and taking what they have to say seriously.
Facilitating the Fourth World People's University were Yassine and Lucette. Yassin, a friend of ATD, is a group leader with the RISW (Regional Institute of Social Work). Lucette, an ATD Fourth World activist, has experienced poverty herself. At the end of the meeting, Yassine said:
"In general, those of us here who are trained educators and social workers are very impressed by the quality and depth of discussion that we heard in our workshops. In fact, what people said about their everyday lives is very powerful. They have not expressed resentment towards social workers. However, we sense bitterness and a lack of understanding between these two worlds that exist side by side but don't know each other because each side clings to its prejudices.

"Society has certain stereotypes of families in poverty and treats them with contempt. People say, "You come from a poor family, so you'll be poor, too." Or, "If your neighbourhood has a bad reputation, the families that live there must be to blame." Many people, especially social workers, will tell you that the families they work with stay quiet and have nothing to say. However, today we saw and heard from families who indeed have something to say. When we create sufficiently safe spaces, they feel free to express themselves and speak the truth about their lives. We observed that these families have a strong desire to create a better future for their children. We take away from this meeting a powerful lesson in humility."
In addition to the Fourth World People's University meeting, the Family Day program included a number of workshops: weaving coconut leaves, building dream-catchers, drawing, creating Mother's Day presents, and a rap concert by a group from the Caserne neighbourhood. Participants were honoured that Trois Bassins' Town Hall sent a three-person delegation led by Mr. Gonfo, Director of Community Life and Politics.
Through events such as this Family Day program and activities like the cybercafé expansion, ATD Fourth World is helping to integrate isolated neighbourhoods into the life of these two cities, creating stronger and more peaceful communities, replacing mistrust and exclusion with respect and partnership.